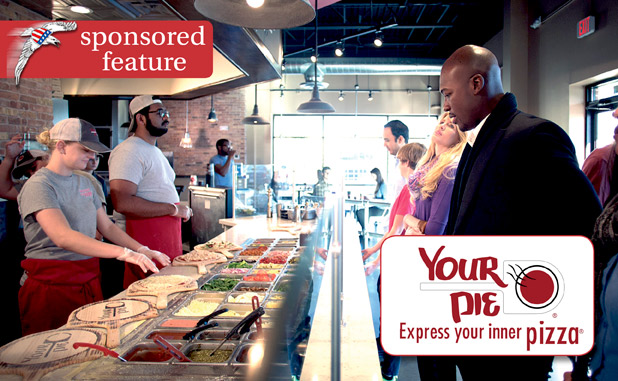 Your Pie is a custom, hand-crafted pizza restaurant opening Fri., Sept. 30 in Peachtree City. The restaurant, which also offers paninis, chopped salads, gelato, and an assortment of wine and beer, is focused on offering high-quality food and drink in an upscale, friendly environment – all at approachable prices. Grand opening with giveaways.
Bob Rosato believes pizza should be fresh, hot, fast, affordable, and, above all, delicious. He also believes customers should be able to choose their own toppings – without paying extra. That's why he and his business partners, all Fayette County residents, decided to open three Your Pie franchises, starting with one in Peachtree City.
"Our goal is to offer top-quality, stand-out food in an upscale environment but at an approachable price," Bob says. "You'll get a hand-crafted pizza, in seven to ten minutes, and at a flat price, no matter the toppings. And it will be off-the-charts good."
Pizzas start with hand-tossed white or wheat dough in either a 10-inch adult size for $7.99 or a 6-inch kid's special (with small drink and small gelato) for $6.49. Gluten-free dough is available at a slight upcharge. Then, customers can choose from a half-dozen sauces and almost 30 toppings ranging from traditional faves to surprises like artichoke hearts, cilantro, and vegan cheese. Pizzas are baked in an authentic brick oven. Customers can also build their own chopped salads or paninis, or try one of the shop's specialties, and can enjoy a beer or wine selection, including regional and national craft beers. They can finish up with 93% fat free gelato or fat- and dairy-free sorbet.
"We're also planning to provide a fun, relaxing environment," says Bob. "The patio can be enclosed or open for a year-round outdoor experience. We really want people to enjoy themselves."
Your Pie will celebrate its grand opening on Fri. Sept. 30th with $3.30 pizzas and giveaways including 30 Yeti tumblers (one an hour for first 30 hours), a Yeti Tundra 45 cooler, one free pizza for life, and much more. They'll also give three lucky customers pizza for a year during the first three weeks of business. Folks can sign-up for giveaways on Facebook and residents should watch for coupons in the mail. The celebration launches with a benefit for Southside Support, which provides life-time support and inclusion for special needs families.
"It's important to us to be truly embedded in the community," says Bob. "It's part of who we are."
• Hand-crafted, brick-oven baked pizzas with hand-tossed dough
in 7 to 10 minutes
• Also serves chopped salads, panini, gelato, and more
• Focus on fresh, quality ingredients; Gluten-free, dairy-free, vegetarian, and vegan options available
• Large beverage selection includes national and local craft beers
and wines
• Locally owned and operated franchise
• Grand opening celebration Fri. Sept. 30 with $3.30 pizzas and giveaways
• Sun. – Thurs., 11 a.m. – 10 p.m.; Fri. & Sat. 11 a.m. – 11 p.m.
• 2015 Hwy. 54 W., Ste. 115, Peachtree City • 770-515-9900