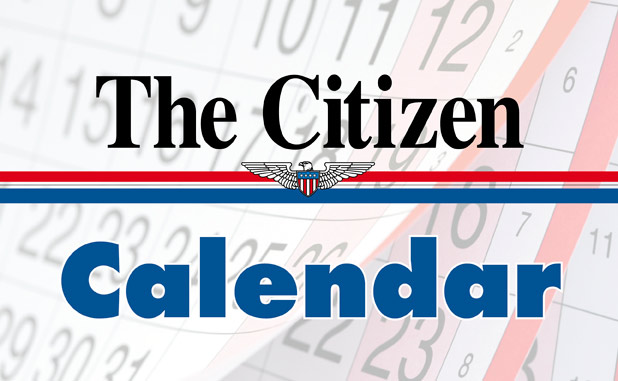 September
September 8
A Company of Friends presents the family musical "Madagascar, A Musical Adventure"at the Fayette Train Depot at 250 Lanier Ave. East in Fayetteville, Shows are 9/8, 9/9 and 9/10 at 7 p.m. and 9/10 at 2:30 p.m. and 9/11 at 3:p.m. Ticket prices range from $12 to $15 and can be purchased online at http://bpt.me/2586770. More information can be found online at www.acofproductions.comor by calling 770-599-0051.
"Autoimmune Mysteries" is today from 10-11 a.m. at Fayette Senior Services' Fayetteville location (The Life Enrichment Center, 4 Center Drive).
"Feel Grand with Jane Seymour" is a collection of series that provides insight on what people need to know about aging and what should be done to get the most out of our lives. The group will watch the series on Autoimmune Mysteries presented by Dr. Howard Smith and Dr. Jennifer Caudle and afterward Russell Bradley with Right at Home will answer any questions attendees have from the showing regarding aging.
This program is free but pre-registration is required at 770-461-0813 or register@fayss.org (include name, phone number and event title). FSS members and non-members welcome. For more information visit www.fayss.org.
September 10
The Butts County Historical Society will be sponsoring the 27th Annual Native American Festival and Powwow the weekend of Sept. 10-11 at the Indian Spring Hotel-Museum, 1807 Hwy. 42 South in Flovilla.
Everyone is invited to come and meet Native Americans from different nations, listen to the stories and see the colorful Native American regalia, enjoy the traditional music and hear the beating of the drum.The featured performers are the Aztec Dancers Javier Alfaro and family; watch the demonstration of Mesoamerican culture through dance and music. Also this year are Lowery Begay, Native American flutist and hoop Dancer, as well as respected indigenous musician Ryan Little Eagle.
Don't miss the Grand Entry Saturday at noon and Sunday at 1 p.m.
Visit the Native American vendors featuring arts, crafts and demonstration. The Indian Springs Hotel-Museum, was built by Chief William McIntosh in 1823, will be open for tours and visitors can also take a stroll through the lovely Elizabeth Harris Garden. The hours are 9 a.m.-6 p.m. Saturday and 9 a.m.-5 p.m. Sunday. There is a donation of $5 for adults and $3 for youth 5-17. For additional information, contact Trina Mansfield at 770-655-5905 or trinamansfield11@gmail.com or the Butts County Historical Society at 770-775-3313.
The Quick-Turner/Stubbs reunion is today at the Birdie Clubhouse, 1669 Birdie Road in Griffin Georgia from 11 a.m.- 3 p.m.. Bring a covered dish and memorabilia to share. If you are related through Eli Quick, Moses Turner, Roland Stubbs, Mary Jane Middlebrooks, Etta Tapley, Roland Mal, John Henry "Spank", Wells or Will Quick, Minerva and John Wesley Turner, Sarah and Franklin Stubbs, William and Sarah or Colin Missouri Quick, Nancy and J. J. Newton, David and Sarah Quick or Eliza Louisa Thomas, please make your plans to attend. For more information please call Mary Binion, 770-214-0934, Linda Thigpen, 770-253-8021.
September 11
The Peachtree City Police Department is hosting this year's National Night Out event along with the Peachtree City Convention and Visitors Bureau. It is today from 4-6 p.m. at Huddleston Elementary School.
Come out to visit with several public safety and community-based crime prevention agencies and check out the Fire Department ladder trucks, helicopters, police vehicles, and various other pieces of public safety equipment. All children who attend the event can participate in the extremely popular public safety scavenger hunt, which yields lots of goodies and prizes donated by the community. After National Night Out, head across the street to The Fred for the Lee Greenwood concert, which will include a public safety recognition component in honor of the 15th anniversary of Sept. 11, 2001. For Lee Greenwood concert tickets, visit http://www.amphitheater.org/.
September 12
"You Don't Know Squats" is today from 12:30-2:30 p.m. at Fayette Senior Services' Peachtree City location (The Gathering Place, 203 McIntosh Trail).
A solid plan is always the key to achieving a goal, so having a plan for exercise should be no different. Jason Bombard with Piedmont Fayette Hospital Fitness Center will discuss the best practices to take when trying to create momentum and consistency when starting a personal exercise program. Just "winging it" can lead to failure, disappointment, and injury so join Jason to get on track to exercising today.
This program is FREE but pre-registration is required at 770-461-0813 or register@fayss.org (include name, phone number and event title). FSS members and non-members welcome For more information visit www.fayss.org.
September 15
The Peachtree City Police Department will be hosting a Adult Community Emergency Response Team class beginning Sept. 15. The classes will be held each Thursday for (10) ten weeks concluding Nov. 17. The classes will begin at 6:30 p.m. and last until approximately 9 p.m.
Prospective candidates must be at least 18 years of age and residents of Georgia. Applicants will be required to sign a Waiver of Liability form and will be subject to a criminal history background check as a pre-condition to acceptance into the program.There is no charge to attend this class; however, the class size will be limited.
More information about the Community Emergency Response Team can be obtained by visiting www.cert-peachtreecity.com or by calling 770-487-8866.
Applications are available online or may be obtained from the front lobby of the Police Department.
September 16
The fall Screen on the Green event is scheduled for Friday, Sept. 16, at First Avenue Park in downtown Newnan. A family-friendly animated film will be featured in a litter-free, smoke-free environment. The event is free to the public, and crowds of all ages are welcome.
Families are encouraged to bring blankets to sit on and pack a picnic supper to enjoy during the event. Downtown eateries will provide boxed dinners during the event for anyone who would prefer to pick up dinner on the square. Call ahead to a downtown restaurant and have dinner ready upon your arrival.
September 17
The 39th annual Shakerag Arts & Crafts Festival is Sept. 17-18, (10 a.m.-6 p.m. Saturday, noon-5 p.m. Sunday) at Shakerag Knoll, 191 McIntosh Trail in Peachtree City. The festival features more than 100 arts, crafts, and food vendors, entertainers, and a variety of activities for children. Admission and parking are free, and the festival will go on rain or shine.
The Friends of the Fayette County Public Library Book Sale is today from, 9 a.m. to 4 p.m. Over 10,000 books in 24 different categories from 50 cents to $5. Proceeds support Summer Reading Program, Wednesday Baby Time and other programs not in the library budget. Questions 770-305-5331.
September 20
The Fayette Chamber of Commerce invites the community to Fayette County's largest tradeshow. Shopping local is made easy with more than 100 exhibitors under one roof. The 2016 Community Expo is the place to find some of the best products and services found right here in Fayette. The Expo is today from 3-7 p.m. at New Hope Baptist Church-South Campus, locatedat 1563 Joel Cowan Parkway, near the intersection of Georgia Highways SR 74 and SR 85. Admission is free to the public.
Sharpsburg Baptist Church will host a suicide intervention workshop today. The community is invited to attend. Doors will open at 6 p.m. and the workshop will run 6:30-8. The free event led by Major Ken Koon, a U.S. Army Reserve chaplain, is part of the No More Suicide Campaign "One Oops Away Workshop" developed by the Armed Forces which provides participants with greater knowledge of the signs and risk of suicide.
Participants will gain insight into the emotional spiral that builds over time, often quickly causing individuals to reach a point where they feel suicide is their only option.
While AFM is highly focused on the reduction of suicide within the veteran community, "One Oops Away" is appropriate for individuals from all walks of life. The leaders have worked with teens, parents that have lost children, and individuals having experienced a wide variety of traumatic events.
An increased awareness of the prevalence of suicidal thoughts within the general public, along with better understanding of circumstances which increase likelihood, are vital factors in an effort to assist those at risk. To learn more about the work of Armed Forces Mission visit www.StandwithThem.com and www.NoMoreSuicide.com.
September 24
Storytellers from around the globe are expected to meet for the College-Temple Storytelling Festival, today from 4-6:30 p.m. at the McRitchie-Hollis Museum, 74 Jackson Street in Newnan. The Newnan Coweta Historical Society is coordinating the event, billed as the first local event of its kind. The festival's headliner is Irish storyteller Helena Byrne. Local storytelling group leader Larisa McMichael is coordinating the event.
Tickets are $20 and can be purchased at www.eventbrite.com, by calling 770-251-0207 or by visiting the museum.
The Coweta Political Forum scheduled for today in Newnan will include a speech and book signing by Kris Paronto, co-author of "13 Hours: The Inside Account of What Really Happened in Benghazi." Paronto is one of the members of the team of six American security operators who fought to repel the attackers and protect the Americans stationed at the embassy in Benghazi during the assault that took place Sept. 11, 2012. is at the Crossroads Church at 2564 Highway 154.
Information on Paronto can be found at www.kristantoparonto.com. Questions can be directed to Jan Horne at 678-873-5812. Tickets available at eventbrite/wakeupnowamerica.com.
Senoia's 12th annual "Cruisin' to the Oldies" Car Show is today from 10 a.m.-5 p.m.
You don't have to be an antique car buff to enjoy the fun planned by Senoia's Downtown Development Authority. Your family can stroll through Senoia's unique community of small businesses or sit down and grab a bite to eat at one of the locally owned restaurants. If you want to snack as you walk through the show, you can choose from a selection in the Food Court such as The Varsity, chicken wings, sandwiches, kettle corn, shaved ice, yogurt, hot boiled peanuts, and more. Entertainment will be provided by "The Sock Hops," who will be singing tunes from the '50s and '60s from noon-3 p.m.Please be aware that street parking is for participating car owners. Spectator parking on side streets and the public parking lot on Johnson St. and Clark St. will be provided by Public Housing Authority at a charge of $5 donation per car. Main Street will be closed at Couch Street to Johnson Street for golf carts and handicap parking only. Cars must have proof of handicap ID. Additional street closures are to be announced. For more information about the show, contact DDA board members Gail Downs (770-378-6627) or Suzanne Helfman (770-599-8182).
The annual Dragon Boats Races and Internatinal Festival as today from 9 a.m. to 5 p.m. at Lake Peachtree in Peachtree City.
While teachers and students are back in the classroom with the new school year in full swing, work is being done to fill open positions outside of the classroom. The Fayette County School System needs to find qualified candidates to work as bus drivers, school nutrition assistants, and after-school aides. A job fair is scheduled for today from 10 a.m. to 2 p.m. at the Goza Road Operations Center, 939 Goza Road in Fayetteville. Candidates are encouraged to apply online prior to the fair by visiting www.fcboe.org. Click on the "Position Openings" link under "Quick Links," and select the "Start an eApp for Employment" link on the right-hand side of the page. Applicants without computer access, or who are having difficulty with the online application, can use computers at the job fair to complete the application, and receive help if needed.
Interviews will be conducted onsite by the hiring departments, candidates are asked to bring a resume and cover letter, and they are encouraged to register in advance by contacting Deb Scharfenberg in the Human Resources Department, at 770-460-3535, ext. 119. Qualified candidates must be able to successfully complete any required physical exam and drug screening, as well as a criminal background check. For more information, contact the school system's human resources department, 770-460-3535.
September 26
The South Metro Rose Society's next meeting is scheduled for Monday, Sept. 26, at 6:30 p.m. at The Heritage Bank, 440 N. Jeff Davis Drive in Fayetteville.All rose growers from novice to expert are invited to attend free of charge.
The program features Kim Toal, the Fayette County Agricultural and Natural Resources Agent, speaking on two topics that plague all rose growers – insects and diseases – and what to do about them. This will be great basic information for newer rose growers as well as an excellent refresher for more experienced ones. As always, Consulting Rosarians will be available to answer questions on any rose topic. For more meeting information call 770-776-7123.
September 27
Fayette Visioning, in partnership with the Fayette Chamber of Commerce, Fayette County Democratic Party, Fayette County Issues Tea Party, Fayette County Republican Party and NAACP – Fayette County, Ga., will hold two candidates forums on Sept. 27 and Sept. 29 at the Fayette County Public Library at 1821 Heritage Park Way The forum on Sept. 27 features the District 1 County Commission race, Districts 1, 3 and 5 School Board races and the County Tax Commissioner race. The Sept.29 forum features the U.S. Congressional District 3 race and the races for Georgia House districts 71 and 73.
Doors open at 5:45 p.m. The forums begin at 6:30 and are scheduled to end at 8:30 For more information, contact Larris Marks at 770-714-3212.
"Lunch & Learn: Filling Your Emergency Kit" is today from 11 a.m.-1 p.m. at Fayette Senior Services' Fayetteville location (The Life Enrichment Center, 4 Center Drive).
If the unexpected occurs, do you have the right information at hand for yourself or someone else to access? Recent studies have shown that many of us are unprepared for emergencies that may come our way.
Join Dr. Fred Willms, chief medicare officer with Piedmont Fayette Hospital, and William Stone with Raymond James as they share the importance of creating a vital information file ready and easily available to help in case of emergency.
This program is $10 and includes lunch. Pre-registration is required and payment must be made at the time of registration (770-461-0813 or stop by any location to register). FSS members and non-members welcome. For more information visit www.fayss.org.
October
October 8
The Coweta County Master Gardener Extension Volunteers' Fall Plant Sale is today from 9 a.m.-2 p.m. at the Coweta Extension Greenhouse behind the county extension office, 255 Pine Road in Newnan.Come early to select your perennials, shrubs and trees for fall planting. Proceeds benefit Coweta Extension educational programs. For more information, phone 770.254.2620 or visit www.ugaextension.org/coweta.
October 9
The third annual Serenbe Home Tour is today from 1-5 p.m. at The Art Farm at Serenbe, 10455 Atlanta Newnan Road in Chattahoochee Hills.
Cost is $35 in advance or $40 at the door. Admission to the after-party is $25. Come see the unique designs of select Serenbe homes and learn more about the people and the collections that bring them to life. Serenbe is a haven for design and the arts – a community committed to supporting artists and fostering the creative process. Enjoy complimentary golf cart rides to go home to home or leisurely stroll between homes.
Proceeds from the tour support AIR Serenbe, a nonprofit artist residency program that champions the creative process by providing artists with uninterrupted time, space and a welcoming community in which to create.
Children 12 years of age or older are welcome.
For information and to purchase tickets, visit www.airserenbe.com/events-calendar-2016/2016/10/9/3rd-annual-serenbe-home-tour.