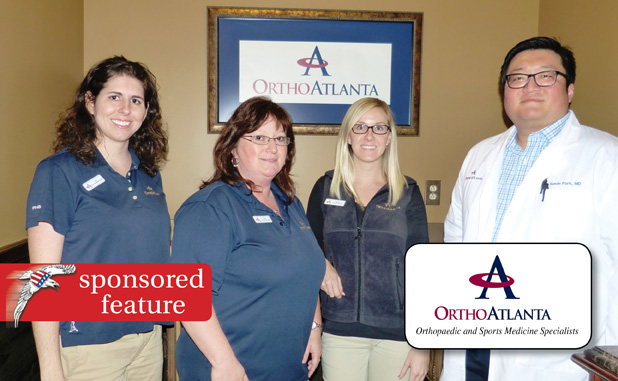 Sponsored Feature
With locations in Fayetteville, Stockbridge, Newnan, and around the metro area, Ortho Atlanta's practice includes physicians and therapists with extensive training and experience in a broad range of orthopedic specialties, techniques, conditions, and surgeries. Newest addition Dr. Kevin Park brings spinal specialty to the practice's south side offices.
Dr. Kevin Park is fascinated by the human spine. A fellowship-trained spine surgeon, Dr. Park earned his D.M. from Tulane University School of Medicine where he was a member of the Alpha Omega Alpha Honor Medical Society. He specializes in adult degenerative cervical, thoracic, and lumbar spinal pathology and traumatic spinal injuries. Special interests include motion preservation technology and minimally invasive spinal surgery. Dr. Park joined Ortho Atlanta last September and he's excited about the practice – and the area.
"I was looking at practices across the country," he explains, "and Ortho Atlanta and Fayette County really caught my attention. The practice was well run and very welcoming and I felt my expertise and philosophy fit well. The hospital administration was also great about answering questions and I was impressed with the facility. Plus, the community seemed like the kind of place we could live the most pleasant, wholesome life we could imagine."
Dr. Park and his wife and infant daughter moved to Peachtree City and he admits the golf courses and paths were part of the draw. An avid golfer, he enjoys working with people eager to overcome their injuries and conditions to get back on the green. In fact, one of his first patients is a 72-year-old golfer. Dr. Park performed his surgery in October and the two are making plans to hit the course together in February.
"Most doctors choose medicine because they are interested in helping people," Dr. Park explains, 'and that's true of me as well. One of the things I love about working with spinal issues is the ability to drastically reduce pain and truly improve a patient's quality of life."
He also cites advances in spinal treatment as a major factor in choosing his specialty.
"Our understanding of the spine and the development of new treatments and technologies has grown tremendously in the last several years," he points out. "We do have traditional treatments that work and we use them when we feel they'll produce the best outcomes. But with the minimally-invasive and cutting-edge choices we have now, we have options we never had before. That's exciting."
My basic philosophy is that we should combine classic treatments that work with new advances and technology for the best results.
• Fayetteville urgent care center now open six days/week.
• Practice includes specialists in hip, knee, shoulder, ankle, foot, hand, arm, and spine, including sports medicine, degenerative conditions, and injury
• Surgery including joint reconstruction as well as minimally-invasive treatment and physical therapy
• Experience with rare and complex musculoskeletal conditions and injuries
• Area offices include Fayetteville, Stockbridge, and Newnan
•  Most insurances accepted
• Official sports medicine provider to the 2015 Chick-fil-A Peach Bowl and Georgia Soccer