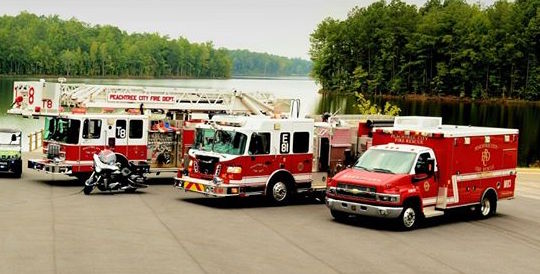 Peachtree City Fire Rescue is inviting participants to come out and experience its next Citizens Fire Academy beginning Aug. 2. It is open to members of the entire community who are at least 18 years of age and its main focus is to acquaint citizens with the many services provided by the department, allowing them to experience a little of what it's like to be a firefighter.
The academy will meet Tuesday and Thursday nights from 6 p.m. to 9 p.m. for five weeks, followed by a graduation program.
Students will experience first hand the skill and training required to disassemble a mangled automobile with powerful extrication tools, see what it's like to enter a zero-visibility environment to search for a possible victim while wearing full protective clothing, learn how to pump a fire apparatus and handle a high pressure fire hose, Participate in the actual extinguishment of a fire, learn valuable fire safety and lifesaving techniques such as C.P.R. and even ride along on actual emergency calls if desired.
For more information, phone 770-631-2526 or visit our www.PCFD.com for application information. Deadline for application is Friday, July 22.