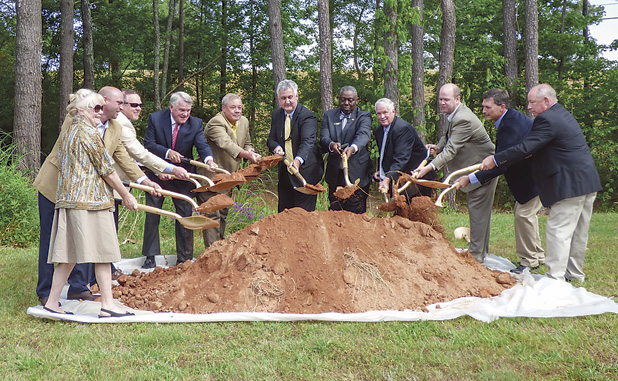 It has been 20 years since the plan for an interchange at Interstate 85 and Poplar Road in Coweta County was born. Groundbreaking for the $29 million interchange was held May 12 and will be followed by an expected opening in early 2019.
The Ga. Dept. of Transportation in July 2012 approved the concept plan for the full-diamond interchange at Poplar Road and I-85. And on May 12 a host of elected officials and businesses assembled at nearby Piedmont Newnan Hospital for the groundbreaking.
"It all took teamwork to get it done," said Coweta County Commission Chairman Tim Lassetter, noting that the new interchange will carry the designation, Exit 44.
The total cost of the interchange situated on 50 acres is $28.8 million. E.R. Snell is the contractor that won the construction bid.
Coweta County's contribution to the project of up to $15 million came from the local 1-percent sales tax (SPLOST).
Poplar Road is fast becoming a magnet for healthcare in Coweta County. The eight-story Piedmont Newnan Hospital opened on a large parcel of property adjacent to what will become the interchange. And though currently the tallest building in southwest metro Atlanta, long-term plans for the 362,376 square-foot facility call for the potential construction of a second hospital tower that will link to the existing building.
While with its height it changes the landscape along I-85, Piedmont Newnan Hospital also brought another healthcare asset, a 125,000 sq. ft. medical office building adjacent to the hospital.
Another healthcare facility in the immediate area, the 40,000 square-foot Newnan Professional Center, is situated on Newnan Crossing Boulevard East and Poplar Road and features a number of healthcare providers.
Also in the immediate area, the 50-bed HealthSouth Rehabilitation Hospital opened a short distance away on Newnan Crossing Boulevard East. The $22 million investment generated more than 125 full-time jobs.
Still other medical office and retail sites have been approved by the Coweta County Commission and the Newnan City Council along Newnan Crossing Bypass in the area of Poplar Road.
It is easy to see that Newnan is fast becoming the "medical mecca" of west central Georgia.