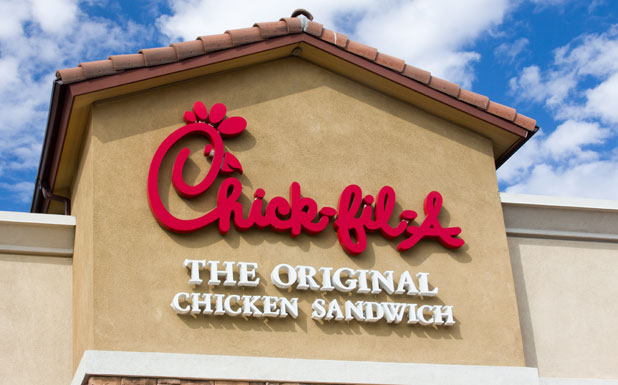 Peachtree City's newest Chick-fil-A restaurant at Line Creek is scheduled to open April 14, providing a chance for 100 adults to win free Chick-fil-A meals for a year and the opportunity for the community to donate books to a local elementary school.
Mike Holmes will serve as the owner/operator of Peachtree City's newest Chick-fil-A restaurant. Holmes has lived in the city for the last 25 years and will join an elite group of franchise operators who own three Chick-fil-A locations. He has served as franchise owner of the Kedron Village and Peachtree City locations for the past 19 years.
The family-friendly overnight First 100 party is expected to pop up in the parking lot of the restaurant at 2720 Highway 54 beginning 24 hours before the grand opening as guests try to be one of the first 100 adults through the door to win a year of free Chick-fil-A meals. This community event is open to guests residing in specific zip codes surrounding the restaurant. A complete listing of eligible ZIP codes and rules can be found at www.chick-fil-a.com/Locations/Openings.
A tradition going back more than 12 years, Chick-fil-A's First 100 celebration has given away nearly $27 million in free food through 2015 and continues to be the chain's signature grand opening event. Rain, snow and extreme temperatures below zero or above 100 do not deter fans who arrive with tents, chairs, TVs, computers and other gear.
Each is hoping to win a digital offer card loaded with a one-year supply of free Chick-fil-A Meals (52 meals with each consisting of a Chick-fil-A Chicken Sandwich, medium Waffle Potato Fries and a medium beverage) that will be awarded to the first 100 eligible adults (ages 18 and older with identification) in line when the doors open at 6 a.m. Thursday, April 14.
If more than 100 people are onsite when the line officially opens at 6 a.m. Wednesday, April 13, a drawing will be held to randomly select the First 100. Those chosen will be required to camp out until the grand opening in order to secure their spot.
"My team members and I can't wait to welcome our guests," said Holmes. "We're not just in the chicken business — we're in the people business. Our goal is to provide a remarkable experience for every customer, every time, by serving food our guests can truly feel good about eating, providing sincere hospitality and being a good neighbor in the Peachtree City community."
Construction will continue in the city as the company also rebuilds Holmes' Peachtree City location at 707 Highway 54 which opened 23 years ago. The rebuilt restaurant is scheduled to open later this summer.
The timely opening of one location and closing of the other allows Holmes to preserve the jobs of all his team members who will be working at his new Line Creek location. He will then hire a new staff when the original Peachtree City location re-opens.
The new Line Creek restaurant enables Holmes to extend his impact and involvement in the community. He recently became a sponsor of Clearwater Academy, a private nonprofit prep school for children and teens with learning differences. Students from the program work at his restaurant for a few hours to not only earn credits for their class but more importantly to gain confidence in social interaction in a positive work environment that encourages growth and development.
Nineteen of Holmes' former team members have received the opportunity to become Chick-fil-A operators.
"Chick-fil-A is more than an avenue for me to sell chicken sandwiches; it's an opportunity for me to grow leaders within our community," said Holmes, who is married to Cindy and has four children. "From providing a safe, positive environment for team members to be hired for their first job to seeing them move into leadership positions to becoming operators, nothing thrills me more than to watch that growth take place in each person"
Reflecting his desire to continue that positive impact on the surrounding community, Holmes is inviting his First 100 guests and restaurant customers to participate in a children's book drive with a drawing being held for a local elementary school to be selected to receive the gift. Holmes is collecting new and gently used children's books from 6:30 a.m. to 10 p.m. Thursday, April 14. The donated books will be placed in a nearly three-foot Book House to serve as a free library exchange. The Book House, built from reclaimed wood, is donated by the Chick-fil-A Foundation. Last year, Chick-fil-A collected more than 10,000 books from communities coast to coast, which were donated to 89 local organizations in 30 states and Washington, D.C.
The new Chick-fil-A restaurant features a restaurant design using hand-made, authentic materials for a vintage-inspired interior, including a large gathering table made from reclaimed wood, subway tiles, and light fixtures made from recycled Coca-Cola bottles and peach baskets.
There is a two-story interactive indoor play area for children and free Wi-Fi.
Drive-thru service has been expanded to offer dual drive-thru ordering lanes and screens to enable customers to quickly move into a single lane for payment and pick up.
The dining room has seating for 120 and 24 additional outdoor patio seats.
The full-service menu includes breakfast until 10:30 a.m., and will be open from 6 a.m. to 10 p.m. Monday through Saturday.
Holmes' journey with Chick-fil-A began nearly 28 years ago when he joined the company as a business consultant. He is a graduate of the University of Georgia's Terry College of Business where he received his bachelor's degree in human resource management. He later earned his MBA from Mercer University while working at Chick-fil-A.
Prior to joining Chick-fil-A, Holmes worked for an insurance company, Holmes says he was "hooked" after hearing about Chick-fil-A's culture and its values from friends who worked for the company. He opened his first restaurant in 1997 and quickly earned the chain's highest honor for an operator, the 1998 Symbol of Success, along with the 1998 Rookie of the Year.
The new Line Creek Chick-fil-A location marks the fourth restaurant in Peachtree City. The restaurant comes 48 years after the chain opened its first Georgia location inside Greenbriar Mall in 1967. The Peachtree City restaurant is among 95 new Chick-fil-A locations opening this year across the country, creating some 8,000 new jobs.
For more information, visit www.chick-fil-a.com or on Facebook at www.facebook.com/cfalinecreek.