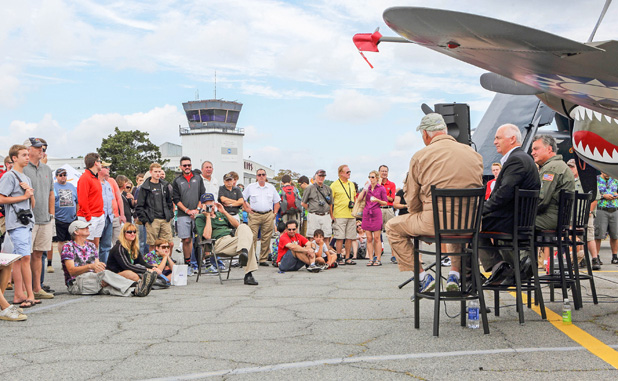 Military aviation history will come to life through a new monthly series presented by the Commemorative Air Force (CAF) Dixie Wing at the Wing's headquarters. The public is invited to join the Saturday discussions by a variety of aviators dedicated to preserving the memory of U.S. aviation history. The series begins March 26 and concludes Nov. 19.
All events will be from 11 a.m. to 1 p.m. at the Wing headquarters and museum, 1200 Echo Ct. in Peachtree City (adjacent to Atlanta Regional Airport – Falcon Field). Some events will include aircraft displays and the opportunity for rides.
"The CAF Dixie Wing Living History program brings history out of the textbook and gives it the human perspective of those who have actually experienced it," said Mo Aguiari, Dixie Wing marketing officer. "This is a fascinating presentation of events that is geared for the entire family and delivers on our Commemorative Air Force mission of education. Displaying the aircraft made famous by this era makes this program truly 'hands-on' history."
March 26: "Helicopters and Vietnam," presented by Col. Cliff Stern and helicopter pilots from the Army Aviation Heritage Foundation.
April 16: "Flying the Blackbird," presented by Lt. Col. (Ret.) Les Dyer, a pilot in the SR 71 program until 1985.
May 21: "The L-Bird Story: Liaison Aircraft from WWII to Vietnam," moderated by Steve Seal and George Harrison.
June 18: "Veterans of the Mighty Eighth," presented by Veterans of the Eighth Air Force Society Georgia Chapter, moderated by Brent Bracewell and Willard Womack.
July 16: "The Making of a Pilot," presented by Dixie Wing colonels, moderated by Keith Wood or Connie Bowlin.
Aug. 20: "The Lost Squadron," the story of the Greenland Expedition Society, presented by Expedition Society members, led by Pat Epps.
Oct. 15: "Fighter Pilots Symposium," the evolution of the fighter pilot from WWII to today, presented by Dixie Wing pilots, moderated by Keith Wood or Kevin Korterud.
Nov. 19: "What Makes Combat Vets Different," presented by veteran and local author Terry Garlock.
The fee to attend these Dixie Wing events is $10. For more information, visit www.dixiewing.org.
[CORRECTION — The beginning date was changed to reflect the correct start date, March 26.]
Below, the CAF hangar at Falcon Field with some of the historic aircraft. Photo/Tony Granata.