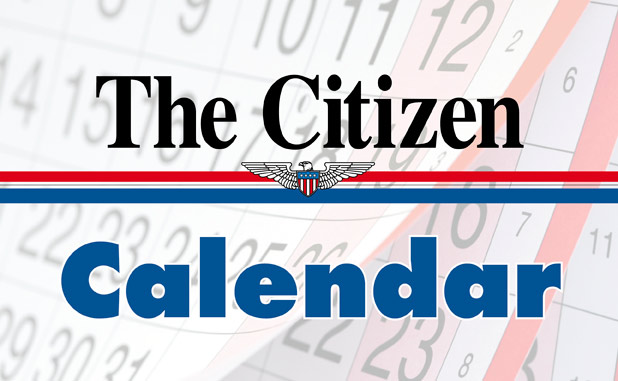 January

January 13
The planning committee for the upcoming annual Martin Luther King, Jr. Commemorative Community Program to be held at Sams Auditorium in Fayetteville Monday on January 18, at 11:30 a.m. is seeking local vocalists to be a part the MLK Community Choir. There will be two community rehearsals at Flat Rock AME Church located 148 Old Chapel Road in Fayetteville. Rehearsals will be today and Jan. 15 from 7-8:30 p.m..Directing the MLK Community Choir will be Tyrone Jones musician and organist for Inman United Methodist Church. Local choir members are encouraged to participate in this inaugural MLK Community Choir. If you are interested or want additional information, please contact Jones at 678-598-7880.
January 14
The Greater Fayette Republican Women's Club meets today at 5:30 p.m. at Nikko Restaurant in Tyrone. Officers for 2016-17 will be installed by Georgia Federation of Republican Women President Barbara Hickey, who will also tell us about plans for the coming year. For information, contact Debby Dickinson, ptcdebby@bellsouth.net/404-376-4132.
January 16
College bound students can get a head start on preparing for their college career. at the Fayette County Public Library 1821 Heritage Park Way, Fayetteville from 10 a.m. – noon.
Author Wendy Felton, will discuss her works: "The College Access Workbook."
Strategically position yourself for the future with financial aid, scholarships, and admissions For more information please call 404-849-2138.
The Newnan-Coweta Historical Society will present "Man of Peace," a concert by The Atlanta Concert Ringers in celebration of Dr. Martin Luther King, Jr. today at 6:30 p.m. at The Depot.
Boxes are also being distributed around Newnan for the MLK "Dream Quilt" project, headed up by NCHS Graduate Research Assistant Harvee White of the University of West Georgia. Local residents are encouraged to submit their "dream" for Newnan and Coweta County. The submissions will be stitched together and displayed at the Male Academy Museum. The Atlanta Concert Ringers began in 2002 as a result of a goal to assemble a community-based handbell performance group attracting experienced ringers from throughout the Atlanta metropolitan area.
In addition to concerts in the Atlanta area, ACR has performed throughout the Southeast. This diverse group of musicians includes elementary school educators, a graduate student, information technologists, a neuroscience PhD, retirees, and a statistician. Tickets to the event are available at the Male Academy Museum, the McRitchie-Hollis Museum, and at www.eventbrite.com.
Healing 4 Heroes will host its fifth annual "Mardi Gras Rendezvous" fundraiser today from 6-10 p.m. at the Wyndham Peachtree Hotel & Conference Center. Festivities include Mardi Gras-themed music and food along with silent and live auctions. Also featured is keynote speaker Maj. Kenneth Koon, Executive Director of Armed Forces Mission. Advance tickets are $75. No tickets will be sold at the door. Healing 4 Heroes invites any and all to attend the Mardi Gras Rendezvous, which is its major fundraising event each year. All proceeds help train psychiatric service dogs and match them with veterans suffering Post Traumatic Stress Disorder (PTSD) and Traumatic Brain Injury (TBI). For more information, contact Healing4Heroes at 678.364.9993 or Info@healing4heroes.org.
Visit www.healing4heroes.org and look for the organization on Facebook and Twitter.
January 17
On November 2, 1983, President Ronald Reagan signed a bill, proposed by Representative Katie Hall of Indiana, to create a federal holiday honoring Reverend Dr. Martin Luther King, Jr. The bill passed the House of Representatives and the holiday was observed for the first time on January 20, 1986. The birthday of this great American is observed on the third Monday in January of each year. Please join us for "Unity in the Community" series and the 2nd annual Let Freedom Sing musical concert from 5-7 p.m. at Sams Auditorium located 205 Lafayette Avenue in Fayetteville. Many invited artists are performing their talents to start the holiday weekend MLK festivities. Sponsoring the free event is the Fayette County Republican Party and the Director of the event is the GOP Chairman, Tyrone K. Jones, Sr. For further information see www.myfayettegop.org.
January 18
The Fayette County NAACP is sponsoring an MLK birthday parade and program today beginning with a 9 a.m. breakfast for sale by Chick-fil-A in the Fayette County High School parking lot. Lineup for the parade begins at 10 a.m. and the parade itself starts at 11, going to Hood Avenue, Hwy. 85, Hwy. 54 and back to the FCHS parking lot.
A commemorative program is scheduled from 11:30 a.m. to 12:30 p.m. in Sams Auditorium, 205 LaFayette Drive in Fayetteville. Admission is free. For more information, contact John E. Jones at 678-575-8166 or naacprezjones@aol.com.
January 19
JoAnn Wright will be the speaker for the Fayette Master Gardeners Association meeting scheduled for today at 11 a.m. at The Bridge Community Center, 225 Willow Bend Road in Peachtree City. She will be speaking on many techniques of plant propagation with emphasis on those most commonly used by home gardeners.Wright has a B.S. degree in soils and horticulture from the University of Minnesota. Before retirement, she worked for the USDA Seed Bank at the Georgia Experiment Station in Griffin. She became a Master Gardener with the University of Georgia Extension Volunteers in 2008 and has greatly contributed to local plant sales using her propagation methods.The public is invited to this free lecture. For more information visit www.fayettemga.org or contact fayettemga@gmail.com.
Join Tori Sorrells with Piedmont Fayette's 60 Plus Services and Marie Doyle with Fayette Senior Services as they share the importance of planning ahead and preparing for aging adults and caregivers. The session is today from 10-11 a.m. at Fayette Senior Services' Peachtree City location (McIntosh Place, 191 McIntosh Trail). Learn about services in the community that help care for someone with decreased independence. It's never too early to plan ahead.
This program is free but pre-registration is required at 770-461-0813 or register@fayss.org (include name, phone number and event title). FSS members and non-members welcome. For more information visit www.fayss.org.
January 22
Memory loss – what's normal and what's not? That is the topic of a session scheduled for today from 9 a.m.-noon at Fayette Senior Services' Fayetteville location (The Life Enrichment Center, 4 Center Drive). Dr. Martinez and his staff with the Neuropsychology Center will be on site to perform one-on-one memory screenings that are helpful in determining if forgetfulness is more than just normal aging. Immediately following a screening by a staff member, Dr. Martinez will be available for a brief consultation to review the results.This program is free but pre-registration is required at 770-461-0813 or register@fayss.org (include name, phone number and event title). FSS members and non-members welcome. For more information visit www.fayss.org.
January 23
Brewton-Parker College's Office of Alumni Relations invites alumni in the area to attend a BPC Alumni & Friends Dessert Social Saturday, today from 6:30-9:30 p.m. at First Baptist Church Newnan, The Warehouse, located at 17 Brown Street.
Reminisce with old friends, meet new people and catch up on the activities at Brewton-Parker College. Guest speaker will be Dr. Steve Echols, President of Brewton-Parker College. There will also be a special performance by the BPC Concert Choir. Spouses and guests are welcome. To learn more about the event, contact Director of Alumni Relations Kimberly Lajiness at 912-583-3255.
Fayetteville's Muslim community plans to host a "Meet Your Muslim Neighbor" open house today at 4 p.m. at the Islamic Community Center, at 288 E. Lanier Ave. We welcome our neighbors to join us for a guided tour of the mosque, a detailed presentation about Islam, and a Q&A session. RSVP by emailing info@iccatlanta.org.
The Peachtree City SDA Church, located at 4957 Hwy 34 E in Sharpsburg will host a fun and family-friendly 50s/60s Night on tonight at 7 p.m. All ages are invited! Come dressed in era-themed attire, enjoy delicious food, participate in a talent show, and dance to music from these fun decades! If you have any questions or would like to participate in the talent show, email Pastor Nate Elias at pastornateelias@gmail.com.
January 25
The South Metro Rose Society meets at 6:30 p.m. at The Heritage Bank, 440 N. Jeff Davis Drive in Fayetteville. All rose growers from novice to expert are invited to attend free of charge. The program features Master Rosarian Cathy Farmer speaking about Old Garden Roses. Her program will describe Antique Roses that have been with us for hundreds of years and their intriguing history. As always, Consulting Rosarians will be available to answer questions on any rose topic. For more meeting information, phone 770-631-3885.
January 26
Today you can attend a free educational meeting on Tax Free Real Estate Investing with IRAs from 6:30-8:30 p.m. RSVP invest@srnhomes.com
For more information call 678-782-1004
January 28
The Fayetteville Police Department is now helping Fayetteville residents and businesses be prepared for active shooter events by teaching an "Active Shooter Response" class.The class, which lasts approximately one hour, is based off a video produced by the city of Houston entitled "Run, Hide, Fight" and offers tips for how to respond when an active shooter situation takes place The class is currently being offered to Fayetteville businesses at their location and a class for the public is scheduled today at 7 p.m. at the Fayetteville Municipal Court. If you are interested in attending the public class or would like to schedule a class at your business, contact Lt. Mike Whitlow at 770-719-4222 or mwhitlow@fayetteville-ga.gov.
February
February 4
An educational workshop detailing "Healthcare Costs in Retirement" is today at 6 p.m. at The Village Cafe in Fayetteville.
This event is free and open to the public. Seating is limited and a reservation is required by Jan. 28. Please call 770-719-2935. The event is hosted by the Edward Jones office of Richelle Mathis in Fayetteville.
March
March 5
Lace up your shoes for a great morning of running in Peachtree City's quiet neighborhoods and paths. Oak Grove Elementary's 13th Annual Run for the Gold 5K Run and 1 mile Fun Run today, beginning at 8 a.m. Early registration is $20 for participants with a $80 cap for all families. Phantom runners (those who wish to support Run for the Gold but are unable to run) may purchase a T-Shirt for $15. Registration after Feb. 26 is $25. Applications are available at www.oges.org. For more information, contact Oak Grove at 770-631-3260.