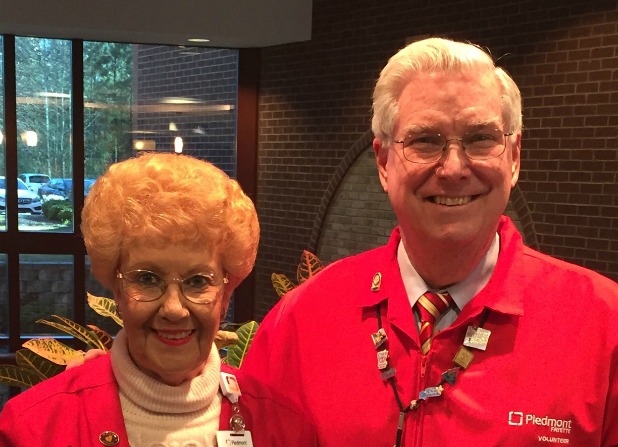 If you've driven by Piedmont Fayette Hospital recently, you have undoubtedly seen the construction taking place, that will double the number of examination rooms in the emergency department and add patient rooms on the four floors above it. Already a busy place, the hospital will only get busier as the expanded emergency department is completed this fall and the new floors above it are finished in early 2017. One program that assists in keeping things orderly and running smoothly is the Piedmont Fayette Auxiliary and they could use some more members.
The Piedmont Fayette Hospital Auxiliary was founded in 1997 and supports patients, families, staff and the community. Members assist the hospital in numerous service areas including emergency services, the Thomas F. Chapman Cancer Wellness Center, the fitness center, maternity and our courtesy golf cart shuttle among many others.
"We are looking for kind, dedicated people, committed to helping others and we want the best of the best," said Patty Johnson, Auxiliary Services Specialist. "Most people volunteer a minimum of 75 hours a year, with four hour shifts every week or every other week."
There are opportunities open to adults, ages 18 and older, five days a week, with some service areas available seven days a week, with opportunities to work days, nights and weekends. Over the years, the Auxiliary, which raises money for the hospital through gift shop sales, golf tournaments and more, has gifted wheelchairs, cardiac monitoring equipment and neonatal beds for premature infants to the hospital, as well as gardens, an aquarium for the Cancer Wellness Center, holiday decorations and much more.
"The members of the Auxiliary have given more than 853,000 hours of service since 1997," said Piedmont Fayette CEO Michael Burnett. "They play an important role in the outstanding health care our patients receive each day."
To join the auxiliary, applicants must be 18 or over with a genuine interest in giving back to the community. It is a good fit for people with an interest or a background in the healthcare industry.
If you are interested in joining the Piedmont Fayette Hospital Auxiliary, call 770-719-7098 or visit piedmont.org/volunteers for more information.