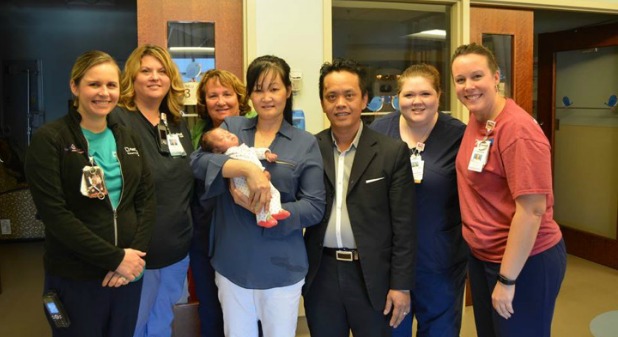 Hoang Dao, visiting with his family from Texas to attend job training, awoke Oct. 15 in his hotel bed to find his wife, 30 weeks pregnant, unconscious in a pool of blood. Nga Nguyen had experienced severe placenta rupture and was rushed by ambulance to Piedmont Newnan Hospital.
"You never expect to wake up and find your wife in that state," said Dao. "It was my worst nightmare, not knowing if she would survive and keeping my two young kids from waking to see that."
Placental abruption is a rare but serious condition, affecting one percent of all pregnancies, where the placenta separates from the wall of the uterus causing severe bleeding in the mom and a loss of oxygen and nutrients to the unborn baby.
"It took everyone in the hospital working together, emergency services, women's services, ICU, blood bank, interventional radiology – everyone's priority was to quickly deliver the baby and stop the mom's bleeding," said Tia Guster, M.D., obstetrician at Piedmont Newnan. "Seeing her when she came in, I didn't expect either one to make it; they are true miracles."
Nguyen had lost four to five times her total blood volume and, despite continuous blood transfusions, went into hemorrhagic shock. An emergency interventional radiology procedure, uterine embolization, was finally able to repair her left uterine artery and stop the bleeding. Nguyen showed immediate improvement and spent two days in the ICU recovering before waking up. After two weeks at Piedmont Newnan Hospital, she was well enough to go home.
"So far in my career, this case is the case I will never forget about and makes all the years of hardship in fellowship, residency, and med school worth it," said Fawzi Mohammad, M.D., interventional radiologist at Piedmont Newnan.
Baby, Emily Dao, spent 72 days in the NICU at Piedmont Newnan Hospital receiving care before going home Jan. 5. She had bleeding and fluid in the brain that had to be manually drained through a temporary access device until weighed enough to receive a device that would continually drain the fluid. This was able to stabilize her dips in heart rate and oxygen and get her healthy enough to go home. Before taking Emily back to Texas to meet her siblings, mom and dad spent time with Piedmont Newnan's NICU nurses in the days leading up to her departure to ensure the family was comfortable with the care she will continue to need at home.
"If we hadn't been here, I know my wife and daughter wouldn't be here today," said Dao. "I am forever grateful to the staff here and overjoyed to bring Emily home and have our family together again."
For more information on women's services at Piedmont Newnan, visit piedmont.org.