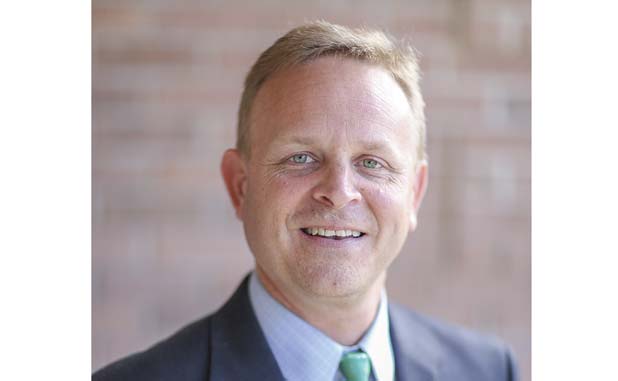 Tyrone Mayor Eric Dial on Jan. 7 presented the annual "State of the Town" address at the Town Council meeting. The address covered a number of issues such as improvements to infrastructure and amenities, enhancing the downtown corridor and the potential for acquiring sewer in the downtown area.
Dial began his remarks saying that after several years of receiving recognition from outside sources as one of the greatest places to live in Georgia, the town has become accustomed to the advantages Tyrone has to offer and it is an honor to serve in positions of leadership.
"One of the dangers of this success is that we can allow ourselves to enjoy life so much that we fail to recognize the work that needs to be done to continue this success," said Dial. "This council and staff refuse to grow complacent. Over the last 18 months we have tackled major projects that will shape the future of our town because we recognize the fact that growth is around the corner and we have to manage it responsibly."
Turning to infrastructure and amenities, Dial said that, primarily through a low-interest loan from the state, in 2015 the town resurfaced more than seven miles of roads and two miles of cart paths.
"In other resurfacing, we have a series of roads that are due for new asphalt. You will soon see a resurfaced path around Shamrock Lake and additional cart paths in other areas of town," he said. "We are committed to the development of new cart paths to the tune of $200,000 per year. In other work at Shamrock Park, we will build a new and improved bridge and bathrooms adjacent to the tennis courts."
In terms of business and residential development, Dial said 2015 also brought 57 new businesses along with permits issued for 25 new single-family homes and six new commercial buildings.
"We are realizing more interest in our main tracts of land than we have in a long time so our planning and infrastructure work is very timely," the mayor said. "We are close to completing our comprehensive plan that will establish guidelines for this potential development. By far the number one priority from citizen input was to see the downtown corridor enhanced."
A facet of the enhancement of the downtown corridor deals with providing sewer to the area, he said.
"While we are already (enhancing the downtown area) in many ways with Senoia Road resurfacing and Shamrock Park investments, the most important project will be sewer availability for downtown. The businesses that operate here deserve nothing less," Dial said. "We are working with Peachtree City to convert our treatment from Fairburn to the Peachtree City Water and Sewer Authority. Fortunately, because this is beneficial for Tyrone, Peachtree City and all other affected parties, we have met virtually no resistance and I trust this will become reality over the course of 2016."
Dial said another important area of focus is the Ga. Highway 74 corridor.
"We continue to work with the 74 Gateway Coalition," said Dial. "Working with Fairburn, the South Fulton CID (Community Improvement District), Fayette County and Peachtree City, we all remain committed to a seamless 74 with minimal curb cuts and traffic lights accompanied by consistent setbacks and landscaping. Simultaneously, we will work with the Fayette Chamber and the Fayette County Development Authority to target and recruit corporate headquarters and other desirable uses for the large tracts of land on the corridor."
Dial near the end of the address turned the focus to the town's employees.
"Finally, I want to recognize our staff for the great work they do every day on our behalf. Since I can't mention each of them by name, I will specifically thank (City Manager) Kyle Hood and (Police Chief) Brandon Perkins for the leadership they provide to two outstanding groups of people. It is no secret that our police department is one of the best in the state and it translates into a very low crime rate which is a major factor in our recognition as a great place to live."
Dial noted that all of the town's other departments are also worthy of praise for their efficiency and commitment to our taxpayers.