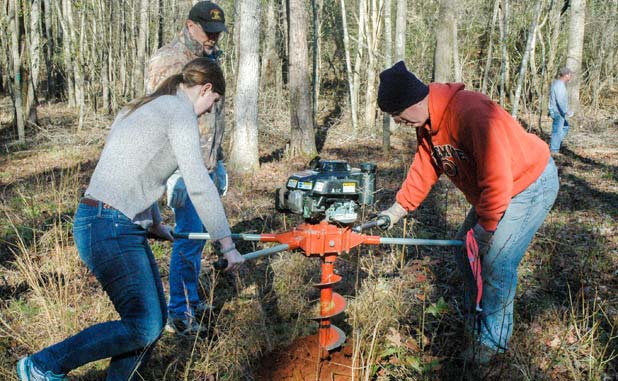 There is something always happening at The Ridge Nature Area to help the 300-acre wildlife and educational preserve in Fayetteville. On Dec. 19, two scouts worked on separate projects in preparation for the preserve's 2016 opening.
Jorie Thuon, 17, a Senior Girl Scout with Troop 255 in Peachtree City, Service Unit 617, led a group erecting bats houses in areas of the nature area.
One of those houses was installed in the Piedmont Meadow, currently under development. The bat house towers more than 15 feet over the meadow and includes three chambers which will accommodate a total of 300 bats.
Thuon's idea was to use the bat houses as substitutes for traditional roosting areas. The bat house undertaking was a Girl Scout Gold Award service project.
Jorie was joined by a group of volunteers, including members of her family and former troop member Olivia Norman.
Also working in the Piedmont Meadow Saturday morning was Noah Pfaff a Troop 57 Life Scout from Coweta County.
Assisted by Fayette Master Gardeners, Pfaff and others worked on the Eagle Scout and Hornady Conservation Badge community service project that continued clearing efforts in the Piedmont Meadow area to restore the meadow habitat with native plant species.
Groups for volunteers over the past several months have worked to clear meadow areas, build small bridges, improve trails and provide a host of work needed by the time The Ridge opens to the public in early 2016.
Once complete, The Ridge will provide a nature education center, and host of sustainable outdoor recreation activities including over five miles of on-site hiking, mountain biking and running trails, geocaching and orienteering, a youth campground, canoe and kayak boat launch, and numerous bird watching spots.
The Ridge is managed by Southern Conservation Trust.
More information is available at www.facebook.com/TheRidgeNatureArea or www.sctlandtrust.org.