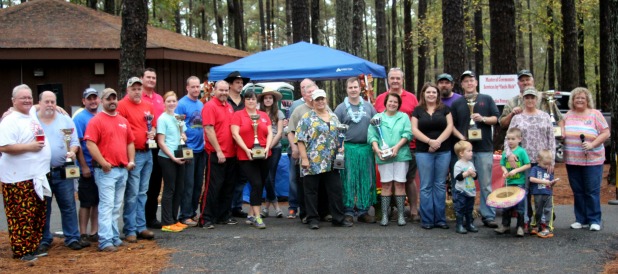 It was a wet ground with a dry sky and the chili was hot.
It was a banner year for the Line Creek Civitan Club as they held their annual chili challenge at Shakerag Knoll Park in Peachtree City. People came and stayed all day to enjoy the festivities and taste the many varieties of chili.
A Big Green Egg was given away by a raffle drawing which was won by Andy King. The Rowena Ryan Irish Dance Group performed live dances for entertainment. Darryl Douglass provided music as a D.J. and the emcee of the event was Uncle Rich with 92.5 The Bear.
The net proceeds from the Chili Challenge will support local community charities and Civitan projects that work to improve the lives of children and adults with developmental disabilities. Civitan provides contributions to many local charities which include The Joseph Sams School, American Cancer Society's Relay for Life, Special Olympics, Special People of Fayette County, Christian City and Southwest Christian Care. Additionally, they help fund the Civitan International Research Center which brings together top scientific minds and the latest technology to create innovative therapies and treatments for people affected by mental and developmental disabilities.
Awards were presented in many categories that were voted on by the people attending and also by the official judges, including Laura Smith, Mrs. Georgia America 2015; Tom Lacy, Attorney; Stephen Ott, Municipal Judge, Peachtree City; Chris Edwards, Chief Judge, Griffin Judicial Circuit; George Wingo, Tax Commissioner, Fayette County.
Also voting were the people that attended the Chili Challenge as they could vote for their favorite chili. The winner of the people's choice won a $500 cash prize for the first time in the history of this event.
For more information, visit www.linecreekcivitan.org or check out the Line Creek Civitan Club page on Facebook. You may also contact Debbie at 770-401-6944 or debbie_clanton@att.net.
Here is the list of winners:
BIG GREEN EGG RAFFLE
Winner: Andy King (King Tree Experts)
PEOPLE'S CHOICE (Public Vote)
1st Place ($500 Prize): Spicy Murphy by Ant Murphy
2nd Place: Exceptional Ops (Janet Smola)
JUDGE'S CHOICE
1st Place (Individual): Real Deal Chili (Kris & Mark Miller)
2nd Place (Individual): Tombstone (Wayne Dombroski & Clay Sutton)
1st Place (Commercial): Karate Atlanta (Tracy Szilagyi)
2nd Place (Commercial): Georgia Central Electric (Shep Harris)
1st Place Best Booth: Trinity Air
2nd Place Best Booth: Edward Jones Investment (Mike Martin)
Best Youth Presentation: Sandy Creek Auto Class (Matthew Turner)