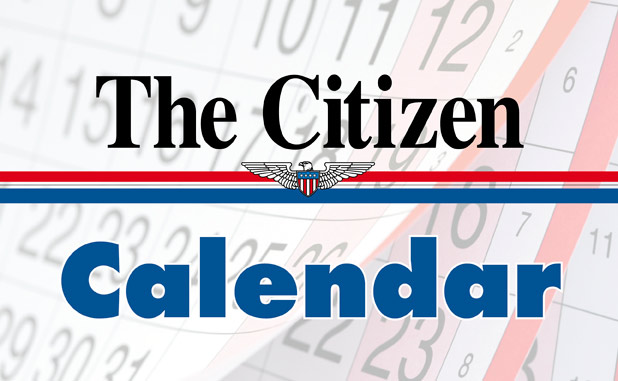 September
.
September 23
The McIntosh Homecoming Parade is today at 4:15 p.m. Free for all. Come line the street to cheer on the McIntosh Chiefs/ Parade route is Walt Banks, south on Peachtree Parkway, Stevens Entry and Prime Point.
September 26
The big cities may have Comic Con and Dragon Con, but Peachtree City Library's Story Con is scheduled for today. The Southern Crescent Storytellers and the Peachtree City Library will present an afternoon of costumes, Southern stories, fairy tales, folk tales, fables, youth storytelling, music, and classes for all ages. Registration will be held 11:30-11:50 a.m. in the Library's front lobby, and activities will take place from noon to 3 p.m. Wear your favorite story character costume and participate in the costume parade and contest at 3 p.m. Admission is free, open to all regardless of residency, and refreshments will be served.The Friends of The Peachtree City Library, Inc. is a volunteer organization and a nonprofit corporation whose mission is to promote community support for the Peachtree City Library and its programs. For further information about Southern Crescent Storytellers and events at the Peachtree City Library, visit www.southernorderofstorytellers.org and www.PeachtreeCityLibraryFriends.org.
Harpist Ashley Collins, who recently toured and studied in India, will give a concert today at 3 p.m. at the McRitchie-Hollis Museum, 74 Jackson St. in Newnan. She has been performing harp for more than 13 years across the globe, from El Salvador to Ireland, Guatemala to India and across the U.S.A. She combines classical music with modern pop pieces, creating delightful programs that surprise and enthrall all of her audiences. Tickets for the concert are $10 (plus processing fee), and are available at the museum and at eventbrite.com (www.eventbrite.com/e/harpist-ashley-collins-at-mcritchie-hollis-tickets-18440275360).
Five mayors of Fayette County cities will participate in a re-dedication ceremony for the Veterans Memorial at 9 a.m. today. The color guard and other ceremonial support will be provided by Georgia Military College and their recently opened Fayetteville Campus.The event is free and the public is invited. The Veterans Memorial is located in the center of the eight-acre Memorial Patriot Park at 1100-1102 Redwine Road in Fayetteville.
The fourth Market Day event of 2015, located on the grounds of the Historic Courthouse in downtown Fayetteville, is today. Fayetteville Main Street welcomes everyone to browse through a variety of vendors showcasing their homemade and homegrown products and enjoy a day filled with music and unique items in an "open air" market. The Market opens at 10 a.m. and will close at 2 p.m. Music will be provided by Mitchell DJ Services. The Main Street Welcome Center located inside the Courthouse will also be open for informational brochures, ornaments, T-shirts and other memorabilia. Any vendors wishing to participate in future Market Days should call 770-719-4173. For info on other planned events in downtown Fayetteville, check the Main Street Calendar at www.Fayetteville-GA.gov.
Community members are invited to participate in Piedmont Newnan Hospital's September Walk with a Doc featuring Frank S. Powell, M.D. The walk is today from 8:30 to 9:30 a.m., at Carl Miller Park (70 Sewell Road in Newnan). Dr. Powell specializes in breast surgery, general surgery, hyperbaric medicine, thoracic surgery and wound care. While the event is free, registration is required. Participants will receive a pedometer to help them keep track of the number of steps they take, as well as a choice of a free T-shirt or water bottle. To register, call 877-527-3712 or visit piedmont.org/walkwithadoc. Registration will also be available on site starting at 8 a.m.
The Fayette County Democratic Committee will sponsor its third annual Summer Evening of Jazz concert, today at the Southern Ground Amphitheater in Fayetteville. Summer Evening of Jazz will feature one of Fayette's own, Dara Carter, a 2012 graduate of Sandy Creek High School; Jazz phenomenal Antoine Knight, and an all star musical group coming out of Los Angeles as the main attraction, Jazz in Pink. Cut & Catered Your Way will provide concessions for the event or you may bring your own food and drink. Tickets can be purchased online at summereveningofjazz.com, or by calling Bonnie at 678-519-4163. General seating is $38 plus a small processing fee. Veterans, students and first responders tickets are buy one get one (BOGO) with ID. For more information visit SummerEveningofJazz.com or Fayettedems.org.
September 27
Southern Conservation Trust is hosting "Hike & Like", an afternoon of free family outdoor fun today at Line Creek Nature Area in Peachtree City, GA. Activities beginning at 2 p.m. include trail hiking, treasure hunt, and prizes. The well-loved trails will offer hiking along Line Creek and among the exciting outcroppings. An experienced guide will highlight fascinating facts about our local ecosystem and wildlife habitats. Hikers will be able to choose focused guided tours on wildlife, plants etc..
Don't miss your chance to see a diverse collection of live venomous and non-venomous snakes and reptiles who call the Southeastern U.S. home. Presented by Southeastern Reptile Rescue's Jason Clark at 4 p.m. you'll be only feet away learning how to identify king snakes, rat snakes, corn snakes, copperheads, cottonmouths, rattlesnakes and even an American alligator…most are found right here in our own backyards. Jason captivates the crowd with the reptiles and his rescue adventures while he teaches why we should appreciate and protect these often feared members of the animal kingdom. Donations to defray the cost of the program will be accepted. Additional activities include a Treasure Hunt with prizes and refreshments. All activities are presented thanks to many sponsors and partners. To register or for more information visit www.sctlandtrust.org or info@sctlandtrust.org.
September 28
The South Metro Rose Society will meet at 6:30 p.m. at the Heritage Bank, 440 N. Jeff Davis Drive in Fayetteville. All rose growers from novice to expert are invited to attend free of charge. This month's program features SMRS member Betsy van der Hoek speaking on rose hybridizing. She is a member of the Rose Hybridizers Association and her program will describe how new rose varieties are created using simple techniques that any rose enthusiast can easily understand and may want to try in their own garden.As usual, master and consulting rosarians will be available to answer questions on any rose topic. For more meeting information, phone 770-631-3885.
The 19th Annual Celebrity Charity Golf Tournament, hosted by the National Football League Former Players Association's Atlanta Chapter, is scheduled for today at Canongate 1 Golf Club, 924 Shaw Road in Sharpsburg. The tournament will be a one-day 18-hole event with five-player teams, each of which includes one celebrity.It is a scramble best-ball format with each team being captained by a former or active professional athlete.For more information contact Lee Thompson at 770-722-0413.
September 29
The Fayette County Public Library invites the public to attend "An Evening with Alpha Company," a readers' theatre presentation of excerpts from "The Things They Carried," Tim O'Brien's acclaimed 1990 novel of the Vietnam War.
The event is today at 7 p.m. Admission is free, but seating will be limited. A sampling of foods representative of Vietnamese cuisine will be available free of charge to audience members. Four local men will read the parts of the soldiers of Alpha Company, a platoon of infantrymen fighting in Vietnam. David Hobson, Ralph McDuffie, Bill Ramsey, and David Wiseman give voice to the men, with Hobson playing an older O'Brien looking back on the events of his youth, and the other three bringing his memories to life around him. The script is excerpted from a full-length unpublished stage adaptation written by Atlanta writer and filmmaker Joshua Wilcox, based upon Tim O'Brien's original novel. A brief question-and-answer session with the company will take place immediately following the reading. Please note that this is a war story, and contains material that may not be suitable for young children. All "Fayette on the Page" activities are free and open to the public, made possible through the generous support of the Friends of the Fayette County Public Library. Copies of "The Things They Carried" are available for checkout to PINES library card holders at the Fayette County Public Library. Any Georgia resident who does not already have a PINES card can receive one on the spot by showing proof of current address and filling out a brief application. The Fayette County Public Library is located behind the Fayette County administration complex in downtown Fayetteville, at the southwest corner of Highways 85 and 54. For additional information about "Fayette on the Page: One Book, One Community," please contact the library at 770-461-8841 or visit www.fayettecountyga.gov/public_library.
The Fayette County Issues Tea Party invites the public to its monthly meeting to hear Fayette County Schools Superintendent Joseph "Jody" Barrow update the audience on the status of public education in the county, and
respond to your questions. The meeting begins at 7 p.m. at the
Whitewater Creek amenities center (immediate right turn inside the gate), at
165 Birkdale Drive in Fayetteville. There is no admission charge.
October
October 1
The Edward Jones office of Richelle Mathis will be hosting a free dinner seminar on "Understanding Social Security". This event will be held at Tim's Country Kitchen in Banks Station in Fayetteville today at 6:30 p.m. This seminar is open to the public but seating is limited. Please call 770-719-2935 to reserve your spot.
October 3
The Peachtree Wind Ensemble will be presenting a "Concert on the Lawn" at 6 p.m. next to Partner's Pizza at the Aberdeen Village Center in Peachtree City. Admission is free. The music will include a variety of marches, show tunes, pop-style tunes, and other familiar pieces. The Peachtree Wind Ensemble is a non-profit community band with members from the surrounding areas. See www.peachtreewindensemble.org for additional information.
The Alzheimer's Association Walk to End Alzheimer's is a movement to reclaim the future for millions. Walk to End Alzheimer's of the Southern Crescent is today at the Fredrick Brown Jr. Amphitheater, Peachtree City, Georgia. Nearly 700 people from Fayette, Spalding, Henry, Coweta, Clayton, and South Fulton counties are expected at this year's event to raise awareness and funds to fight Alzheimer's disease. Alzheimer's Association Walk to End Alzheimer's participants will complete a 3.1 mile walk and will learn about Alzheimer's disease, advocacy opportunities, clinical studies enrollment and support programs and services from the Alzheimer's Association. Walk participants will also join in a meaningful tribute ceremony to honor those affected by Alzheimer's disease.Start or join a team today at georgiawalk.org or contact Emily Richter at 404-728-6059.
The Cotton Pickin' Fair, Gay, Ga, is a national-award-winning festival held continuously since 1972 on the Gay Family Farmstead. Some 350 exhibits provide an exciting range of Art, Antiques, and Crafts nestled in and around interesting farm buildings dating from 1891. Delicious southern foods are cooked on site and excellent regional entertainment combine to make a truly unique family outing and a historic farm country experience.
The fair is today and tomorrow at the Gay Family Farmstead, in Gay. Adults (13-64) -$8; Seniors (65 and older) – $7; Children (7 to 12)- $5; 8 a.m. to 5 p.m.; www.cpfair.org or www.facebook.com/thecottonpickinfair 706-538-6814.
October 8
The Greater Fayette Republican Women's Club will hold their next meeting today at 6 p.m. at Green Ginger, 200 Market Place Connector, Peachtree City. We look forward to welcoming guest speaker Anne Lewis, general counsel for the Georgia Republican Party. We will be ordering from the menu which can be viewed at greengingesushi.com. Everyone is invited and encouraged to attend and enjoy our program. If you plan to join us or for additional information, please contact Alberta Lucas (lu210w@mindspring.com/770-719-0879) or Debby Dickinson (ptcdebby@bellsouth.net/404-376-4132).
October 9
An art show and sale sponsored by the Fayette Society of Fine Art in Fayetteville is today and Oct.10 at the Log Cabin, 180 Glynn Street South.
Friday hours are 10 a.m.-6 p.m., and
Saturday from 10 a.m.-5 p.m. Everyone is invited to come and see the amazing
variety of styles and colors. Free admission.
Dr. Subodh Pandit will be at the Peachtree City Seventh Day Adventist Church, located at 4957 Ga. Highway 34 E in Sharpsburg on October 9 – 10 for "Come Search with Me – An Exploration of World Religions." For more detailed information on his presentations and to see a video preview, go to www.ptcsda.com. and click on News & Events.
October 10
Noted Atlanta poet Collin Kelley will lead the Fall Peach Jam poetry workshop today from 10 a.m. until at least 2 p.m. Poets and aspiring poets, age 18 and older, are invited to register. A love of words well strung together is the only pre-requisite for this workshop. Pre-registration is a must. Register under the Poetry Workshop menu at www.PeachtreeCityLibraryFriends.org. Registration deadline is Thursday, Oct. 8, at noon.
October 14
Students from throughout Fayette County will be joining thousands of other youth on athletic fields all across the nation today to share their Christian faith with fellow students during the ninth annual national Fields of Faith event. The Fayette event will be at McIntosh High School. This will be the fifth Fields of Faith event for Fayette County. Last year, approximately 250 students and supporters attended at McIntosh High School Gymnasium. More information about Fields of Faith is available at FieldsofFaith.com. To learn more about the Oct. 14 event at McIntosh High School, contact Mark Anderson, 770-883-1386 or manderson@fca.org.
October 17
The McIntosh High School Fall Festival is today from 1-6 p.m.. The event is at McIntosh High School and the cost is $7.
October 29
"Figuring Out Facebook: For Beginners" is today from 11 a.m.-noon sponsored by Fayette Senior Services at the Gathering Place, 203 McIntosh Trail in Peachtree City.This introductory class to get you linked into social media right away. This is designed for beginners who want to learn the very basics of Facebook. What is Facebook all about and how do you get it to work? Find out how to create an account, find friends, and navigate the page so you can keep up with all your family and friends. The program is free but pre-registration is required at 770-461-0813 or register@fayss.org (include name, phone number and event title and location). FSS members and non-members welcome. For more information visit www.fayss.org.