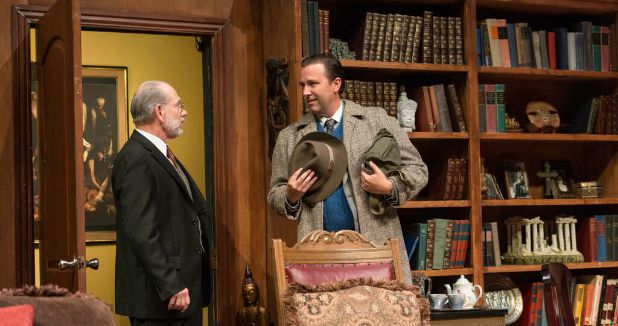 The Legacy Theatre in Tyrone is opening its landmark tenth season with the gripping play "Freud's Last Session."
Hailed as "a juicy, intellectual debate between two great minds," by the New York Post, "Freud's Last Session" transports audiences to the London study of famous psychoanalyst and atheist Sigmund Freud weeks before his death. Freud has invited Christian author C.S. Lewis to his home and what follows is an exciting clash about love, God and the meaning of life. The award-winning play by Mark St. Germain has been an audience favorite since its successful off-Broadway run in 2010.
The Legacy produced Freud's Last Session in partnership with Abilene Christian University which stars Adam Hester in the role of Sigmund Freud and Legacy artistic director Mark Smith as Professor C.S. Lewis. Hester, a professor of Theatre at Abilene Christian University and Smith, an ACU alumnus, are reprising their respective roles for Atlanta audiences following a successful run in Texas. The production is directed by Gary Varner, who was also a part of the original production at Barrington Stage.
"The script is brilliant," said Smith. "It's definitely a show that will leave you talking about it for days. It's a great conversation starter. Even though the show is fictional, it's easy to believe if Freud and Lewis met, the afternoon would've probably ended up just like it does on stage."
"Our audiences are going to love it," said executive producer Bethany Smith. "The show is per-fect for Church groups in particular. It's about faith, love and two men contemplating the mean-ing of life. Also, the set is beautiful, the show is wonderfully directed and the acting is great. There isn't anything not to love."
"Freud's Last Session" opens Friday, Sept. 18, and runs until Oct. 4. Performances are Fridays and Saturdays at 8 p.m. as well as Saturdays and Sundays at 3 p.m. Talkbacks will also follow select performances.
The Legacy's tenth season continues with "Appalachian Christmas Homecoming," a heart-warming musical about a North Georgia family playing Nov. 20-Dec. 20, and "Buddy: the Buddy Holly Story" running Jan. 22-Feb. 21, 2016. The rest of the season includes "Into the Woods" April 15-May 8 and "Mary Poppins" July 8-Aug. 7.
Tickets are on sale now through the box office at 404-895-1473 and at www.thelegacytheatre.org. Season Tickets are available for $125 and single tickets start at $30. Group rates are also available.