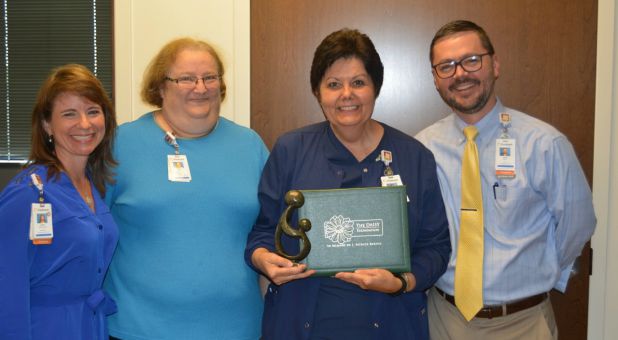 A recent patient of Piedmont Newnan Hospital's infusion center nominated Della Dean, RN, for a DAISY Award for Extraordinary Nurses recipient. Dean was recognized in July as part of a national program honoring nurses for their clinical skills and compassionate care for patients and their families.
The patient wrote a letter praising Dean for her exemplary care as both a gifted nurse and exceptional leader. "Mrs. Della Dean is a godsend in my life," the patient began. "She takes the most extraordinary care of me each time I visit the infusion center. Her grace and compassion–along with her amazing skills and wisdom–truly make all the difference in my care. I am in awe every single time that I see her interact with a patient, comfort a caregiver, assist a team member, or start an IV on my impossible veins! She is always kind and gentle and does whatever it takes to ensure that all of her patients receive the very best possible care."
Fellow employees, executives and the patient attended a ceremony to present Dean with the award.
"The patient's nomination letter truly captured why Miss Della is a true example of a DAISY in every possible way," said Jason Smith, Chief Nursing Officer. "She truly cares for each and every patient and her thoughtfulness and commitment to nursing should be an example to us all."
Nurses can be nominated for the DAISY Award for Extraordinary Nurses by colleagues, physicians, patients and visitors. Honorees are selected monthly by a selection committee and nursing administration team.
"Participating in the DAISY Award program is one way we honor our nurses who go above and beyond to deliver exceptional patient care," said Karen Strickland, RN, CCRN, Nurse Manager and DAISY program coordinator at Piedmont Newnan. "They are often unsung heroes and we want them to know they are highly valued and we appreciate what they do."
The not-for-profit DAISY Foundation was established by family members in memory of J. Patrick Barnes, who died at the age of 33 in 1999 from complications of Idiopathic Thrombocytopenic Purpura, a little-known but not uncommon autoimmune disease. The care Barnes and his family received from nurses inspired this unique means of thanking nurses for making a profound difference in the lives of their patients and their families.
For more information about the DAISY Award, visit daisyfoundation.org
For more information about nursing career opportunities at Piedmont Newnan, visit piedmont.org.