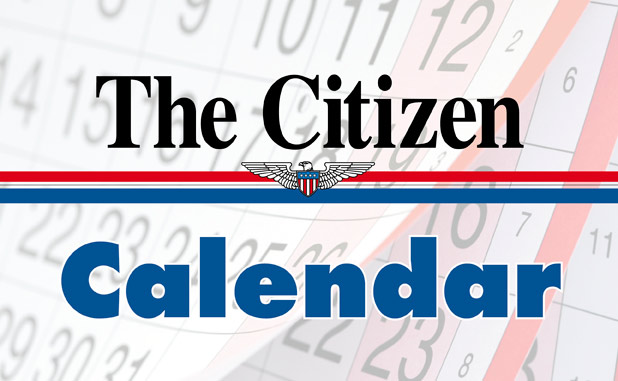 August
August 27
The town of Tyrone will host an open house from 5 p.m. to 7 p.m. today at the Tyrone Public Library. The purpose of the open house will be regarding updates to the Tyrone Town Comprehensive Plan.
The UGA Extension Office in Fayette County is offering a fall Master Gardener Extension Volunteer Program starting today through Oct. 29. A full-day class will be held each Thursday during this period from 9:30 a.m. to 3:30 p.m. with a one-hour lunch. Cost is $200 per person. Application packets are currently available for pick-up at the Extension Office and are due back (not mailed by) July 16 at 5 p.m.
If this sounds like your niche and you can meet the attendance requirement, stop by the Extension Office, Suite 209, Administrative Complex, or call 770.305.5412.
U.S. Rep. Lynn Westmoreland will be the guest presenter for the Newnan-Coweta Chamber's annual Small Business Showcase and Awards Celebration. This year's event is at The Newnan Centre at 1515 Lower Fayetteville Rd. in Newnan.Presented by SouthTowne and UBS, this event is the Chamber's annual celebration of Coweta's small businesses and their many contributions to Coweta's economic prosperity.The celebration kicks off at 3 p.m. with the Success Showcases in the Exhibit Hall, where Chamber members will have booths with information about their goods and services. A Portraits of Prosperity Panel begins at 4 p.m. and will feature past winners of the Small Business of the Year Awards. At 5 p.m., Small Business of the Year Awards will be announced, a time for honoring all the 2015 nominees and winners. Finally, a Celebration Reception at 6 p.m. concludes the day of honoring Coweta County's small businesses. Admission to the Small Business Showcase and Awards Celebration is $20 for Chamber members and $50 for General Admission. The registration fee covers attendance to the Showcase, Portraits of Prosperity Panel, Awards Ceremony and Celebration Reception.Registration deadline is Aug. 25. To register, email info@newnancowetachamber.org or call 770-253-2270.
August 29
Senoia Area Historical Society's second annual Ice Cream Social is today from 1 to 4 p.m. The public is invited to join us for free ice cream and watermelon on the grounds of the museum while you listen to bluegrass music at its best provided by Line Creek Bluegrass. We will also be announcing the results of our Structure Repair Campaign during the festivities.SAHS began a Structure Repair Campaign in May and have been thrilled with the response from the community, businesses, and even out-of-town supporters. The campaign started with an $18,000 goal and an end date of August 29. SAHS is hoping to meet that goal and begin repairs starting with a new roof. Donations can still sent to our P.O. Box 301, Senoia, GA 30276.
K-9 Club USA is sponsoring a family dog walk at Whitewater Middle School today from 8:30 – 9:30 a.m. Please meet in the front parking lot.All dogs must be on a leash and please bring a plastic bag for doggie cleanup. We will not have access to the building. The community is invited.
The Fayette County 4-H Shotgun Club will hold a public shoot fundraiser today from 9 a.m.-3 p.m. at their range, located at 2275 Hwy 85 South, Fayetteville. This shoot is open to 7th graders-adults and is a great way to practice for the upcoming dove season. The cost is $10 for 25 targets (5 stand/sporting clays set up). Only cash and check will be accepted. Ear and eye protection is required, and is not provided. You must bring your own equipment and shells (#7.5 – 9 shot). Range and equipment safety briefing will be provided for all participants. Concessions will be available so bring your appetite too! For more information please contact the Fayette County Extension Office at 770-305-5412 or at uge2113@uga.edu
August 31
The 2015 Golf Fore Kids tournament hosted by Dale Cardwell is today at Eagle's Landing Country Club in Stockbridge. It is an event organized to benefit The Children's Village at Christian City. Registration is at 9:30 a.m. followed by an 11 a.m. shotgun start and a 4 p.m. award ceremony and reception. Cost is $125 per player which includes cart, range balls, boxed lunch, refreshments, reception and dinner. Play is under a four-person/Ft. Lauderdale scramble format.There will be an silent auction and many giveaways The main event is the open competition with trophies for 1st, 2nd, and 3rd place teams. There will be a host of skill prizes too, and the traditional "Church Challenge" trophy will go to the top church team. For more information or to register, phone 770-703-2636 or visit www.christiancity.org.
September
September 3
The Fayette County Retired Educators Association will host its first meeting of the year today at 10:30 a.m. at Fayetteville First United Methodist Church's Family Life Center. All Fayette County retired educators are invited to attend. Piper Hill, veteran and founder of Healing 4 Heroes, will provide the program with her service dog, Remi. Future Meetings are scheduled for Oct. 1, Nov. 5, Feb. 4, March 3, April 14 and May 12. All are on Thursday at the same time and place. For more information, contact FCREA president Sandra Watson at 404-630-8477.
Affinity and Beyond is an organization that teaches social skills at group meetings.
The group is appropriate for those in their 20s through mid-30s for individuals experiencing a development challenge. Each participant will be assessed upon registration to determine their social skills needs. Social skills ranging from learning interpersonal skills to appropriate work skills will be emphasized. All group topics will be tailored to meet individual needs. A meet and greet will be held at the Peachtree City First Presbyterian Church today from 4 p.m. to 6 p.m. At this time a class for young adult and one for middle schoolers will be added. For more information or to register, email AfinityandBeyond.2010@gmail.com or call 678-467-8964.
September 10
The Peachtree City Police Department will be hosting a Adult Community Emergency Response Team class beginning today. This class will also be to celebrate the 10th year of this very successful program. The classes will be held each Thursday for 10 weeks concluding on Nov. 12.. The classes will begin at 6:30 p.m. and last until approximately 9 p.m. This will be a highly informative and interesting learning experience. The CERT Program will offer valuable insight into the first few critical hours following an emergency related event and how individuals can become empowered to better prepare to sustain themselves and their families. Additionally, due to this being our 10th anniversary class a special format will be used for this class making it an even more enjoyable experience. Prospective candidates must be at least (18) years of age and a resident of Georgia. Applicants will be required to sign a Waiver of Liability form and will be subject to a criminal history background check as a pre-condition to acceptance into the program. There is no charge to attend this class; however, the class size will be limited. More information about the Community Emergency Response Team can be obtained by visiting the Police Department's Facebook page or the CERT website: www.CERT-PTC.com or by calling 770-487-8866.
Applications are available on-line, or may be obtained from the Police Department..Application deadline is September 1.
September 12
Piedmont Fayette Hospital is a Registered Safe Sitter Teaching Site, offering comprehensive babysitting training for young teens (11 and up). Nationally, more than 600,000 graduates have completed the course and are able to stay home alone safely and handle emergencies when caring for younger children. The up-to-date curriculum provides hands-on practice in lifesaving techniques designed to prepare babysitters to act in an emergency. Babysitters also receive instruction on how a child's age affects how to care for them, how to prevent problem behavior and how to run their own babysitting business. They also learn basic first aid as well as how to perform infant and child choking rescue and CPR (CPR certification is not obtained during this course). To graduate from the Safe Sitter course and receive a completion card, students must pass a practical and written test that indicates their mastery of key concepts and life and safety skills. A one-day training course is today from 9 a.m. to 4 p.m., at Piedmont Fayette Hospital, 1279 Medical Building, Conference Room C, 1279 Highway 54 West in Fayetteville. Space is limited and held by registration and payment. The deadline to register is Sept. 1. The fee is $45 and includes the Official Safe Sitter Babysitter's Handbook and Safe Sitter Bag. To register, email maria.lepage@piedmont.org.
The Quick-Turner-Stubbs reunion is today at the Birdie Clubhouse, 1660 Birdie Road, Griffin, from 11 a.m. to 3 p.m. Bring a covered dish and memorabilia to share. For more information call Mary Binion, 770-214-0934 or Linda Thigpen, 770-253-8021.
The Fayette County Sheriff's Office will host the fall session of its Sheriff's Citizen Academy starting today. It is a 12-week program which is designed to provide citizens with basic information about the law enforcement profession and the daily operations of the Fayette County Sheriff's Office. The ultimate objective is to establish and maintain positive communications and develop partnerships between the community and the Sheriff's Office through training and education.The classes will be held every Tuesday evening for 12 weeks from 6-8 p.m. at the Sheriff's office, at 155 Johnson Avenue in Fayetteville. Go to www.fayettesheriff.org to download the application and information packet. Deadline to return an application is Sept. 8. Register early; class size is limited. Applications must be delivered in person to Lt. Terry Black. If you have any questions concerning the application, contact Lt. Black at 770-716-4802. If you have any questions concerning the Sheriff's Citizen Academy, contact class coordinator Sgt. Ryan Phillips at 770-716-4894.
September 19
Peachtree City's 38th Annual Shakerag Arts & Crafts Festival is today from 10 a.m. to 6 p.m., and tomorrow from noon to 5 p.m. The event is at Shakerag Knoll, located at 191 McIntosh Trail, Peachtree City, GA 30269. This popular festival features over 100 arts, crafts, and food vendors, entertainers, and a variety of activities for children. Admission and parking are free, and the festival will go on rain or shine.
The Centre for Performing & Visual Arts, 1523 Lower Fayetteville Road in Newnan, hosts "7 Bridges: The Ultimate Eagles Experience" Saturday, Sept. 19, at 7 p.m. The program is a tribute to the music of the Eagles. Using no backing tracks or harmonizers, 7 Bridges faithfully re-creates the experience of an Eagles concert from the band's most prolific period. Every show features one brilliant hit single after another with some mighty Don Henley and Joe Walsh surprises sprinkled into the mix. Cost is $12-15. Call 770-254-2787 or visit www.thecentreonline.net.
The second annual Gospel Under the Stars Festival is today at 4 p.m. at 1565 Hwy. 92 N. in Fayetteville, hosted by Mount Olive Baptist Church. This tri-county, community-wide "outdoor" festival will include gospel music performances, tag-team preaching, youth Olympic-style games, bouncers, food, and vendors. The purpose of the festival is giving back to our communities and bringing families together. For ticket purchase information, vendor information and festival details call 770-892-7508 or 770-256-4656. The church website is www.mobcfayettevillega.com and the church's Facebook page is at facebook.com/mobcfayettevillega.