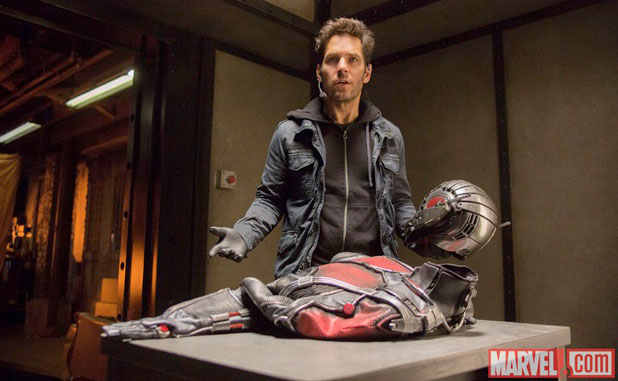 Pinewood Atlanta Studios' first production opens in theaters on July 17, with "Ant-Man" having a significant economic impact in Fayetteville and the state. A second production is underway and the ramping up in Fayetteville mirrors the situation across Georgia where 248 film and television productions have generated more than $6 billion in economic impact in the past year.
Gov. Nathan Deal in a July 9 announcement reported that feature film and television productions filmed in Georgia generated an economic impact of more than $6 billion during the fiscal year that ended June 30. The announcement came just before the July 17 opening of Marvel Studios' "Ant-Man" that was shot at Pinewood Atlanta Studios in Fayetteville.
Deal said the 248 film and television productions shot in Georgia represent $1.7 billion in spending in the state.
"The highly anticipated Georgia-lensed 'Ant-Man,' set to premiere nationwide in theaters on July 17, made a major economic impact in Georgia during filming (October-December)," said Deal. "'Ant-Man' employed 3,579 Georgians, spent more than $106 million in Georgia and utilized 22,413 hotel rooms during filming. In addition to filming at Pinewood Atlanta Studios, 'Ant-Man' shot scenes in Atlanta including the state-owned Archives Building, Bank of America building and on Broad Street."
Commissioner of the Georgia Department of Economic Development Chris Carr said Georgia is one of the fastest-growing entertainment centers in the world, with 42 productions currently filming across the state.
"More than 100 new businesses have relocated or expanded in Georgia to support the industry, creating jobs for Georgians as well as economic opportunities for our communities and small businesses and ensuring Georgia's place in the industry well into the future."
Thirty of the 100 businesses that have relocated or expanded in Georgia are located at Pinewood Atlanta Studios in Fayetteville.
Pinewood Atlanta Studios has been officially open for business since January 2014. Today there are 30 movie industry-affiliated businesses that have set up shop at Pinewood on the studio lot or across Sandy Creek Road at the Pinewood Production Centre.
Information provided by the Pinewood Group shows 30 businesses now operating at Pinewood Atlanta Studios.
Companies now calling Fayetteville and Pinewood Atlanta home include A Better Way Services, Animal Actors, Brook Furniture Rental, C and S Concierge, Chapman/Leonard Studio Equipment, EBreezy Media, Enterprise Rent-A-Car, Fedex, Fovea Chromatics, Future Staff, Georgia Military College, Giovanelli Chiropractic, Go2 Studios, Hanna Brothers Film and Event Catering, Hertz Entertainment Services, Hollywood Trucks Georgia, IWS-Integrated Waste Solutions, Left Digital Media, M and R Print Solutions, Makeup on Demand, MBS Equipment, MediaCom 24-7, Movie Cars Unlimited, New Life Casting, Open Rivers Pictures, SGPS/Showrig, Southeast Film Group, Sysco Atlanta, Home Depot and The Rag Place, according to the Pinewood Group.
Also in process of obtaining a business license in Panavision.
Listings on Fayetteville business license applications show a total employment of 97 full-time and 9 part-time jobs. That number is likely on the low-end since some companies have added staff since opening their doors at the studio.
Current and additional vendors will be needed as the studio and its projects continue to grow.
What is not included in the job numbers are the large number of people employed by Marvel Studios currently working on the "Captain America: Civil War."
Another Marvel film, "Guardians of the Galaxy 2," is said to be slated for filming at Pinewood Atlanta beginning in early 2016, according to comicbookmovie.com in quoting "Guardians of the Galaxy" director James Gunn.
That would be a switch for Pinewood since the first "Guardians of the Galaxy" was filmed at Pinewood in London.
"Guardians of the Galaxy" is expected to premiere in May 2017.
Georgia-filmed movies will take over the big screen in 2015 with "Lila and Eve" starring Jennifer Lopez and Viola Davis on July 17, "Vacation" starring Ed Helms on July 29, "A Walk in the Woods" starring Robert Redford on Sept. 2, "Goosebumps" starring Jack Black on Oct. 16 and "The Hunger Games: Mockingjay – Part 2" on Nov. 20.
Upcoming Georgia-filmed television series that will premiere in the next few months include a new season of "The Walking Dead" on AMC and filmed at Raleigh-Riverwood Studios in Senoia, "Rectify" on the Sundance channel and "Satisfaction" on the USA Network.
Pinewood Atlanta Studios and Fayetteville may again be in the news soon. The announcement on the location of the new Georgia Film Academy is expected this summer. The potential exists for the new film academy to be located at the Pinewood Production Centre in the former Rivers Elementary School.