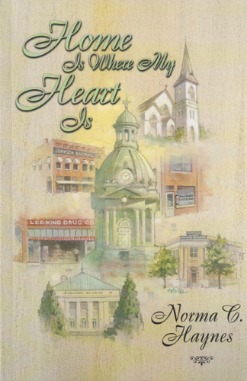 Newnan's own Norma Chapman Haynes, a friend of the Newnan-Coweta Historical Society for many years, has announced the publication of her book, "Home Is Where My Heart Is," a compilation of her popular newspaper columns from The Newnan Times-Herald.
She will give a presentation on her new work and have copies available for signing at the McRitchie-Hollis Museum Tuesday, April 28, at 7 p.m.
Haynes, a lifelong resident of Newnan, said she began her writing career on the staff of the Newnan High School "Tiger Tracks" in 1955. Tiger Tracks was printed in the Times-Herald weekly and told of the activities of the students. Today, Haynes said she maintains a deep love for Newnan and the people who have lived there. Some of her best loved memories are recorded in the pages of the book, Haynes said.
"Readers will be taken back to a time when young people enjoyed 'picture show parties' on the Court Square, when homemakers could ring up any downtown grocer and have the day's food delivered right to their kitchen, and when the Georgia Bulldogs would stop in Newnan on their way down to play Auburn," Haynes said. "They will enjoy strolls through the downtown area and revisit many stores of the Newnan of yesteryear."
Haynes also writes of childhood afternoons spent in her father's barber shop, the anxious times of the World War II years in Newnan and, more recently, of her own passion for honoring local public safety officials.
The cover of the book features artwork by Newnan artist Martin Pate and includes the Coweta County Courthouse, the old sanctuary of First Baptist Church, Chapman's Barber Shop, the Carnegie Library, the Municipal Building, Lee-King Drug Co. and Johnson Hardware. The back cover features a drawing of the Central Baptist Church by her husband of more than fifty years, J.T. Haynes Jr.
The book retails for $20, which includes the sales tax, and copies are available at the Coweta County Convention and Visitors Bureau, 200 Court Square, Newnan; Grannie Fannie's, 15 Greenville St., Newnan; and Lee-King Pharmacy, 18 Cavender St., Newnan. Copies are also available for order online from amazon.com and barnesandnoble.com. Copies will also be available at Tuesday's event. Light refreshments will be served.