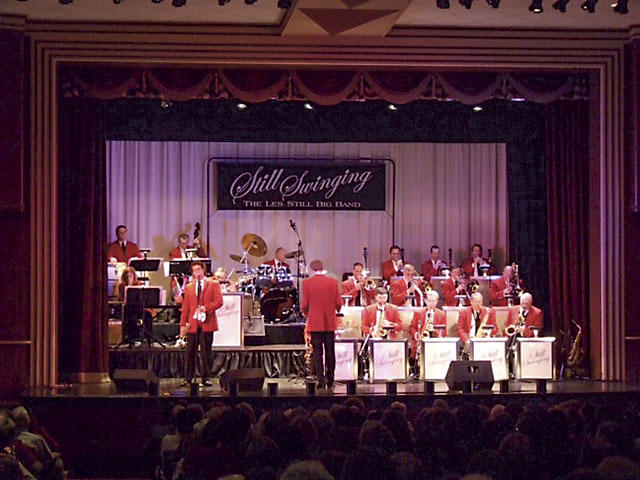 On Saturday, at 7 p.m, Newnan's Wadsworth Auditorium audience will sway and sing along to jazz of the 1940s.
Masterworks Chorale is sponsoring Still Swinging, the Les Still Big Band, and will perform a few swinging numbers themselves.
A Georgia native from Cobb County, Les Still fell in love with big band music in the 1960s as he watched Lawrence Welk on television. In 1997, S
till's dream of having his own big band came true when he started Still Swinging, The Les Still Big Band. His goal was to perform the music he loved for modern audiences.
According to the Strand Theatre, "This authentic 22-piece big band presents a spectacular concert of the most famous standards of the Swing Era. Swoon and jive to the best of Glenn Miller, Tommy Dorsey, Benny Goodman and more. You'll swear you haven't had this much fun since zoot suits and running boards."
Here is a small sample of classics Still Swinging will perform: "Orange Colored Sky," "Begin the Beguine," "Georgia On My Mind," "I've got you Under My Skin," "What a Wonderful World," "A String of Pearls," "It Don't Mean a Thing," and "Minnie The Moocher."
Swing had its heyday in the 1940s as young people jitterbugged to its syncopated rhythms. But it never disappeared even as rock and roll captured teenagers in the 1950s. It wasn't just the lively rhythms that kept swing alive.
Lovely melodies and clever lyrics were made famous well into the 1960s and 1970s by the likes of Frank Sinatra, Bing Crosby and Barry Manilow.
One of the best lyricists was John Herndon "Johnny" Mercer (November 18, 1909 – June 25, 1976), born in Savannah. He wrote the words to more than 1,500 songs, including compositions for movies and Broadway shows. He received 19 Academy Award nominations and won four Best Original Song Oscars.
Masterworks will perform a medley including "Too Marvelous for Words," "Satin Doll," "And the Angels Sing," "Fools Rush In," and "Jeepers Creepers" as well as other numbers that owe much to Mercer's wit, for example, "Accentuate the Positive" and "Skylark."
Tickets can be purchased from the Masterworks website at masterworkscommunitychorale.com ; at the door one hour before the event or locally at the Visitors Bureau (cash or check only) in the old Coweta County Court House or at Let Them Eat Toffee! (on the Square) after Sunday, April 9. 
Masterworks Chorale thanks the City of Newnan Cultural Arts Commission for their support in making this event possible.