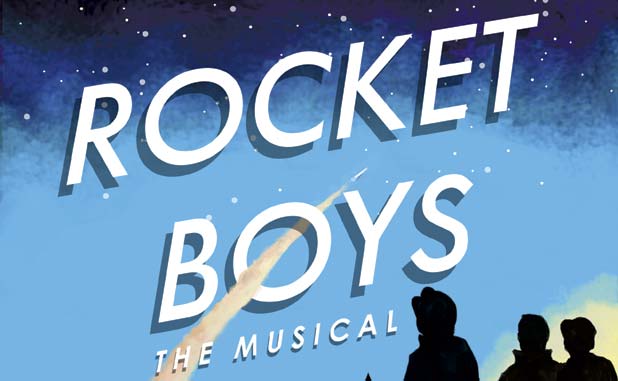 "Rocket Boys," a new musical based on the 1998 New York Times No.1 bestseller by NASA engineer Homer Hickam (also immortalized in the hit film, "October Sky," has received a huge and overwhelmingly positive reaction from the musical theatre community and is now opening at The Legacy Theatre in Tyrone this weekend.
In addition to being an Atlanta premiere and the official developmental production, it also features a sensational cast hailing from New York City as well as hometown talent.
"Rocket Boys" follows the memoir of a misfit coal-miner's son who engages some skeptical friends to join his dream of rockets and space. The best-selling book is one of the leading community/library reads across the country, a staple on school lists, and is published now in nearly every language across the globe.
The musical is written by Homer Hickam, Jr., along with Carl Anthony Tramon with music and lyrics by Dan Tramon and Diana Belkowski.
"Rocket Boys" is directed by Legacy's artistic director, Mark Smith with choreography by Bethany Hayes Smith and includes musical direction by Jodi Cotton, John Michael d'Haviland and Joseph Baker.
The entire creative team has been present and involved in shaping the brand-new version of this musical and Atlanta will get to see it before a hopeful New York run.
In addition to the shows creators, including Hickam, being present for rehearsals and performances, the show also stars an award-winning cast.
Broadway actress, Melissa van der Schyff will be playing the role of Homer's mother and is known for originating the role of Blanche in "Bonnie & Clyde," for which she received Drama Desk and Outer Critics Circle nominations, as well as her TV roles on "Chicago Hope," "The Muppets" and Asthon Kutcher's film, "A Lot Like Love."
"I am incredibly excited to be working on this thrilling new musical with Homer Hickam and such a talented creative team," said Van Der Schyff. "With soaring melodies and heartfelt book and lyrics, [it] is incredibly inspiring, as it challenges us all to search beyond our circumstances and reach toward our greatest potential."
Stephen Mitchell Brown, another Broadway performer, also stars in this production. Brown performed on Broadway in "Jekyll & Hyde" as well as The Legacy Theatre's production of "Jane Eyre."
Atlanta's own, Jeremy Varner, seen in Legacy's "Ring of Fire" and "Tarzan," leads the cast as Sonny the younger version of Homer Hickam.
"We are honored to have been chosen to produce and shape this new musical" says artistic director Smith. "It's been great to work with the creators themselves and watch the story come to life with such an incredible cast. We've assembled top-notch professionals from all over the country to work on 'Rocket Boys' and can't wait for Atlanta to see it."
Executive producer, Bethany Smith adds "I enjoyed the film, 'October Sky,' but the musical is even truer to the book. It's a story about a small coal-mining West Virginia town and the families who live there. It's really moving and something I feel that our audiences will really connect with."
This inspiring new musical opens April 17 and runs until May 10.
Performances are Fridays and Saturdays at 8 p.m. as well as Saturdays and Sundays at 3 p.m.
Hickam will be in attendance for talkbacks and autographs at selected performances.
Tickets are on sale now through the box office at 404-895-1473 and online at www.thelegacytheatre.org. Single tickets are priced at $25 with discounts for seniors and students. Group rates are available.