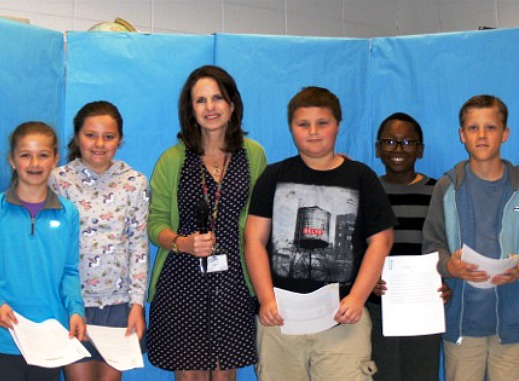 Five Huddleston Elementary School students recently beat huge odds when they competed against thousands of others across the country and became Honorable Mention Winners in the 2015 Exploravision competition.
The two winning teams of fifth grade Enrichment students from Fayette County this year are The LymphBot team (Emma Smalley and Madelyn Graf) and The Smart Tent team (Adeola Batiste, Jack Burke, and Colin Graham).
Thousands of very competitive entries are submitted to the competition each year from around the country. Only the top 10 percent of those entries are awarded the Honorable Mention award.
The LymphBot is a nanobot that will simulate lymph nodes in patients who suffer from Lymphedema. The Smart Tent is a tent that will provide high tech protection from dangerous animals.
To prepare an entry, students work in groups, simulating Research and Development (R&D) teams. Each team selects a technology and they explore what the technology does, how it works, and how, when, and why it was invented. The students must then project into the future what that technology could be like 20 years from now. Finally, they must convey their vision to others through both a written description and five web pages.
The Exploravision projects are a result of a lot of creative thinking, writing, and problem solving.
The purpose of the Exploravision competition is to encourage students to combine their imaginations with the tools of science to create and explore a vision of a future technology.