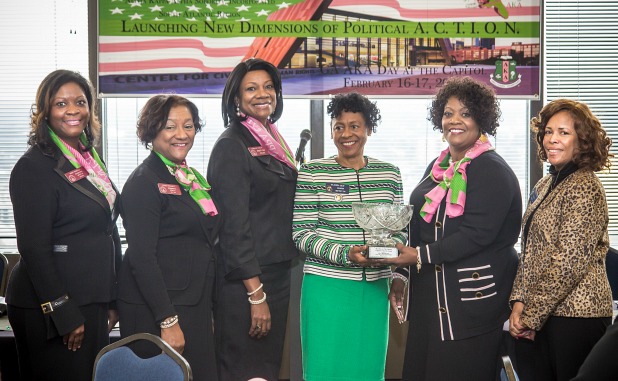 State Sen. Valencia Seay (D-Riverdale) recently received the 2015 AKA Capitol Legislator of the Year Award as part of the annual Alpha Kappa Alpha (AKA) Sorority Day at the State Capitol.
"I have long admired the commitment and dedication AKA's have for leaving a lasting positive impact on their communities," Seay said. "It was an honor to be joined by so many outstanding females who share the same goals and values as I do. I look forward to continuing my work with this organization for years to come."
AKA Sorority Inc. noted her longstanding commitment to the people of the 34th Senate District, which includes portions of Clayton and Fayette counties. They also recognized her distinguished committee work, her role as vice chair of the State Senate Democratic Caucus as well as her work with the National Organization of Women Legislators, Women in Government and the Women's Legislative Caucus.
Seay was presented the award at AKA's annual luncheon where she was joined by numerous state legislators and other members of AKA. For more information on AKA, Inc., visit: http://www.aka1908.com/.