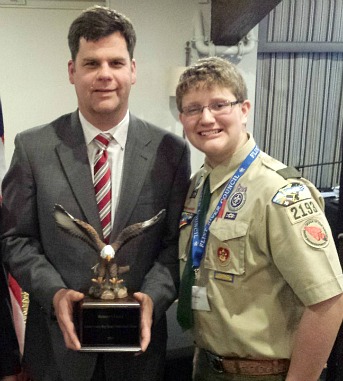 Former State Sen. Ronnie Chance recently received the 2015 Fayette County Golden Eagle award from the Flint River Council Boy Scouts of America for his public service to the greater Fayette community and for his support of Scouting.
Will Harper of Newnan was the keynote speaker for the event and special guest was Lamar Wallace. Wallace is the oldest living Eagle Scout in Fayette County and one of the oldest living Eagle Scouts in America.
Wallace is 103-years-old and earned his Eagle Scout award 88 years ago in 1927 at the age of 15.
Chance, former floor leader for both Gov. Sonny Perdue and Gov. Nathan Deal, has been involved in Georgia's business and political community for more than 25 years. He is the recipient of several awards including two-time Legislator of the Year by the Georgia Chamber of Commerce and the "2009 Champion of Economic Development" by the Metro Atlanta Chamber of Commerce. He received the "2010 Friend of Business Award" by the Regional Business Coalition, the 2011 Environmental Leadership Award by Georgia Conservation Voters and the 2013 Legislator of the Year Award by Georgia Bio.