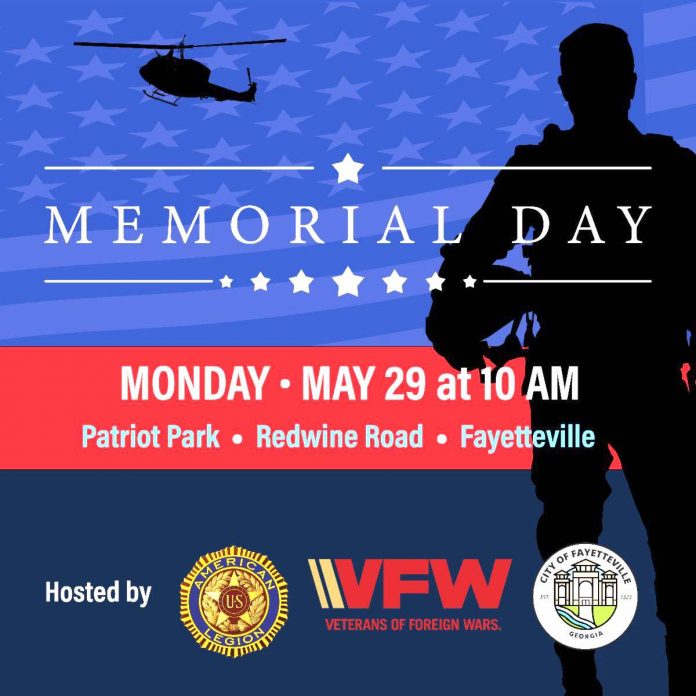 The City of Fayetteville along with Fayette County's American Legion and Veterans of Foreign Wars posts will host the 2023 Memorial Day ceremony on Monday, May 29, 10 a.m., at Patriot Park on Redwine Road in Fayetteville.
This year, the late VFW Post 3650 Commander Ronald W. Stubbs will be remembered, and his family will unveil a monument in his honor. Other highlights will include guest speakers U.S. Army General Rock Donahue (ret.) and Vietnam combat veteran Gary Rossomme, flyovers by the Army Aviation Heritage Museum's "Sky Soldiers" and the Falcon RV Squadron, performances by soloists Lisa Delk and Bill Killmeier, and more.
The 2023 Memorial Day ceremony is supported by the City of Fayetteville Fire, Police, and Public Works departments, the Fayette County Sheriff's Office, Marine Corps League Detachment 1325, Fayette County High School JROTC, Sandy Creek High School JROTC, Army Aviation Heritage Foundation, Falcon RV Squadron, and Boy Scouts of America Troop 309G Fayetteville.
Commander Ronald W. Stubbs led the VFW Post 3650 for 15 years, and he helped moved the post from Riverdale to its current location in Fayetteville. He was also a member of American Legion Post 105. Born and raised in Fayette County, he served in the Vietnam War and continued his service with the Georgia National Guard, where he was deployed to Kuwait. A much-loved community servant, he was also a volunteer with Main Street Fayetteville for many years.
Parking for the 2023 Memorial Day ceremony will be available at the Fayette County Recreation Department headquarters at the corner of Redwine Road and Old Senoia Road, opposite the entrance to Patriot Park.