 Ellen Marie Ingram passed away after a brief illness on Wednesday, May 7, 2023.
She is survived by her children, Michael Boylan (Sabine) of Fayetteville, GA and Katie Dixon (Ben) of Senoia, GA, and stepson, Russell Ingram.
She was preceded in death by her husband, Charles E. Ingram, both of her parents, Robert J. Campbell and Helen (Kachocki) Campbell, formerly of Salem, MA., and her brother, Thomas Campbell of Danvers, MA. She also leaves behind her sister Patricia Plante and her husband Richard of Salem; and brother Kevin Campbell and his wife Lisa of Danvers, MA. Ellen had one grandson, Colin Boylan, and three granddaughters, Nora Boylan, Brianna Dixon, and Lauren Dixon. She had many nieces and nephews and numerous treasured friendships.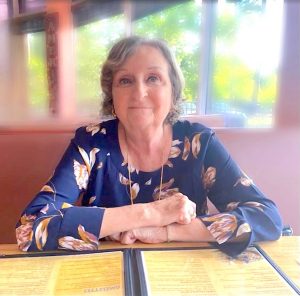 Ellen was born on Sept. 6, 1949 in Salem, MA to Robert and Helen Campbell. She enjoyed spending time with her siblings and became a nurse after high school. She received her M.ED, in Psychology from Cambridge College in 1985 and had a 40-year career in behavioral health. She served as clinical manager of the Leland Unit at Beverly Hospital, worked at Hillside and was the Director of Nursing for Anchor Hospital in Atlanta before two stints with Grady Hospital from 2000-2002 and 2009-2012.
Ellen thrived in retirement. Already a seasoned world-traveler before leaving the working world, she enjoyed taking many trips with friends and family. Among her favorite spots were Destin, Fla., Germany, and Hawaii. She moved to Georgia in 1992 but frequently visited her home state in the summers to spend time with her siblings.
It was in retirement that Ellen found time to give back to the community. She volunteered at Piedmont Fayette Hospital, The Fox Theatre, and Southside Theatre Guild before finding a place with the Senoia Optimist Club. She served as the group's secretary, ran blood drives, and was lauded for her efforts by being named the group's Optimist of the Year in 2019. Ellen also enjoyed playing golf with Chicks with Sticks in Peachtree City and attending events and programs with Fayette Senior Services. 
Visiting hours will take place at Carmichael Hemperley Funeral Home, 135 Senoia Rd. in Peachtree City, from 2 to 4 p.m. on Sunday, May 21. Funeral services will take place at Carmichael Hemperley Funeral Home at 11 a.m. on Monday, May 22. In lieu of flowers, donations can be made to the Senoia Optimist Club at PO Box 56 Senoia, GA 30276.