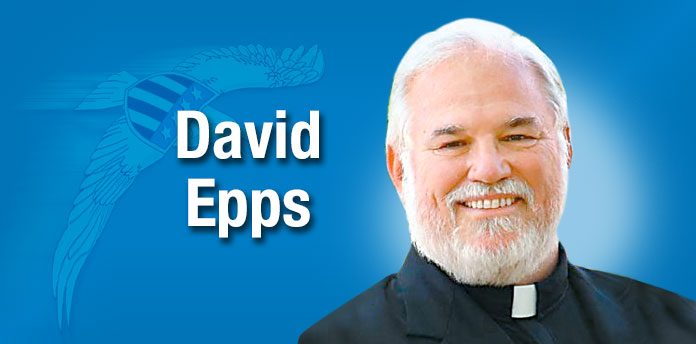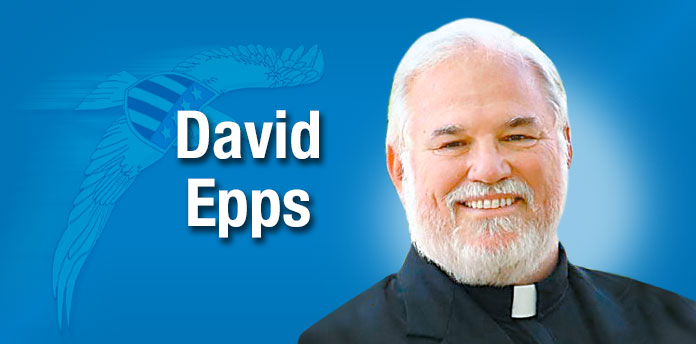 In 1981, Dan Fogelberg released a song he wrote as a tribute to his father. The song was "Leader of the Band." His father, Lawrence, a musician and band leader, died in 1982 but not before the song hit #1 on the charts, turning the elder Fogelberg into a celebrity who was interviewed numerous times.
My father, William E. "Bill" Epps, Jr., and my maternal grandfather, Charles Daniel Duckett, were the two most important men in the first 25 years of my life. But very close behind them was my first spiritual father, The Rev'd Fred L. Austin. I was 15 and he 32 when he and two high school girls, Andera Carter and Sherry Cloninger, drove past my house on a June day in 1966 where I was playing my guitar on our front porch.
They stopped, got out to talk with me, and invited me to the Methodist Youth Fellowship (MYF) at Mountain View Methodist Church (the United Methodist Church would not come into being until 1968), in Kingsport, Tennessee. That chance meeting would change my life.
I would be baptized that summer and join the church. I took a friend with me the next week and Steve Duncan and I would be either the president or vice-president of the MYF until we graduated. We began to invite other friends who did the same and, by the end of high school, there were well over fifty kids in the group. Andi, Sherry, and I were the first three.
Rev. Austin (to this day I can't call him "Fred") treated me as though I were important even though my parents never did attend more than a few times. He had a personal library and an open-door policy that influenced my own ministry. He was an encourager, a person who recognized untapped potential, and a man who took the risk of letting teen-agers become leaders. He listened. He was positive about the ideas we brought him. I don't ever recall being corrected though, Lord knows, I deserved it.
I was part of several groups in high school that were important to me: the Dobyns-Bennett football team, the school karate club my senior year, the musical group "Sing Out Kingsport" the local expression of "Up with People," but the most formative was the MYF and Mountain View Church.
Rev. Austin would pray for me as I went off to the Marine Corps and would marry my wife and me over 51 years ago. When I almost dropped out of college due to a lack of funds, he found a man who paid for my tuition and books one quarter.
I preached my first sermon on Youth Day at Mountain View in December 1969. He sponsored me when I sought my License to Preach in the United Methodist Church. Mountain View was founded in 1893 and when I began to attend, it was a small white frame country church. Before Rev. Austin left, he saw the construction of a new, modern sanctuary and an educational wing.
My father wasn't particularly supportive of my entry into the ministry. He felt that I was unduly influenced by Fred Austin. But Rev. Austin never pressed me at all. By his life and example he did most certainly serve as an influence and, for that, I will be forever grateful.
I have had a long ministry, approaching fifty years. And, although I did not remain a Methodist, the church of my youth is always with me. Almost three summers ago when Steve Duncan passed away, I returned to Kingsport to preach at and conduct his funeral. We had been friends since the age of five and he was the best man at my wedding. Rev. Austin heard about his death and had his son drive him the five-hour round trip from Pearisburg, VA to be at Steve's funeral. How could one not love and admire a man like that?
Fred Austin went on to serve many other churches and was appointed by the bishop to be a District Superintendent. He was a graduate of Virginia Tech and Asbury Theological Seminary. Emory and Henry College would present him with an honorary doctorate.
Even in retirement he continued to preach. After retirement he filled in for United Methodist, Presbyterian, Christian, Lutheran, Episcopal, and Baptist churches when needed. He was proud to serve as pastor of Castle Rock Baptist Church in Pembroke, VA for four years. He and his wife Vivian were married for 70 years.
Fred Lewis Austin died on March 7, 2023 at the age of 89. I found out on the day his funeral was to be held. Had I known, I would have been there. A couple of years ago, I did some work and calculated that, in and under my career, over 40 people have been licensed or ordained to the ministry. I have served churches in four states and helped to found a Christian school that now has over 1,500 students. I have planted a church that is now nearly 27 years old. Fifteen years ago, I was elected a bishop. All that began in the summer of 1966 when a young preacher and two high school girls stopped at my house.
For years, when I heard John Fogelberg's famous song, I thought of Rev. Austin. In my life, he was the "leader of the band." Timothy had his St. Paul; I had my St. Fred. Sometimes I receive positive comments about my life's work. But, if Fred Austin had not been the man he was, my future would have been very different. In the words of Dan Fogelberg's song, "I am the living legacy of the leader of the band."
[David Epps is the Rector of the Cathedral of Christ the King (www.ctk.life). Worship services are on Sundays at 10:00 a.m. and on livestream at www.ctk.life. He is the bishop of the Diocese of the Mid-South (www.midsouthdiocese.life). He may be contacted at davidepps@ctk.life.]