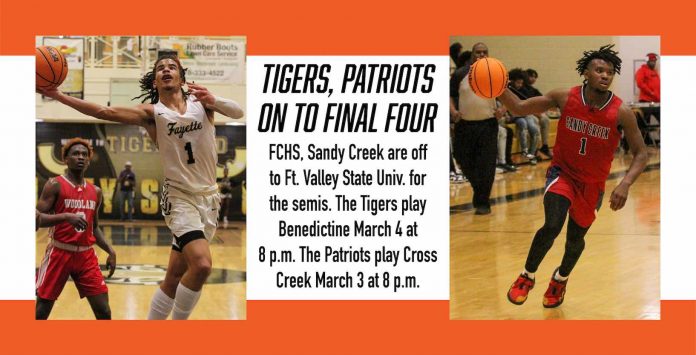 Two local teams are heading to Ft. Valley State University for the state boys basketball semifinals after Wednesday night wins.
Fayette County hosted the Woodland Wolfpack and won 83-71.
They were led by Sean Van Dorn's 21 points and Keith Gillespie's 20. RJ Kennedy posted 19 points and 5 assists, and Christian McAllister added 13 points and 6 rebounds.
With the win, they are Final Four-bound for the third time in the last five years.
In the semifinals, the Tigers play the Benedictine Cadets on Saturday, March 4 at 8 p.m.
In a matchup of the top two teams in Class AAA, Sandy Creek went on the road to Savannah and beat the Johnson Atomsmashers 56-50.
They were led by Micah Smith's 17 points, and Amari Brown added 14.
Sandy Creek has made the Final Four in five of the last seven seasons.
Next, the Patriots play the Cross Creek Razorbacks on Friday, March 3 at 8 p.m.
Semifinal winners advance to the state championships at Macon Coliseum. Fayette would play Wednesday, March 8 at 7:30 p.m. Sandy Creek would play Friday, March 10 at 3 p.m. — Provided by the Fayette County School System.