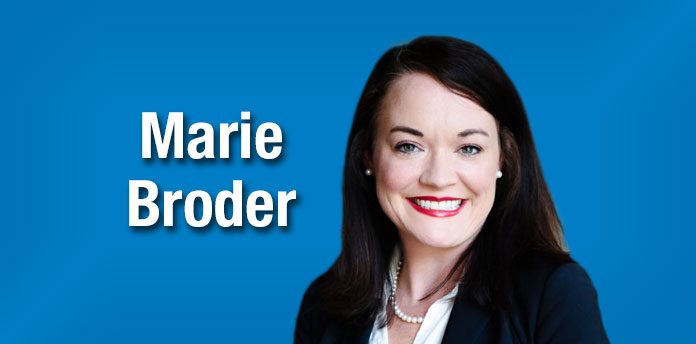 ---
By MARIE BRODER, District Attorney
---
I hope everyone had an enjoyable holiday. Christmas is my favorite time of year and I enjoy celebrating traditions with my family. Our traditions often involve food.
For example, on Christmas morning, breakfast casserole and ambrosia are a must. These dishes remind me of Christmas mornings with my grandparents who are no longer here. Other traditions include a fire and opening presents with my parents and in-laws.
In the weeks leading up to Christmas we decorate our house from floor to ceiling and I watch a steady stream of Hallmark Christmas Movies. My husband teases me about the familiar and heart-warming plots, as well as the abundance of fake snow. But, given what I see on a day-to-day basis, the last thing I want to watch is a true-crime or courtroom drama!
At the office, the time between Christmas and the New Year is quiet. We do not typically have Court and many of my staff take some hard-earned time-off to be with their families for the Holiday. I always stress the importance of taking this time, as it helps employees return to work refreshed and ready to tackle the challenges of the New Year.
Now, with the Holidays behind us, it is time to turn to a New Year. I typically do not make New Year's Resolutions, because I believe they are often destined to failure. But I do want to set a few goals for our office in the coming year.
My first goal is to continue the great work we started in 2022 by trying and winning cases across the Circuit. After the pandemic put trials on hold for over a year, the backlog of cases seemed overwhelming. However, through hard work, diligence, and teamwork, we were able to start bringing cases to trial.
I will be issuing a Year In Review for 2022 this week that highlights the great work my offices have done this past year. It's amazing to see it on paper. The Year In Review is a snapshot of what we have done throughout the past year, and 2022 was extremely busy! I will publish the 2022 Year In Review on my Facebook page, and I encourage you to read it.
My second goal is to continue to recognize the health of my employees and to provide the necessary time and resources for them to attend to their personal and mental health. No one can provide their best when they are unhealthy, sick, or mentally unwell. The heavy demands of our jobs will continue as we press forward this year and I want to help my employees face these challenges in the best of health. I encourage you to do something for yourself this year!
My final goal for the year is to continue transparency with the public about our office and what we do. To that end, I will continue my articles, press releases, and monthly radio show on WKEU. I will continue to speak to civic groups and schools and will do my best to keep you all informed about the important work we do.
My offices resume trials in just a few weeks. We will once again be trying major cases across the Circuit and appreciate your support and prayers.
I hope you have a few of your own "goals" in mind for the New Year and I wish you the best of luck in pursuing them. I look forward to continuing to serve this community by working to keep each one of you safe.
[Marie Broder has served as the Griffin Judicial Circuit district attorney since 2020. She resides in Griffin.]