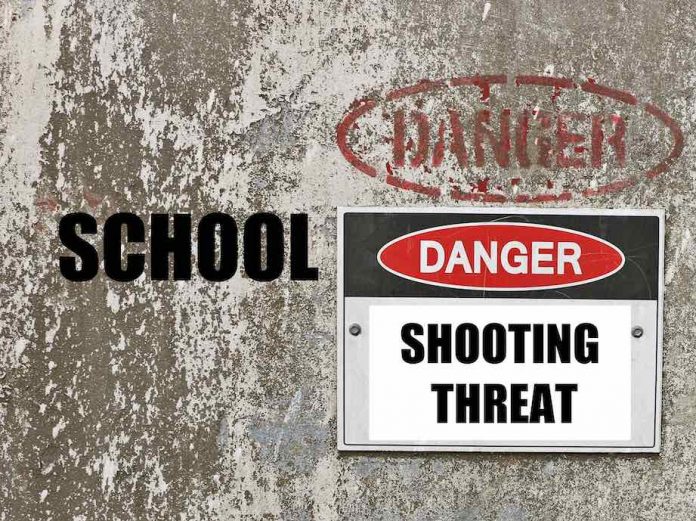 UPDATED OCT. 5 — Fayetteville police have charged a 14-year-old Fayette County High School male with making terroristic threats in connection with the shooting threat made earlier Tuesday at high school.
Fayetteville police later in the afternoon said the juvenile student involved had been Identified and was being questioned by school staff and administrators.
The 14-year-old was subsequently interviewed by police and charged, said department spokesman Jeff Harris.
Harris said the male admitted sending the text, also claiming that he received it from another party and passed it on.
Harris said the investigation is ongoing.
=====================================
EARLIER STORY — 
Fayetteville police are investigating a threatened shooting in a message received Tuesday afternoon at Fayette County High School. The threat came to the cell phones of some students by way of an AirDrop message. The school instituted the prearranged security protocol — Code Orange — and the day ended without incident.
Fayetteville Police Department spokesman Jeff Harris said the school's school resource officer was notified by administrators of the message received at approximately 1:50 p.m. about the threatened shooting that was supposed to occur just minutes later at 2 p.m.
Police were notified and sent officers to the school, Harris said, adding that there were no issues for the remainder of the school day and all was quiet.
The school took the prescribed precautions, and the day ended without incident, said Harris.
Harris noted that investigators are working to determine the origin of the threat.
A Tuesday afternoon message from Principal Yolanda Briggs-Johnson on the AirDrop threat came after the threat had been received and law enforcement was immediately notified.
According to apple.com, AirDrop is a feature that lets Macintosh computers and iOS devices that are physically close share files wirelessly with one another.
The message sent from Briggs-Johnson after receiving the threat read:
"Please be advised FCHS is under Code Orange. A threat has been made to the school in the form of an airdrop to students' cell phones. FCHS has the Fayetteville Police Department on campus working with the school to investigate what has been sent to other students in the building.
"Be advised a Code Orange is when all doors of the school inside and outside are locked with no movement in the building (in or out). Please refrain from coming to the school. FCHS will have a rolling dismissal beginning at 3:45 p.m. today. Additional information will be sent at the conclusion of the investigation."
Briggs-Johnson in the message said that some school districts have reported fraudulent emails posing as Infinite Campus (the internal communication method used by the school system between teachers, students and parents), adding that Fayette County has not received any notification of this activity happening locally.