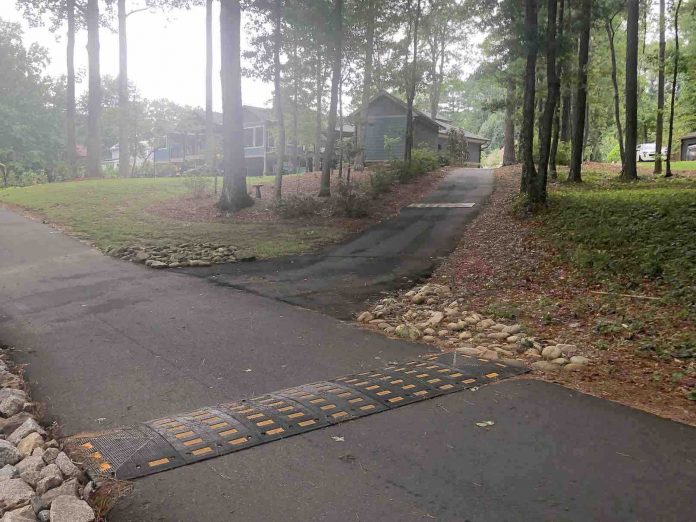 70% to be removed, 8 modified bumps will stay on cart paths — 
In response to sustained public complaints, the Peachtree City Council Friday backed off the city's 4-month move to make sections of the 100-plus miles of cart paths way more bumpy in order to cause speeding golf carts to slow down.
Eight of the bumps will be re-installed with modifications to make path life easier for bicycle riders, wheelchair users and pedestrians in general.
Here's the white flag letter from Interim City Manager Bernie McMullen released Friday afternoon:
Friday, August 5, 2022
Re: Speed Bumps
Dear Peachtree City Residents,
On July 15, 2022, the Mayor and Council released a statement pertaining to the speed bumps on the multi-use path system along Lake Peachtree.
As stated in the letter, staff was directed to reevaluate the speed bumps along the lake and make any potential adjustments to the speed bumps as deemed necessary.
After careful review and consideration of visibility, grade, high traffic areas, and accessibility, it has been determined that eight (8) out of the twenty-six (26) speed bump locations will remain.
Additionally, while the multi-use path system does not require ADA compliance, the remaining 8 speed bump locations will be reconfigured with a gap width, to allow for wheelchair, pedestrian, and bicycle usage.
The gap width was determined by the ADA requirement for a doorway which is 32 inches wide.
This width dimension still requires golf carts to slow down since the width of most golf carts varies from 47 inches to 53 inches. The path width itself at one of these locations will need to be widened for uniformity with the other locations and to accommodate this gap requirement.
The removal process will begin immediately. We ask all residents to please be patient as the aforementioned changes are implemented.
Sincerely,
Bernard J. McMullen
Interim City Manager
Peachtree City, Ga.