In 2021 while doing research for the Sheriff's Office Bicentennial at the Fayette County Historical Society, members of the Sheriff's Office were told about a Fayette County "Deputy" who was "killed in the line of duty lying in an unmarked grave."
---
Compiled and written by Major Michelle Walker
Fayette County Sheriff's Department
---
After much research, it was found that the "Deputy" was actually a Fayette County Police Officer named Felt Jones and the unmarked grave was found to be at the Bethany Cemetery across from the Bethany United Methodist Church on Rivers Road. Jones — who served in the early 1920s — died in August 1925.
Further research found that Officer Jones was the father of future Fayette County Sheriff James A. Jones who served as Sheriff from 1969 to 1976. Sheriff James Jones was the father of Fayette County resident, Ginger Jones Gaskins and Janice Jones Northcutt (widowed wife of Clayton County and Pike County Sheriff's Deputy Gaylon Northcutt).
When gathering information and speaking to Jones' grandchildren, we found that in 1996 they had their grandfather added to the law enforcement memorial wall in Washington, D.C. which is reserved for law enforcement officers killed in the line of duty (see picture of Felt Jones monument above).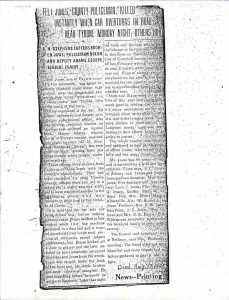 The Sheriff's Office found Felt Jones' unmarked grave next to his first wife in the Bethany United Methodist Church Cemetery and, with a headstone donated by Mowell's Funeral Home and the help of the Camp Memorial Park and Bethany United Methodist Church, we plan to honor and commemorate Officer Jones' service to Fayette County in a ceremony on Law Enforcement Memorial Day this month.
The ceremony will be Sunday, May 15, 2022 at 2 p.m. at the Bethany Cemetery across the intersection from Bethany United Methodist Church at 607 Rivers Road, Fayetteville, Georgia 30214.
Felt Jones' story come from documents received from his granddaughter, Janice Jones Northcutt, which include information from certified court documents; a newspaper article from an unknown newspaper, the Atlanta Journal Constitution and The Fayetteville News newspaper articles.
(Much of the below is excerpted from an unknown/untitled newspaper article)

"Felt Jones, one of Fayette County's two policemen, was killed instantly Monday night about 9:30 o'clock, when the Studebaker car, which they drive, overturned in a sharp curve near Tyrone, five miles south of Fairburn.
"Other occupants of the car, Ed Dixon, policeman and former prohibition enforcement officer, who was driving, received bruises on the legs and suffered an injured back. Homer Adams, deputy sheriff of Fayette County, received only slight injuries. A.H. Stephens, known as 'Scrap,' was very painfully hurt, getting both jaw bones broken when caught under the wreckage.
"These officers were enroute from Fairburn to Line Creek with the county's bloodhounds. They had been requested to meet Coweta County officers there and aid in a search for a man who was alleged to have murdered another in the neighboring county and was thought to be hiding in the vicinity of Clover.
"It is said that the car was not being driven fast, but on making a sharp curve Dixon seemed to lose control when the big machine switched in the dust bed and it turned completely over in the road, pinning all occupants except Adams underneath.
"Dixon kicked off a door to get out and the two, assisted by some passersby, extracted Stephens and Jones from the wreck. Jones was caught under the back of the front seat, his neck broken and body otherwise mangled. He quit breathing before he could be gotten to Fairburn. Later that night the body was brought to the victim's home at Fayetteville.
"As an incredible side note, in this same car Sheriff C.E. Jenkins of Campbell County [part of which became Fayette County] was killed on February 15th when it overturned near Palmetto while chasing a rum car. Fayette County recently purchased the car after it had been repaired for the county police to use in apprehending speeders and whiskey cars."
Jones and Dixon were put on the first of this year [at a salary of $75.00 per month, per court documents] and have done much good in ridding the county of many moonshine outfits and bringing about better observance of law and order in many ways.
"Officer Jones was married twice. He and his first wife Cora McElroy had one son before she passed away. Jones then married Cora's friend Mary Brown, who had three children of her own. Until his unexpected death they raised the children in Fayetteville and were members of the Bethany United Methodist Church."