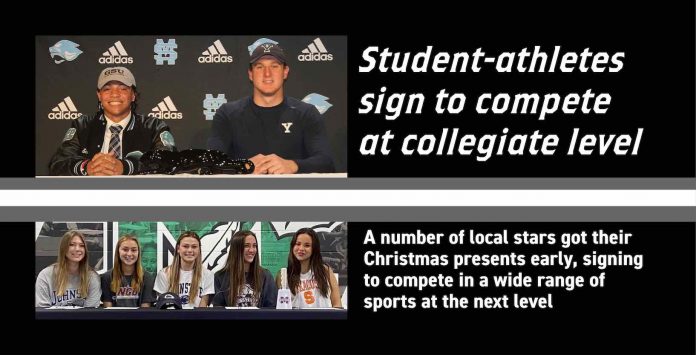 A number of local student-athletes got their Christmas presents early, signing to compete in a wide range of sports at the collegiate level over the fall semester.
Fayette County High had two Tigers sign. Kaleb Banks signed to play basketball at Indiana University, and Taylor Youmans signed to play soccer at Tusculum.
McIntosh saw five Chiefs sign in November. Ryann Banks signed with Syracuse for lacrosse, Alexa Markley signed with Penn State for volleyball, Paris Alsup signed with North Greenville for cross country, Abbey Terry signed with Northern Vermont for softball, and Bailey Wagenknecht signed with Mississippi State for soccer.
In early February, two more will sign. Gabbie Szatkowski will sign with Montreat College for lacrosse and Emma Bellantoni will sign with Berry for track and field.
Three Sandy Creek Patriots signed. Jonathan Little signed to play baseball at the University of Georgia, Chelsea Davis signed for track & field at Virginia Commonwealth, and Gabriella Grissom signed for track & field at the University of Miami.
Starr's Mill celebrated 12 student-athletes over two signing days. In November, 10 Panthers representing five sports signed.
Softball had four signees: Lilli Backes with North Carolina, Sydney Blair with North Georgia, Julia Cliff with Georgia Southwestern State, and Sarah Latham with Middle Georgia State.
Baseball had two signees: Josh Tate with the University of Georgia and Parker Childress with West Georgia.
Elizabeth Miller and Tyler Rock signed with Truett McConnell for cross country and track. Luzmila Moreira signed with Alabama A&M for soccer, and Nicole Smith signed with William & Mary for volleyball.
In December, a pair of football players signed, as Marc Stampley signed with Georgia Southern, and Micaiah Shaber signed with Yale.
Whitewater celebrated three signings. Dalton Bonner signed with Gordon State for baseball, Spencer Fields signed with Truett McConnell for Wrestling, and Kyye Ricks signed with the University of South Carolina for softball. — Article provided by the Fayette County School System.