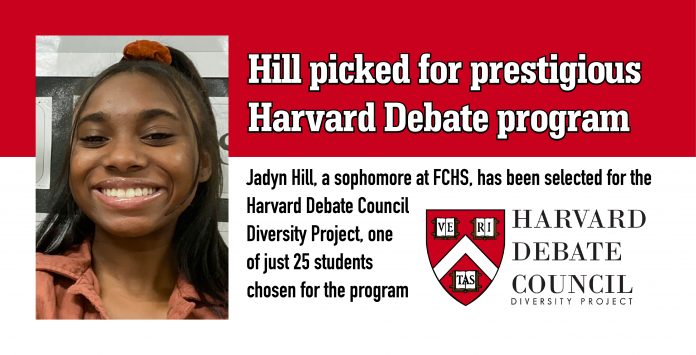 Jadyn Hill is a rising star in the world of debate. Hill, a sophomore at Fayette County High, has been selected for the prestigious Harvard Debate Council Diversity Project. After participating in the Harvard Diversity Project interview process, Hill was one of just 25 students chosen. Out of the hundreds of applicants each year, roughly 1% are accepted into the program.
Hill last year ranked number one in speaker points in her first-ever Public Forum Debate tournament. Because of her level of interest in debate and work ethic, her debate coach Cara Bradley Pigott recommended her for the Council.
"We worked tirelessly almost every day in preparation for this honor," said her teacher.
A subsidiary of the Harvard Debate Council, the Harvard Debate Council Diversity Project, is an Atlanta-based pipeline program that recruits, trains, and matriculates highly-motivated Black youth into a summer debate residency at Harvard College.
The program provides 34 weeks of pre-collegiate, rigorous, academic training in the humanities (including philosophy), rhetoric, critical thinking, and public speaking, along with three weeks of formal debate training for students in the Atlanta or Greater Atlanta area in grades 8 – 11. Classes are held each Saturday, and, at the end of the program year, students attend a two-week residency at Harvard.
Students who apply do not have to have debate experience, only an interest in debate and public speaking, be residents of Atlanta or Greater Atlanta.