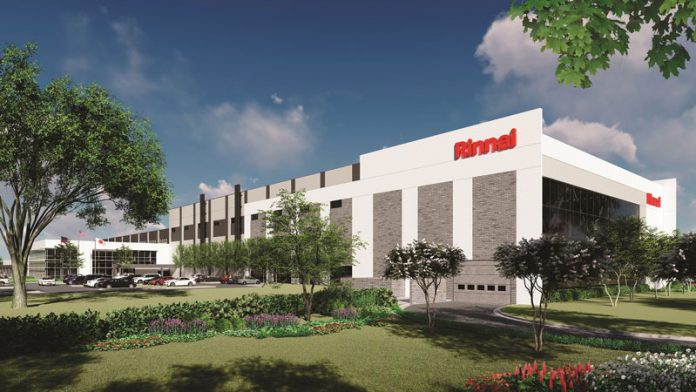 President Frank Windsor's aggressive North America growth strategy includes investment in Griffin, Ga. 
Rinnai America Corporation has been described as the anchor of the global company's growth strategy and is delivering a dedicated investment in domestic manufacturing. Expanding capabilities with its soon-to-be-completed North American facility located in Griffin, Ga., Rinnai is investing in product development for tankless water heaters, boilers, wall furnaces and more on U.S. soil. Alongside business development, Rinnai will also play a role in the local economy by fulfilling 150 positions by early 2022.
"We're extremely pleased to continue our company's development in Georgia as our Griffin facility gets up to speed," said Frank Windsor, President, Rinnai America Corporation. "By creating new jobs and putting money back into the local economy, we're showcasing our commitment to Creating a healthier way of living® for our employees, partners and community."
With increasing external investments in the Griffin area, Rinnai also took a significant look at internal investments that will enhance the work experience for its staff. As part of its commitment to serving as an employer of choice, Rinnai offers current and future employees competitive pay, top benefits, work-life balance and growth opportunities. That's why people like Kasey Rivers, a local Griffin resident, were drawn to the company and its culture, benefits and incentives when looking for a new employer. Rivers pivoted from a tenured career in childcare to a completely new path at Rinnai. Now she's been with the company for three years, and with strong support from her colleagues, has successfully navigated her way to a senior position. After joining Rinnai as a Manufacturing Associate, she was promoted to Team Lead and now is currently a Buyer/Purchaser.
"I've chosen to continue my career with Rinnai because it has been an exciting and challenging adventure," said Rivers. "I have felt valued, recognized and respected – and appreciated for the amount of dedication I have put into this company – more than any other company with whom I've worked. I truly believe in Rinnai's mission and vision and encourage others to consider joining us at our new manufacturing site."
Of the 150 new roles being created, most are within the manufacturing and distribution sector and range from associate-level positions to managers. However, Rinnai is also actively recruiting for more than ten leadership roles ranging from group leaders to a new area manager, as well as several other maintenance, safety, engineering, human resources and information technology roles.
"We are extremely excited to partner with top talent in the Griffin area," said Alexis Davis, Vice President of Human Resources, Rinnai America Corporation. "We need to fill more than 150 jobs, and that's no small feat. We're looking to current employees, such as Kasey, to help spread the word, as well as additional opportunities to reach and engage new audiences."
Rinnai is hosting a six-part series of virtual and in-person job fairs, specifically focused on recruitment for the manufacturing facility as the company leads up to the official grand opening in early 2022. With the variety of positions created, spanning different experiences, expertise and specialties, each session provides the ability for potential employees to gain insight into the company culture and other career advancement opportunities.
The next job fair will take place on Dec. 11 from 9 a.m. to noon. To learn more about Rinnai's career opportunities, visit www.rinnai.us/careers.
ABOUT RINNAI 
Rinnai America Corporation, a subsidiary of Rinnai Corporation in Nagoya, Japan, was established in 1974 and is headquartered in Peachtree City, Ga. Rinnai Corporation manufactures gas appliances including tankless water heaters, a wide range of kitchen appliances and heating and air conditioning units. As the technology leader in its industry, Rinnai is the largest gas appliance manufacturer in Japan and is the number-one selling brand of tankless gas water heaters in the United States and Canada. Annual corporate revenues, including those of its subsidiaries, are in excess of $3.2 billion. With a global perspective to create 21st-century products for the home and business, Rinnai Corporation commits itself to safety and Creating a healthier way of living©. For more information about Rinnai's entire product line, visit www.rinnai.us.
Copyright 2021. All rights reserved. Rinnai® and Creating a healthier way of living® are the registered trademarks of Rinnai Corporation used under license by Rinnai America Corporation.