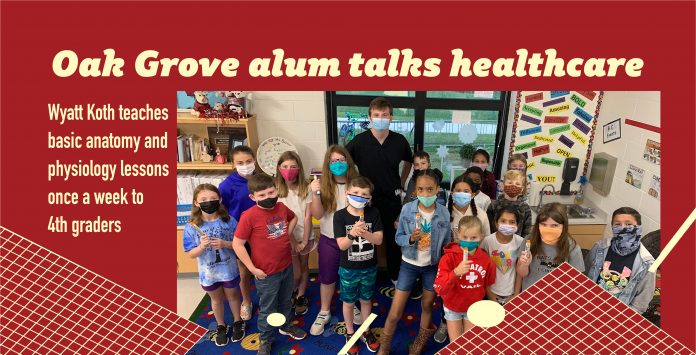 Wyatt Koth's early education set the course for his academic endeavors, and he is repaying the lessons poured into him by his teachers by returning to Oak Grove Elementary to spread his passion for the healthcare field.
Koth, now a senior at Starr's Mill High in their Healthcare Pathway program, teaches basic anatomy and physiology lessons once a week to 4th grade gifted students in Heather Price's class.
Koth went to Oak Grove from K through 5th grade, and Price was his second grade teacher. Earlier this year he reached out to her about his idea of sharing basic anatomy and physiology skills. Because he never received even basic healthcare science information in elementary school, he wanted to help bridge the gap.
His goal for the program is to educate the youth on simple healthcare procedures in a non-threatening environment, along with simplistic, "kid-friendly" anatomy and physiology. The information assists the child in understanding how the body works, which can provide a foundation for sciences in the future. The hands-on skills learned will help the child when presented with a medical crisis, and could potentially save a life.
Price has been thrilled with the partnership.
"The kids adore him and have learned so much!"