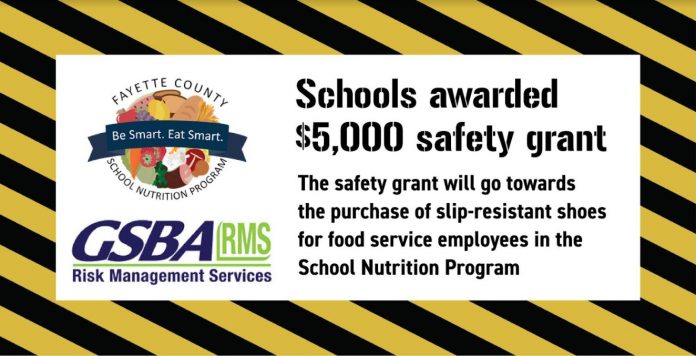 Thanks to Georgia School Boards Association Risk Management Services, Fayette County Public Schools will soon be a bit safer. The school system has been announced as a recipient of a 2021 Safety Grant, and the funds will go towards the purchase of slip-resistant shoes for food service employees in the School Nutrition Program.
The Georgia School Boards Association (GSBA) Risk Management Services (RMS) received over 50 applications. Among 15 schools awarded a grant, Fayette County is one of just 5 entities awarded the maximum grant of $5,000. This year's total grant money awarded is $60,000.
The grants are available to assist and improve safety in local school systems, which are members of the GSBA RMS.
"Safety of Georgia's public-school students and staff is of the utmost importance," said Valarie Wilson, GSBA Executive Director. "When it comes to safety we tend to think of security, but being safe occurs in various forms and these school districts have exemplified best practices."
The mission of the Georgia School Boards Association is to ensure excellence in the governance of local school systems by providing leadership, advocacy and services, and by representing the collective resolve of Georgia's 180 elected boards of education.