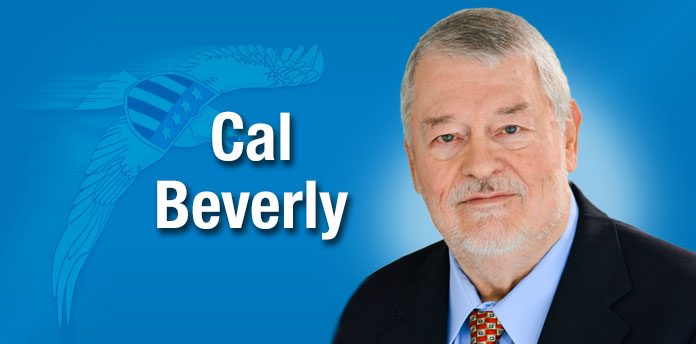 First, let's define the term. A "stealth" candidate is someone who runs for political office under a false flag — at worst — or a misleading flag — at best.
This candidate misleads by withholding vital information from the voters about what the candidate's hidden agenda really is. This candidate tells voters what they want to hear, but intends — with electoral success — to follow a path that few voters were expecting.
In the half century since I started reporting on local political races, I've seen a few stealth candidates. My stealth alarms are ringing loudly about one current candidate for mayor of Peachtree City.
This candidate has what the Irish call the gift of gab — very personable, likable, enjoys a good beer and a good time, and wants to turn every village center in Peachtree City into a continuing, after-midnight beer-fest year round, every night.
My back yard backs up to one such peaceful village center now. Candidate Nick Ferrante's idea of "longer operating hours, including approval for additional mood lighting and music," seems like bad news for sleepy adults and kids in nearby homes — not just on weekends, but every night of every week.
One of our commenters recounted his experience with Mr. Ferrante: "[Nick] stated he had been a life-long Republican and had never voted Democrat but now he was fine being referred to as a 'leftist' and a 'socialist.' … Some other things I noticed early on in his campaign was his quickness to anger and insult those that disagreed with him. That's par for the course on social media but in displaying qualities for mayor, where relationships with local and statewide officials is vital, it doesn't seem like Nick plays well with others." — local resident Mike LaTella in a comment on TheCitizen.com.
Below, Mr. Ferrante provides an example of both the leftist cancel culture outrage and its tendency to distort plain facts and just make stuff up in a response to a letter writer opposing him:
========================================
Hello Again Cal!
A couple of things; first to Robyn.
"I am offended as a Peachtree City taxpaying citizen that a political action committee, outside of our community, and even outside of Georgia is using our city as a pawn in their chess game of turning Georgia into a blue, Progressive state."
A.) In what way is Run For Something using Peachtree City has a pawn?
B.) In what way am I being led?
C.) Do you know when my last contact with Run For Something was?
D.) What is it about treating your neighbors who live differently from you that bothers you so much?
Secondly, to Cal.
It appears you failed to do your due diligence once again before attempting to sully my name.
A journalist and editor with integrity would know how to request my publicly available CCDR Forms (Campaign Contribution Disclosure Report) and do so.
Maybe you did perform your due diligence and ignored the substantive findings within, that would be even worse.
According to those legal documents;
A.) When have I received ANY financial support from Run For Something?
B.) What percentage of my donors are from Fayette County and Georgia?
C.) What evidence do you have that I've been supported by "outside influences"?*
* The only contribution that could even potentially fall into this is from a personal friend who also has a very small, brand new PAC, and yes, they support candidates that believe in a more inclusive future for all of our citizens. I won't apologize for sharing and professing that value.
========================================
Now, compare what I actually wrote and determine if the editor's note — using direct quotes from the organization Mr. Ferrante asked for support — qualifies as an attempt to "sully" his name:
EDITOR'S NOTE: We verified on the runforsomething.com website that Ferrante applied for their support in March 2021. The site says its business is "recruiting and supporting young progressives." The site says, "We connect partner organizations with candidates who need their help, leveraging our national scale for local races."
What kind of candidates does the organization help? "Run for Something works exclusively with progressive Millennials and Gen-Zers running for local office for the first or second time. Progressive — We help people who are pro-choice, pro-universal health care, pro-LGBTQ equality, pro-criminal justice reform; pro-working families and organized labor, pro-voting rights, pro-campaign finance reform, who focus on inequality, fair wages, and job creation; who acknowledge that climate change is real, man-made, and our responsibility to fight; and who will fight to reduce gun violence in their community."
Ferrante's "Magic Bubble" campaign materials don't disclose this close political and financial affiliation.
========================================
Their "young progressive" Mr. Ferrante either doesn't know or chooses not to disclose that PACs don't contribute directly into a campaign's cash coffers. Instead, they spend unknown buckets of money on behalf of the candidate, the amount of which becomes public knowlege only if you know which PACs to look for in the official contributions section on the state website. So, I wonder, which PACs are spending on behalf of Mr. Ferrante and how much?
Let's unpack this: Mr. Ferrante went to Run For Something last March specifically to apply for their support. He knew what their aim is: electing far-left local candidates to have leftist influence on local governments. And he signed up for their support. No other candidate for public office in Peachtree City has ever followed that route. What is his explanation for seeking that support? What he's NOT talking about is much more substantive — and threatening — than his sweet magic bubble froth of a platform.
What's even more troubling are some of Mr. Ferrante's zealous (and occasionally verbally vicious) cancel culture woke warriors who attack any resident who dares raise legitimate questions about a candidate who has no electoral history, in fact little public history at all. (If you click on the "About" link on his website, you get no personal history — just a place to donate money and a "Magic Bubble" platform list.)
That woke crowd will show up with sharpened knives in the comments section below this opinion column. Before it's over, I'll probably be called a racist crypto-Confederate. Just take note: If you don't support the election of Nick Ferrante, they've got lots of unpleasant names for you as well.
You elect Mr. Ferrante, and, like it or not, we all get his phalanx of woke warriors ready to swat down any opponents or questioners.
We've never seen that before in Peachtree City — a supposedly non-partisan mayoral candidate who receives campaign contributions from the Fayette Democratic Party and whose campaign treasurer is a Fayetteville city councilman and a woke Democrat if there ever was one.
So count at least one woke member of the Board of Education (the star of "Monday Night Live with Lenny" on FaceBook), at least one woke member of the Fayetteville City Council, and the wannabe woke mayor-to-be of Peachtree City. (Maybe the slogan should be, "Wake up! The woke are coming!")
Mr. Ferrante — even if he has zero experience in governing — certainly has every American's right to offer himself as a candidate for mayor of Peachtree City. But we voters have some rights also, first being the truth about what the candidate really believes at his core. We're currently not getting the whole truth from Mr. Ferrante, just the parts that he thinks are electable in what has been a majority conservative electorate.
Here's a hint of what he will be pushing — a quote from Mr. Ferrante on the need for more affordable apartments to be squeezed into Peachtree City: "… unilaterally shutting down the construction of multi-family housing doesn't make sense for the overall strength and wellbeing of Peachtree City." That quote comes from Mr. Ferrante's answers in an election guide posted by The Peachtree City Moms.
Here's my summary: If Mr. Ferrante is elected mayor of Peachtree City, he likely will not have the votes on the City Council to enact much of anything on his bubble-frothy public agenda. That will be frustrating to him, and what comes next — based on his behavior so far — is likely to be him using his position as mayor as a bully pulpit to criticize local officials and local voters as being guilty of supporting systemic racism, of being insensitive to the low-cost housing needs of people who want to move to Peachtree City, plus all the self-righteous blather you hear from the national Progressive Democrats.
He won't have to win a single vote during council meetings. He will take his case to the TV cameras and the AJC. As mayor, whatever the council does or doesn't do, Nick Ferrante and his far-left agenda, out in the open at last, will be the face and voice of Peachtree City to the outside world. Do you want that? Then you should vote for Mr. Ferrante.
Bottom line: You want to elect Peachtree City's first Progressive woke mayor — and his Progressive chorus of Cassandras' followers? Then vote for Nick Ferrante and his frothy bubble platform. And buckle up to be harangued in TV news conferences called for the sole purpose of advancing exactly the far left social and political positions to which he pledged his allegiance in order to get the support of Run For Something, the avowedly Progressive leftist organization.
Though he has evaded any mention of those hard-left political pogroms, Mr. Ferrante's heart likely beats for that ideology that aggressively presses for "pro-choice, pro-universal health care, pro-LGBTQ equality, pro-criminal justice reform; pro-working families and organized labor, pro-voting rights, pro-campaign finance reform, who focus on inequality, fair wages, and job creation; who acknowledge that climate change is real, man-made, and our responsibility to fight; and who will fight to reduce gun violence in their community" — the entire AOC-infused notion of activist politics. That's what Mr. Ferrante 6 months ago pledged to advocate for as mayor of Peachtree City — whatever his Magic Bubble platform says.
Thanks, but no. I will vote for one of the other candidates for mayor.
[Cal Beverly has been editor/publisher of The Citizen since 1993.]