Sponsored Feature
If you don't have a friend to join you on your wellness journey, you may find one at ProHealth Physical Therapy and Pilates Studio in Peachtree City. That's what happened to Kathy Mitchell and Pennie Harrison.
Kathy Mitchell
Kathy was diagnosed with scoliosis at age 14. In the eighth grade, she was 5'7" tall and weighed 98 pounds. Being tall and thin are two of the signs of the disease. Doctors, who said her bones had stopped growing, proposed surgery. Thankfully, her parents didn't go for it. 
"Imagine a back operation in the 1950s," she says. "I'd be straight as an arrow but not able to do certain physical activities or sports."
Instead, the doctor recommended three exercises for her to do. 
"It hasn't kept me from doing anything," she says.
She was a United Airlines flight attendant before she taught kindergarten and first grade for 30 years.
About 10 years ago, she took a fall.
"I just went whammy on the cement outside of a store," she says. Her left knee took a direct hit, causing arthritis to develop as a result. Her doctor suggested physical therapy, recommending a particular provider, she said, "No, I want to go to ProHealth."
Kathy had read a cover story on Dr. Karyn Staples in Fayette Woman magazine on the way to visiting family in California. She remembered in the article that Karyn said she had helped a client with scoliosis. 
"That's just fine," he said. "They're wonderful!"
Once Kathy completed a round of physical therapy, she enrolled in ProHealth's transitional Pilates class, which helps clients maintain and even improve the progress made in therapy.
She credits the exercise with helping manage the arthritis as well as neuropathy in her feet and scoliosis-related pain in her back. A master gardener, she says she hardly notices any discomfort unless she stays in one position in the garden for a long time.
"Going to Pilates, I'm thinking, keeps me from taking pain medication," she says. She also believes it has played a role in avoiding surgery. Her knees and hips are originals. And although she has osteopenia and some osteoporosis, today, at age 74, she is one of the most flexible students taking Pilates classes at ProHealth.
"If I hadn't come for nine years, I probably wouldn't be as active as I am today," she says.
"I can't have my shopping interrupted," she laughs. "I've got to stand up straight."
Pennie Harrison
Pennie Harrison, who is proud to tell you she is 80 years old, took a circuitous route on her way to ProHealth. About 10 years ago, she and a friend had been going to the gym together.
"She would swim, and I would walk on the treadmill," she recalls. "When we first joined, this guy gave us a tour of all the equipment, and it went in one ear and out the other. I was afraid to do anything. I didn't want to hurt myself!"
When her friend went to ProHealth Physical Therapy and Pilates Studio in Peachtree City for physical therapy, she told Pennie, "You've got to come look at this place."
"And I said, 'okay, I'll do that.'"
Pennie joined her friend at ProHealth to see what was going on.
When Pennie and her husband lived in Atlanta, she read about what was happening with Pilates in New York and places like that, but she remembers thinking there is nothing like that around here. 
"Little did I know that there was something like that here!"
She discovered that ProHealth offered a class for clients who recently graduated from physical therapy and are ready to be in the studio to keep up all the good work they had done in physical therapy.
"I joined that class, and it was magnificent," she says. "I was just amazed!"
"I did it mainly because I don't want to fall," she says. "I know too many people who have fallen and broken something, and it's downhill from there."
"It was absolutely marvelous because I could see my progress in the weeks and months as they went by."
The people in her class were all older, she remembers.
"I won't say elderly, but older. And so somebody would have a problem wrist or knee or whatever and the teachers were smart enough and kind enough to play to those strengths and weaknesses and to help us all. I was amazed by that because each one of the teachers was so careful with us and helped us so much!"
Classmates were encouraging, too, she notes. When they first belted her into a chair, the guy standing right behind her said, "You can do this."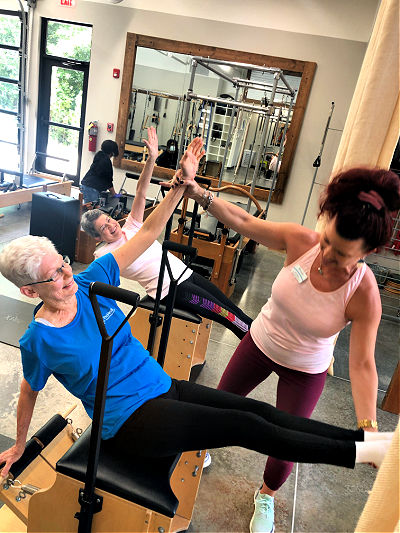 Becoming Friends
Pennie graduated to other classes, where she first met Kathy.  As one or the other segued from physical therapy back to Pilates, they migrated to a trio and eventually duet sessions where just the two of them work with a Pilates teacher who knows all about their history. The friendship seeded in those initial classes blossomed in smaller sessions. 
"We're very supportive of each other," Kathy says. "She's had two operations, I've had a partial hysterectomy, things like that. And so we're supportive and cheering each other on in getting well again."
In addition to talking before or after class, they catch an occasional lunch together and often check on each other between sessions by phone. 
"We've been known to stand in the parking lot after class sometimes just to find out what's going on with each other," Pennie notes. 
More Than Exercise
While a regular Pilates regimen helps both ladies maintain balance, confidence, and an active, healthy lifestyle, the friendship, and encouragement they find at the studio add a layer of emotional support and stress reduction that is hard to calculate. 
Kathy and Pennie have attended ProHealth Pilates Teacher Terri Wilson's Better Bones Class for more than three years. Additionally, they have two duet sessions with Terri weekly. The twosome has evolved into one of the studio's happiest threesomes. 
"When I'm in here, I am so concentrating on what we're doing and trying to do the best I can that I don't think about anything else," Pennie says. "So anything that was stressful in my life goes away. Maybe only for now, but it goes away, and it helps. It helps."
"You can't think about anything else, or you lose balance, or you get off task and you miss the flow," Kathy said. "So you do have to totally concentrate with what Terri asks you to do."
Terri comes up with new exercises for Kathy and Pennie all the time. One of her favorite lines is, "You exercise today because you don't know what's coming tomorrow."
A two-time cancer survivor herself, Terri knows that today's work makes you stronger, improves your immune system, and prevents mishaps.
She loves to tell Kathy and Pennie that there's nothing they can't do. She reframes their thinking. Is a new move hard, or is it "valuable?" Does it feel good? Well, then it's "yummy."
All that focus can lead to some comical moments. The crosstalk, the stories, the stretching: the results are noticeable in more ways than you think. Sometimes, while the rest of the studio is quiet and composed, Kathy, Pennie, and Terri are dissolved in giggles. They're working as hard as anybody else in the room, but they're also having a good time.
"We do a lot of laughing," Pennie says.
And sharing. Recently, Pennie found out her sister was facing a serious illness. As soon as she came into the studio, Terri knew something was up.
"What's wrong?" Terri asked.
"She knew," Pennie says. " And it just was wonderful to unburden myself to someone who understood, both of them. It just helped emotionally."
Healthy Support
The studio itself is a comfort, too, Pennie says. Being able to look out the floor-to-ceiling windows and see the trees and sky is uplifting. So is the staff.
"If you don't have a friend to come to Pilates with, you'll probably surprise yourself by ending up with one before you leave," Kathy says. 
If it's not a classmate, it may be one of the physical therapists, Pilates instructors, or the patient experience specialists.
"Even if it's a friendship with those that work there, someone you could confide in if you have issues you need to discuss," Kathy says. "The gals at the front desk are wonderful, too. Very friendly, very professional also."
How do they feel when they leave the ProHealth?
"Exhilarated," says Kathy
"Pleased, comforted," says Penny
"Healthier," Kathy adds.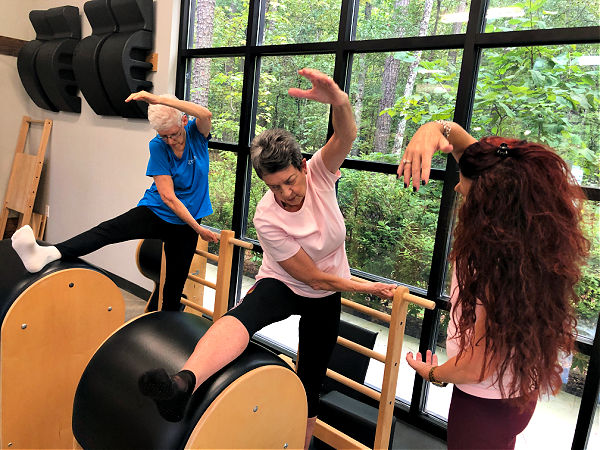 About ProHealth Physical Therapy and Pilates Studio
ProHealth Physical Therapy and Pilates Studio was founded in 2005 by Dr. Karyn Staples, PT, PhD, NCPT. She leads a staff of more than a dozen physical therapists, Pilates teachers, and office support staff in providing effective research-based therapies and exercise.
ProHealth is located at 1777 Georgian Park in Peachtree City. For an appointment for physical therapy, call 770-487-1931.
If Pilates exercise is something you would like to explore, private lessons and classes are available throughout the week at ProHealth. Call or visit https://prohealthga.com/schedule.