If you haven't been to Clothes Less Traveled lately, you're in for a delightful surprise. Over the past 18 months, the family of staff and volunteers at the local thrift shop have spent thousands of hours behind the scenes redesigning and refreshing the store. The result is a new floor plan, reorganized departments, freshly painted walls, and excitement you can see on the faces of people all over the store. 
"Pre-pandemic, we were basically just your very large thrift store," says volunteer and former board member Jim Christopher, who served as the in-house contractor for most of the renovations. "Now it looks like a regular store… New walls, new cabinets, new everything… and we're not finished yet." 
Continuing improvements throughout the store are underway, including new signage, landscaping, and exterior painting. The store will roll out a new logo this month, too.
Clothes Less Traveled, often referred to as CLT, is no stranger to change. Since 1997, area residents have donated their gently used clothing and household items to CLT, which sells or recycles these goods to fund the needs of numerous local charities. Since it's inception, the store has moved three times and grown from 600 sq. ft. to 25,000, pouring a total of more than $7 million into local nonprofits. None of this happened without a willingness to change. Again and again.
The pandemic forced a reboot that set the latest transformation in motion. When stay-at-home orders went into effect in April of 2020, the leadership at CLT faced the same challenges retail and nonprofits across the country struggled to overcome. The ground that shifted under everyone's feet threatened to crack the organization's foundation of service. 
"How long will we be closed?" "How can we take care of the team of volunteers and staff who work here?" "How will we serve the nonprofits who need our support now more than ever?" "When can we reopen?" "How do we reopen?" "How do we keep people safe?"
These questions consumed the problem-solving bandwidth of board members and staff for months as 2020 delivered the challenge of a lifetime to every organization on the planet. Clothes Less Traveled was no exception.
"With so much uncertainty and upheaval, we were forced to re-examine all aspects of our operation. Of course, safety was our first priority, but we had a choice to either downsize our dreams or create a vision of where we wanted to be in five years. We chose 'go big or go home,' and started working towards creating a shopping and serving opportunity unmatched in our community." Peggy Thomas, Chair of CLT's board, says.
"As a community empowered by the generosity of its people, CLT continues to thrive," says Barbara Harrison, Board Secretary. "A dedicated team of board, staff, and volunteers works undaunted through all our challenges so we can continue to share God's love to others."
Stabilizing the situation was anything but easy. Eventually, CLT leadership formulated a plan and reopened with limited staff and volunteers, raising a new question: "What do we do with the flood of items arriving at our back door every day?" 
At the height of pandemic decluttering, when more than 60 storage pods held mountains of donations to CLT, it became essential to improve sorting operations. Long-time board member Virginia Gibbs helped CLT connect with Georgia Tech's Manufacturing Extension Partnership, which deployed a team of efficiency engineers to the store to evaluate the situation and make recommendations for improvement.
Engineers collaborated with the team at CLT to reconfigure the receiving area, implementing color-coding systems and other strategies, which dramatically accelerated the time it takes to get donations from the dock to the floor. Today, fewer than 10 storage pods hold overflow donations, most of which are seasonal. 
Outside organizations came alongside CLT to help with renovations. Before the pandemic, Cooper Lighting donated all new fixtures, which improved lighting in the store dramatically. Square Foot Ministries tore down and built new walls following the engineers recommended new floor plan. Schools and other organizations brought groups of volunteers to help sort donations.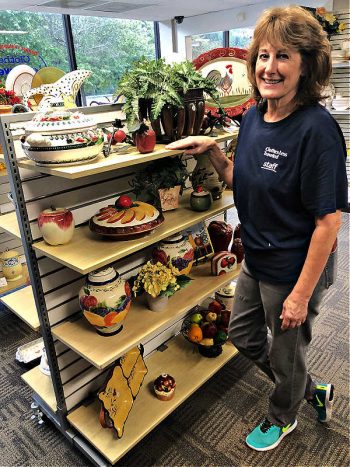 All of this work behind the scenes paved the way for the fresh new look shoppers see as soon as they enter the store. In the clothing department, the first stop inside the front door, fashionable ensembles tempt shoppers to browse the racks for a new outfit. Artfully displayed collections of vintage and bohemian styles hold popular spots on the floor. Collections of comfy, Zoom-friendly fashions are showcased as well, even while glittery holiday and bridal gowns make their way to the racks. Pop-up sales keep bargain hunters coming back for more. In other areas, new paint, signage, and displays make things like home goods, books and media, shoes, purses, sporting goods, and toys much more visible to shoppers. 
These improvements are having a positive impact on sales, which means CLT can resume helping local nonprofits provide much-needed services to the community.
"We're pleased to announce that on October 25, every board and staff member will have the opportunity to designate $1,000 to be given to the charity they have chosen," Peggy says. "And our regular granting process will resume in 2022."
The CLT family invites you to stop by and see what's changed for yourself. 
"We're up and running, and we're thriving, Peggy says, "and we can't wait to share our joy with you. Come see us!"
ABOUT CLT
Established in 1997, Clothes Less Traveled provides a caring, well-run thrift shop where donors, volunteers, shoppers, and employees feel welcome and appreciated, and proceeds are reinvested back into the community. The store is located at 459 Hwy. 74 South, next to Gil-Roy's. Visit CLT's website or email for more information.
HOW YOU CAN HELP
Bring your gently used and cared-for items to Clothes Less Traveled, where your donations mean more. Clothes Less Traveled supports local charities by selling or recycling nearly everything that comes to the store. Donations are accepted at the back door of CLT Tuesday through Saturday from 10 am to 3 pm. Visit CLT's website for more information.
Behind the Scenes at Clothes Less Traveled