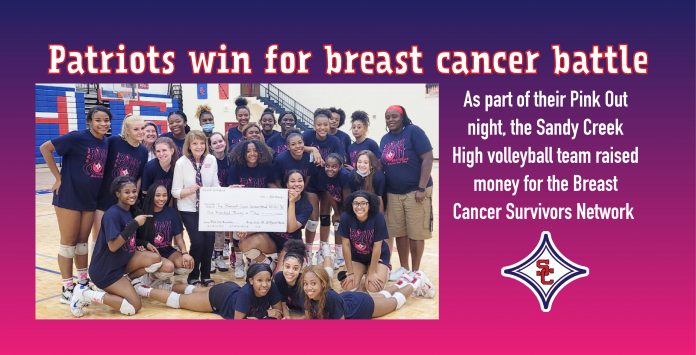 The volleyball program at Sandy Creek High doesn't just win on the court, they also fight for victories in the community. On September 16, the Patriots played host to Heard County and Fayette County for a night of volleyball fun and fundraising.
Through a bake sale and other efforts, their Pink Out night raised a total of $630 for the Breast Cancer Survivors Network.
"Being able to coach this sport everyday has been very rewarding for me. Being able to coach and win with such a great group of young ladies on a night where we are giving back to such an important cause was even more rewarding," said Sandy Creek coach Tishay Lewis. "Breast cancer is something that has impacted many lives, and having the opportunity to entertain others all while helping the fight against breast cancer is an honor. The parents of our players came together for a cause and showed exactly what kind of culture we have over here at Sandy Creek."
Though they beat both opponents, the night was about more than volleyball.
"The key to winning the match was energy. The energy surrounding why we were all there was positive," said Coach Lewis. "I explained to my girls before the game that I want them to wake up everyday and be thankful for the opportunity that has been given to them, another day here to play the game they love to play."
The Patriots are currently ranked #2 in Class AAA as they pursue the fourth state volleyball championship in team history.