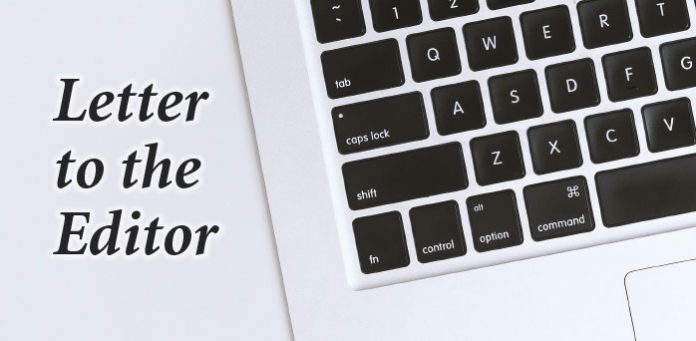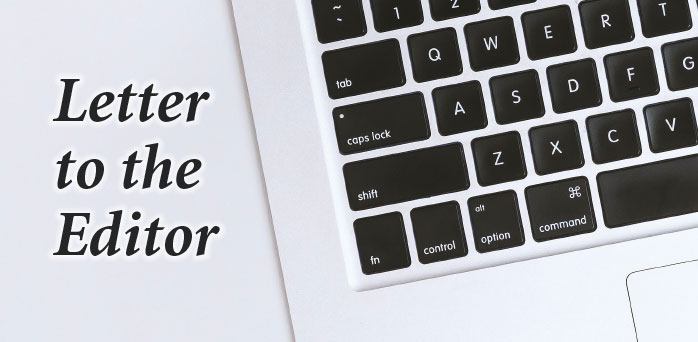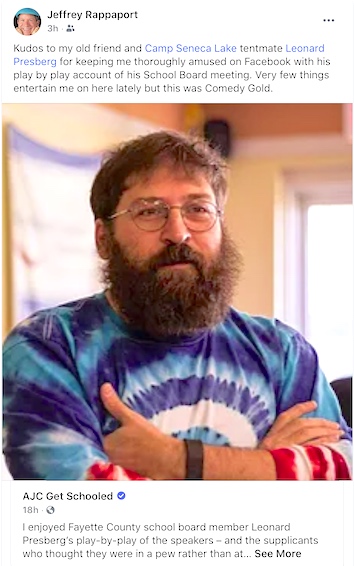 The August 23, 2021 Board of Education meeting will certainly live in infamy.
Board Member Leonard Presberg conducted a live mockery of his constituents on Facebook while they were speaking at the podium in the BOE meeting. While I have seen cases in the past of two elected officials texting one another during a meeting while someone was speaking (all publicly rebuffed once exposed), Presberg's continuous bout of sarcasm is the worst I have witnessed.
As the only elected official in Fayette who had no time limits on public speech and full public comment on every agenda item on two different elected bodies, I am a staunch free speech advocate. Likewise, I support Presberg's ability to speak freely on any subject he chooses.
The outrage I share with many other constituent taxpayers is Presberg's total lack of decorum expected of someone in his position. His deliberate attempts at crafting real-time sarcastic remarks about constituents speaking before him in the precious couple of minutes they are allotted is behavior unbecoming of someone allowed to hold an elected post.
I suppose we can assume anytime a constituent taxpayer speaks before the BOE, we can count on Presberg to be simultaneously typing some sort of sarcastic critique of the speaker's presentation. This is the new bottom rung standard of performance at the BOE.
Offering a civil rebuttal to a position during a meeting is totally acceptable. Presberg chose to go in another direction.
Anyone who has known Leonard Presberg for any length of time is aware of his position on religion, specifically Christianity, as an abomination. No one can rip up a religious theme faster and more efficiently than Presberg. He may have highlighted the free speech portion of his pocket US Constitution and marked out the freedom of religion part. Many of his live Facebook comments poked at the statements of faith made by constituent taxpayers at the podium.
In all fairness, Presberg did make a bold stand for religious impartiality on Facebook previously saying, "Is it the religious beliefs of the group that are outrageous? Is it the name that is unacceptable? Our Constitution requires that I, as a School Board Member, make no decisions that would favor one religious group over another." That comment was under his post that said, "Yes, an after-school Satan Club could be coming to your kid's grade school."
His live mockery of his constituents the other night had his official BOE religious prejudices in full view.
Even Atlanta Journal-Constitution education reporter Maureen Downey was in on the viewing of the Presberg show. Reading Downey's columns for years and disagreeing with her government can solve all educational problems attitude, I was stunned when I read her jubilant approval of an elected official creating a live, running mockery of his constituents during an official meeting.
On her online AJC Get Schooled page, Downey said, "I enjoyed Fayette County school board member Leonard Presberg's play-by-play of the speakers — and the supplicants who thought they were in a pew rather than at a podium — at tonight's school board meeting."
It was interesting that Downey chose the word "supplicants" to describe the constituents (also known as "taxpayers" or "voters") as though they were compelled to kneel before the members of the BOE and humbly plead for the attention of the elected officials, hat in hand.
I cannot help but wonder if Presberg's live Facebook remarks are designed to intimidate future opposing views. It certainly is not designed to foster unity on the BOE or in Fayette County.
For the record, Leonard Presberg is the designated Black member of the BOE. There was a lengthy and expensive lawsuit that specifically claimed that a Black county resident could not get elected to the BOE because of at-large voting. Since district voting was created, Presberg has been the official designated Black person who formerly could not get elected to the BOE, sad but true.
To the majority Black district in North Fayette County, are you kidding us? Out of your well-educated, high-income population, you cannot find a single Black candidate to replace Leonard Presberg?
I would not be surprised if Presberg's dishonorable antics are reported to the school accreditation organization
Steve Brown
Peachtree City, Ga
[Brown is a former mayor of Peachtree City and served two terms on the Fayette County commission.]