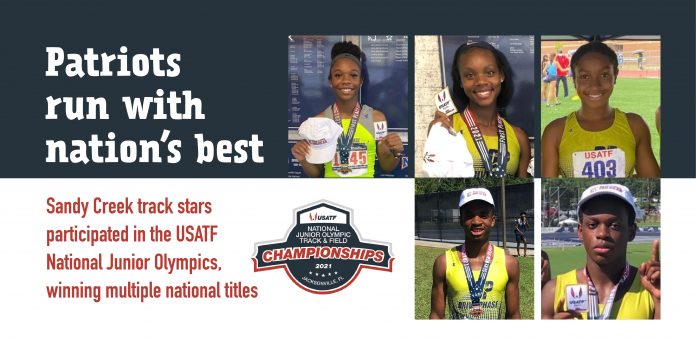 The track stars of Sandy Creek High like to leave the competition in their dust. Several Patriots recently participated in the USATF National Junior Olympics in Jacksonville, FL, racking up multiple national championships.
Isis Grant, a junior at Sandy Creek, ran and won the 800m race, making her the national champion for the 15/16 age group. Isis's 4×400 relay team also won.
Senior Gabrielle Grissom won the 800m race for the 17/18 age group. She, too, is now ranked tops in the nation.
Ryan Lewis, a junior, ran on the 4×100 relay team in the 15/16 age group and finished in fourth place as an All-American.
Sophomores London Costen and Andre Kelly III earned the national championship title as members of the 4×800 relay in the 15/16 group. Costen also earned a second National Championship on the 4×400 relay, and he had a seventh place finish in the 400m race.