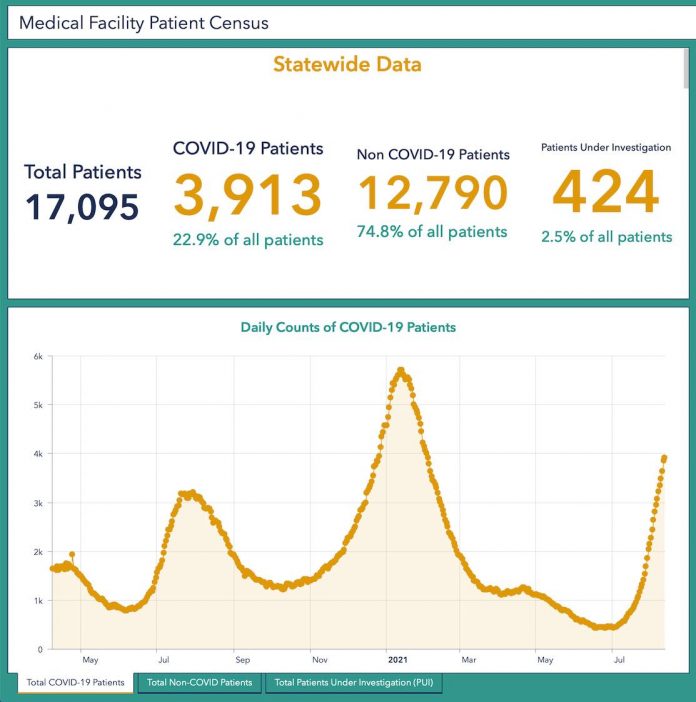 With rising Covid cases in Fayette County classrooms,  11 of the system's 24 schools are requiring face coverings for students, staff and visitors for a 10-day period, according to the system's public information chief, Melinda Berry-Dreisbach.
That comes as the state of Georgia passes a milestone: just over 1 million confirmed cases of Covid-19 since March 2020. With the 18,283 cases added from Friday to today (Aug. 17), just under 10% of the state's population has been infected in the nearly 18 months of the pandemic.
The schools ordered to mask up and the start and end dates of the mask mandates are as follows:
• McIntosh High and Flat Rock Middle — Aug. 12-25
• Spring Hill Elementary, Huddleston Elementary, Crabapple Lane Elementary, Kedron Elementary, Robert J. Burch Elementary, and Bennett's Mill Middle — Aug. 16-27.
Cleveland Elementary, Inman Elementary, and Sara Harp Minter Elementary — Aug. 17-30.
Here's what parents of students at Inman Elementary were told in an email Aug. 16:
"FCBOE: August 16, 2021 Dear Parents/Guardians: Our Covid-19 Task Force has been closely monitoring case counts at all of our schools.
"As stated in previous messages, we will take action and adjust our protocols as needed at individual schools to protect the health and safety of our students and staff.
"Due to the increasing number of positive Covid-19 cases at Inman Elementary School, face coverings are mandated for the next 10 school days, August 17-30, for all students, staff, and visitors.
"The school will have face coverings available in the front office for anyone who needs them. This mandate is for Inman Elementary School only, and does not impact other schools at this time.
"This action is one step we are taking to help reduce the spread of Covid-19 at Inman Elementary School. However, we need your help as well. Please help us by following these guidelines:
"Screen your children in the mornings for cold-like symptoms. Keep children who are experiencing cold-like symptoms, or are sick, at home. Continue to stress to your children the importance of frequent hand washing and/or hand sanitizing throughout the school day; especially, before and after they eat, and after restroom breaks.
"With your cooperation, our students can stay in school, and continue receiving face-to-face instruction with their teachers. We appreciate your support of our school system and Inman Elementary School. Sincerely, Fayette County Public Schools"
Meanwhile across Fayette County, case numbers are also rising: 155 new test-confirmed cases since Friday, and 430 cases in the past 2 weeks, according to data from the Georgia Department of Public Health.
Case numbers in Fayette, as shown in the chart below, have exceeded the summer 2020 surge and are approaching the largest surge from December 2020 into February 2021.
Fayette's low 2-week percentage of positive tests has now been eclipsed by Jefferson County in eastern Georgia. Fayette has risen to 4.0%, while Jefferson is now lowest in the state at 3.3%, DPH reported. For comparison, neighboring Coweta has popped up to a 2-week rate of 21.8%, while the statewide total is 16.6%.
Covid-caused deaths — a trailing statistic — has risen slowly: 333 since the beginning of August for the entire state, 2 fatalities in Fayette.
The numbers as of Aug. 17 (since pandemic beginning):
• Georgia cases: 1,000,872
• Fayette cases: 7,518
• Statewide deaths: 19,044
• Fayette deaths: 164
• Georgia hospitalizations: 69,367
• Fayette residents hospitalized: 340
• Fayette residents with at least one vaccination dose: 66,822 (60%)
• Fayette residents fully vaccinated: 60,168 (54%)
BELOW, DPH chart shows Covid cases over time in Fayette County: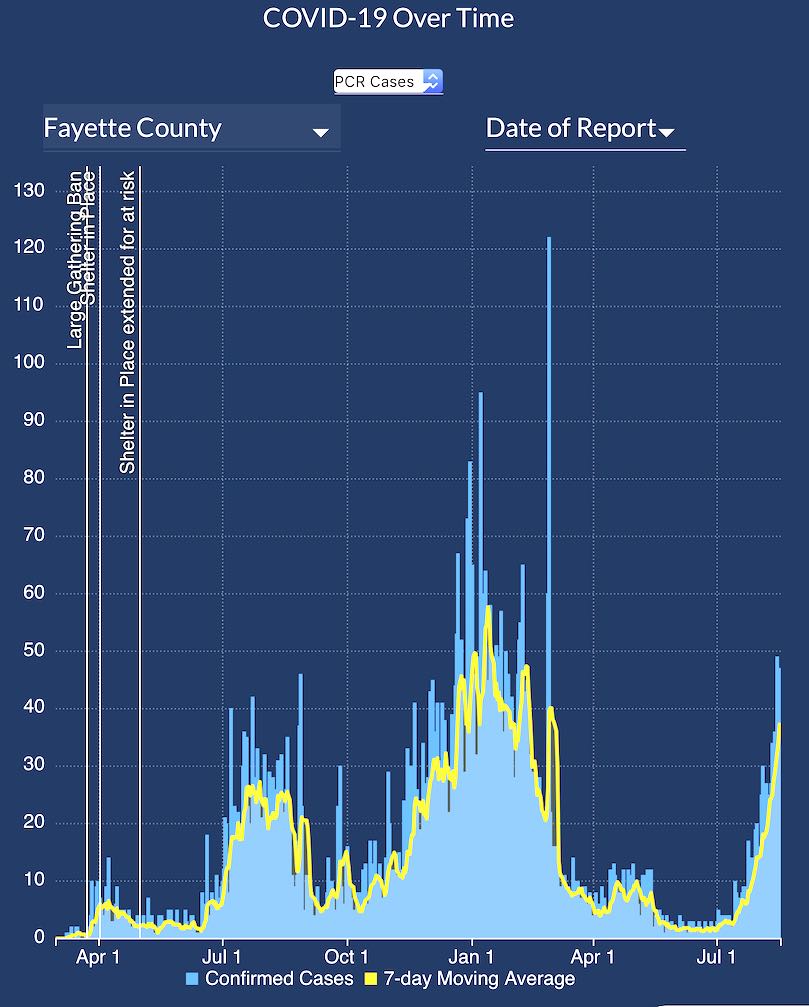 BELOW, DPH chart shows Covid over time in the state of Georgia: