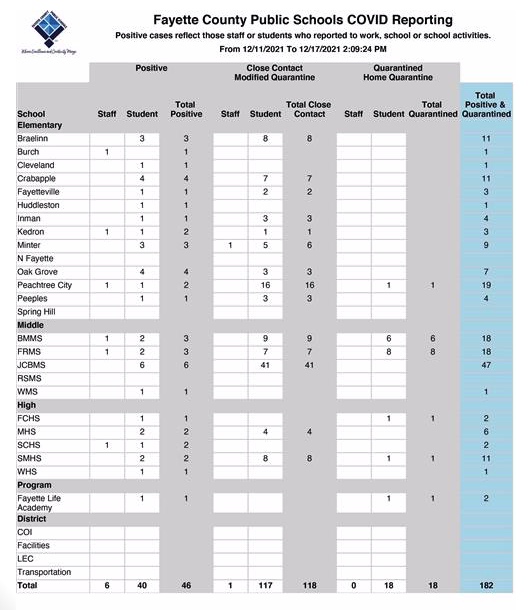 Fayette's 2-week rate of new cases rises above 5% —

 
Covid-19 cases in Fayette County schools — while still a tiny fraction of the system's total students and staff members — continued an upward trend last week.
The system's weekly Covid report ending Dec. 17 showed 46 new test-confirmed cases, compared to 26 the previous week, a 77% increase week over week.
Only 3 of the system's 24 schools reported no new cases last week. Among students, case numbers rose from 24 the previous week to 40 last week. Staff cases rose from 2 the previous week to 6 last week.
Rising cases bring increased numbers of quarantines as well: from 78 the previous week to 136 last week. Of that total only 18 were in home quarantine, and 118 students with staff were in modified or in-school isolation.
Fayette public schools have about 20,000 students and more than 2,000 staff members, including teachers.
Most cases likely were the older delta variant rather than the new omicron variant, given the very recent introduction of the newest variety into the U.S. Current Covid testing does not distinguish between the versions of the coronavirus.
Face masks are optional in Fayette schools since the ending of mandatory masking in October. Fayette teachers and students may wear face coverings in classes if they choose, or not. Masks while riding school buses remain mandatory, per federal rule.
In the wider Fayette area, the 2-week rate of new test-confirmed cases rose to 5.3% by week's end, compared to 3.8% five days earlier. The rate measures what percentage of confirmed test cases result from all tests given. In the latest data, for every 100 people who get a test, slightly under 6 of them test positive for Covid infections.
In raw numbers, the number of new Fayette cases measured across 2 weeks rose from 207 on Monday to 306 by Friday, according to the Georgia Department of Public Health.
Below are the Fayette and state numbers from start of pandemic to now, as of Dec. 17:
Total cases: Fayette 10,303 (133 in 1 week); Georgia 1.305 million (7,355 in 1 week).
Deaths: Fayette 222 (1 in one week); state 26,090 (117 in 1 week). Probable Covid deaths: Fayette 25; state 4,904.
Hospitalizations: Fayette 667 (10 new admissions in 1 week); state 91,489 (648 in 1 week).
2-week rate of new cases: Fayette 5.3%; state 5.6%.
Vaccinations: Fayette one dose 75,125 (67%); fully vaccinated 69,920 (62%); additional dose 23,490.
Shown below are graphs about state tabulations of Covid cases over time in Fayette, statewide medical facility patient census, and the number of statewide intensive care hospital beds and ventilators in use.