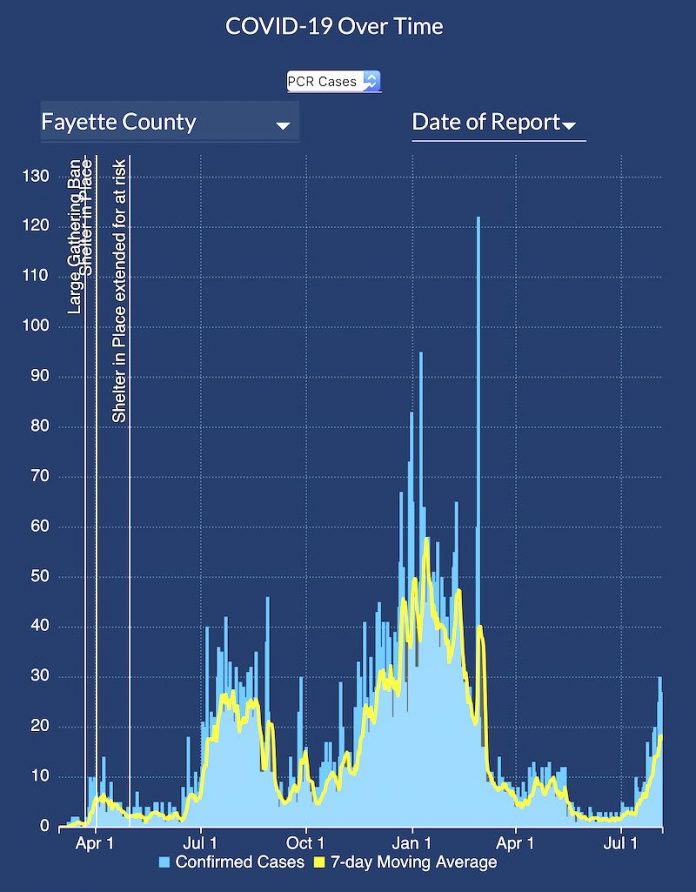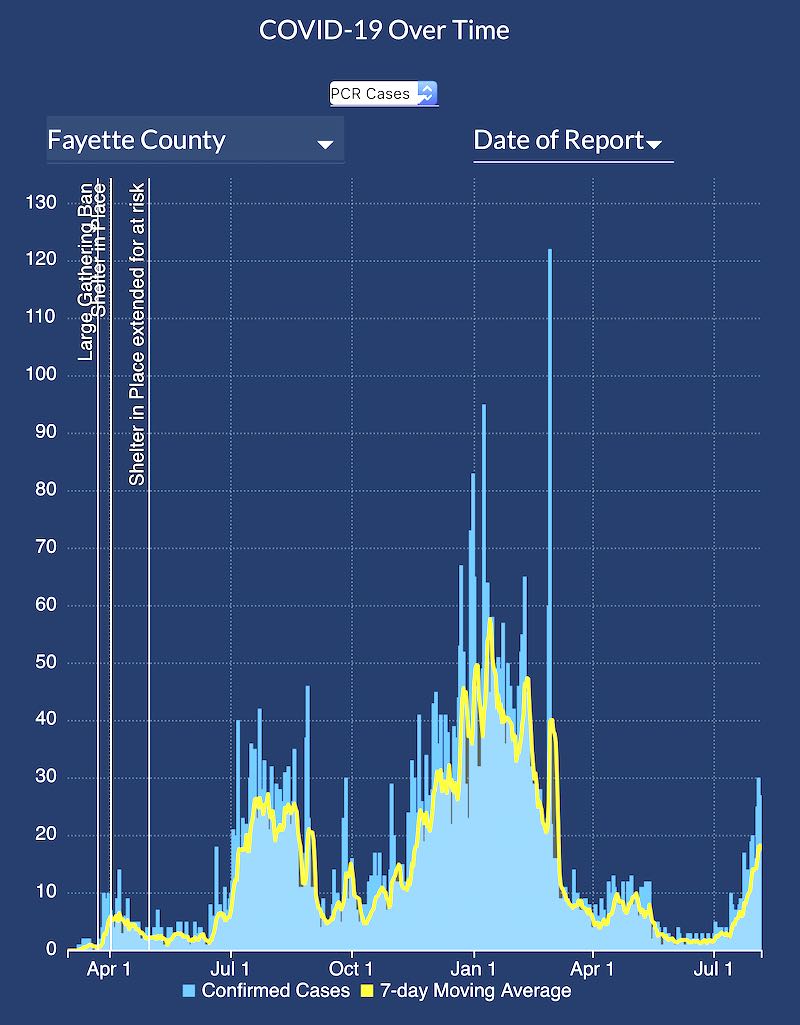 Fayette records 99 new cases since Aug. 2; local hospital in full diversion mode with "overcrowded emergency department" — 
Thousands of Fayette County school students and system employees showed up for the first week of school last week just as the delta variant of the Covid-19 virus began a new surge of cases across Georgia and the U.S.
Meanwhile, as of Aug. 8 at 4:42 p.m., the county's only hospital is listed by the state as being in "total diversion" for any new emergency admissions of any kind. The state Coordinating Center lists Piedmont Fayette Hospital this way: "Severe — Emergency Department is severely overcrowded."
Much the same is true for hospitals in surrounding counties: Clayton, Spalding, Henry, and Coweta counties and several hospitals in Fulton County.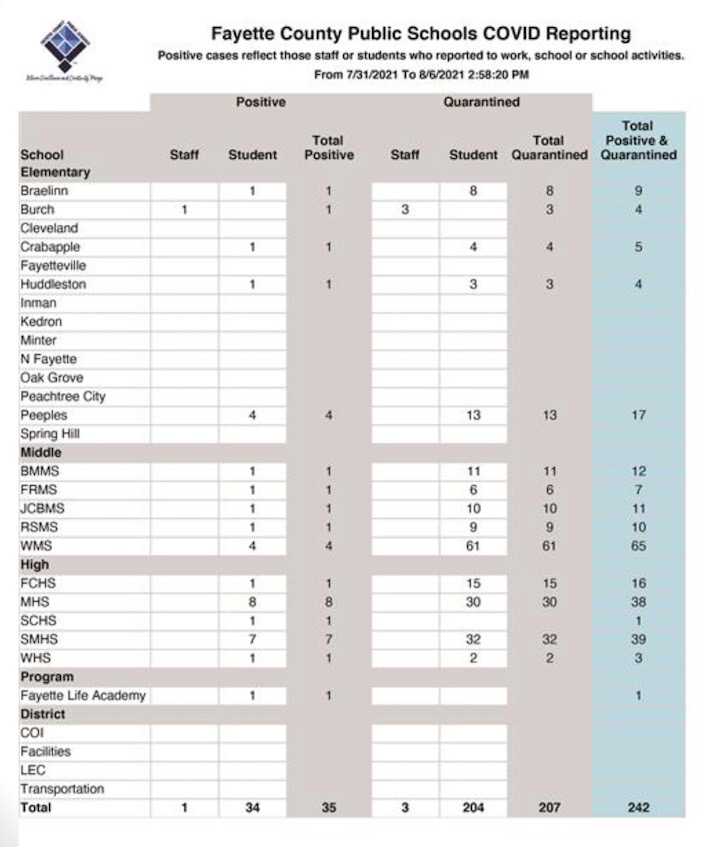 At week's end, one staff member at Burch Elementary School and 34 students systemwide had tested positive for coronavirus, the system's weekly tally showed.
All middle and high schools reported student infections — but no staff cases — by the Aug. 6 report. Of interest, only 4 of the 14 elementary schools reported student cases, plus one staff member: 1 student case each at Braelinn, Crabapple and Huddleston and 4 at Peeples.
At the middle schools, Whitewater Middle had the most cases at 4, with the others reporting 1 case each.
McIntosh High reported 8 student cases, Starr's Mill High had 7, while the other 3 had 1 student case each.
But active infections beget a widening pool of exposed students and teachers, resulting in 3 staff members and 204 students being sidelined in quarantine for the next several days. The biggest quarantine hot spot was Whitewater Middle with 61 students placed in remote status.
The report covered only those staffers and students who were in-person at work, school and school activities.
The system protocols for handling the Covid pandemic were set July 23 and masks are "highly recommended" for unvaccinated persons, but are not required, except on school buses.
The system was expecting around 20,000 students to be enrolled with under 700 signed up for remote learning. Around two-thirds of system employees received Covid vaccinations before start of school.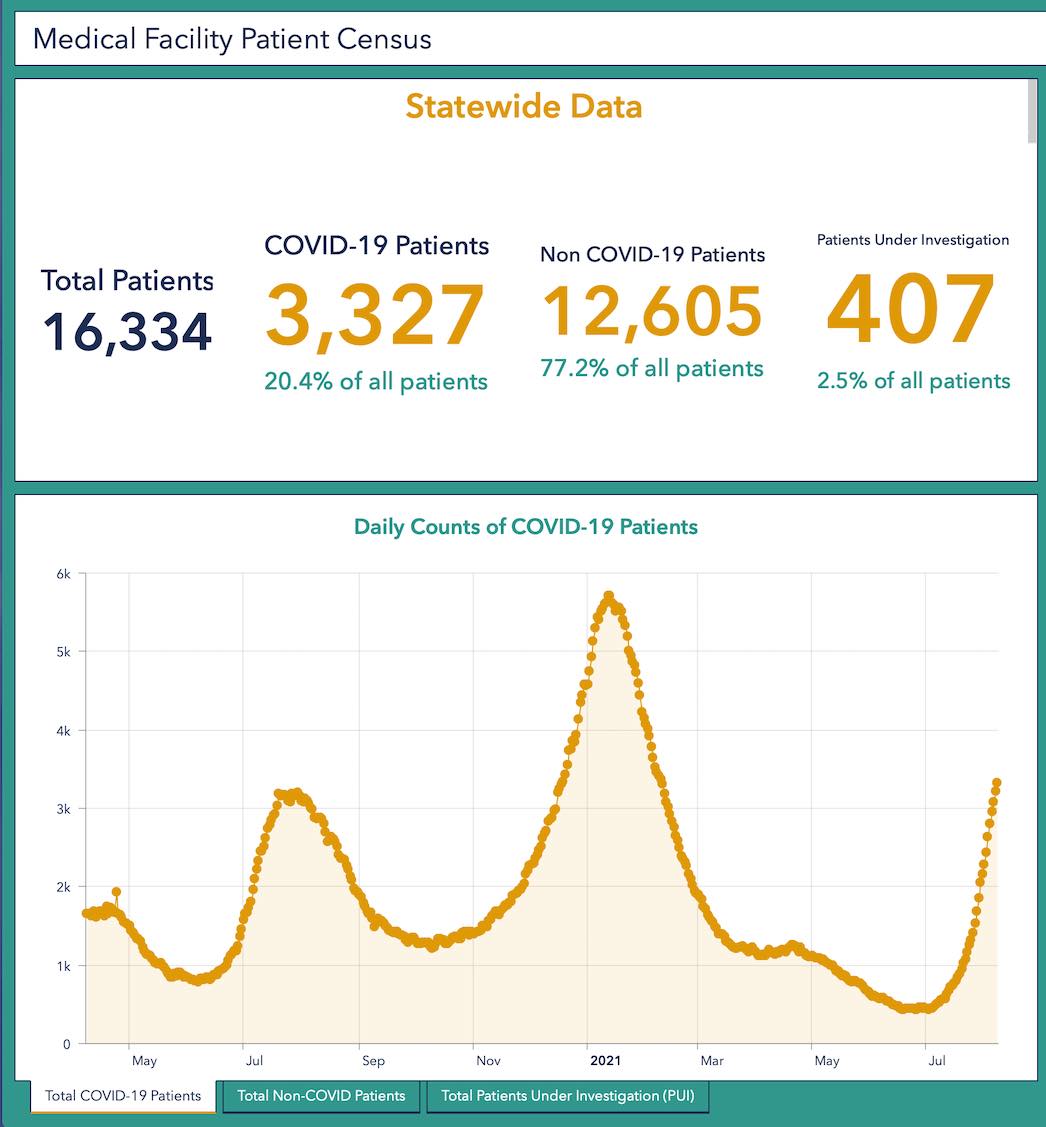 Meanwhile, after a spring and early summer lull in new cases, the more contagious delta variant accounted for 99 new Covid cases for Fayette residents since Aug. 2, bringing the pandemic total to 7,161 for the county. Two more Covid-related fatalities since Aug. 2 brought the Fayette pandemic death toll to 163 confirmed with another 16 deaths considered "likely" Covid related.
Even with the recent rise in cases statewide, Fayette remains one of the bright spots with a 2-week infection rate of still under 3%. That means that out of 100 people tested in the past 2 weeks, only 3 of them were confirmed to have an active Covid infection. For comparison, neighboring Coweta's 2-week rate is over 18%, while the statewide rate is over 14%.
Hospitalizations are picking up: Admissions of Fayette residents with confirmed Covid infections have increased by 7 since Aug. 2, for a pandemic total of 330 hospitalizations, according to the Georgia Department of Public Health report Aug. 6.