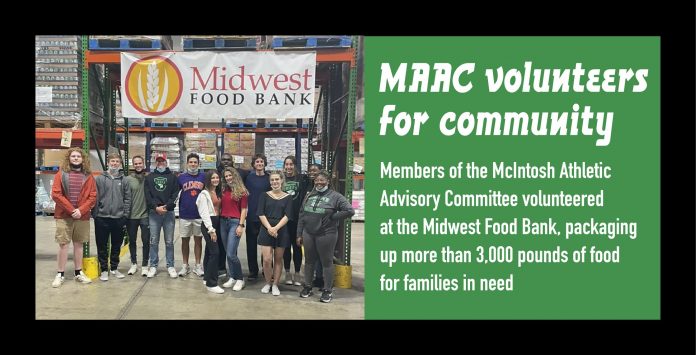 Members of the McIntosh Athletic Advisory Committee are leaders, both on their teams and in the community. Together with athletic director Leon Hammond, the McIntosh Athletic Advisory Committee (MAAC) recently volunteered at the Midwest Food Bank, packaging up supplies for families in need.
The crew took food that the Midwest Food Bank received from Hello Fresh and packaged the items into bundles of 4-6 bags that would be delivered throughout the Southeast to pantries, churches, missions, and other organizations that assist people in need at no cost. Over the course of the morning, they packed up over 3,000 pounds of food.
The MAAC was implemented two years ago by Hammond to ensure athletes have a voice in the school and can add insight into the athletic programs from a student perspective. A key component is service and giving back to the community. For the last two Christmases, the students on the committee raised funds on their own to purchase toys, toiletries, and other household items for families in need in the community. They have already been able to help more than a dozen families through the elementary schools in Peachtree City.
"It is my belief that to whom much is given, much is required, and being of service to our fellow neighbors and community is what it is all about," said Hammond. "The organization is transitioning to be more student-led in nature, and I hope to empower students to run the show and decide how we can best impact the Peachtree City and surrounding communities."
While the pandemic has slowed their efforts, the MAAC will ramp up its volunteerism in the future.
"The biggest thing I wanted for my student-athletes is to have the opportunity to do something worthwhile and good in the community. I want them to understand that, though some of their situations may be tough, there are people out there who have it rougher than us, and sometimes they just need a little help," said Hammond. "We collectively believe it is a blessing to be a blessing to others. These young men and women worked extremely hard, and I couldn't be more proud of them."