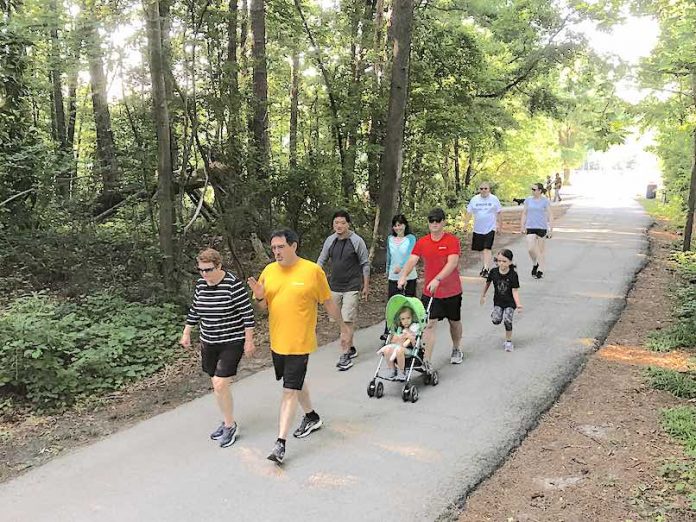 The Covid-19 pandemic prevented Piedmont Fayette Hospital from offering Walk with a Doc in 2020. The hospital announced recently that the popular wellness event will return starting May 15 in Peachtree City.
Participants will have the opportunity to get some fresh air and exercise, hear about topics important to the featured physician, and get to know them outside the office.
Neurohospitalist Ernesto Fernandez, M.D., will lead the first walk of the season and will discuss how to spot the signs of a stroke and how to prevent strokes from occurring.
According to the American Heart Association, someone in the United States has a stroke every 40 seconds. Stroke is the leading cause of serious, long-term disability, but 80 percent of all strokes can be prevented with lifestyle changes.
"A stroke is when the blood flow to the brain is cut off. When this happens, brain cells don't get the oxygen they need and they start to die," said Dr. Fernandez. "Knowing the signs of a stroke and acting quickly can help lead to better outcomes. However, it is also important to know what the risk factors are and working to improve them."
The key to optimal recovery of a stroke and decreasing disability is to B.E.F.A.S.T.:
• Balance – Is there trouble with balance or coordination?
• Eyes – Has the person experienced blurred, double, or loss of vision?
• Face – Look for an uneven smile
• Arm – Check if one arm is weak
• Speech – Listen for slurred speech
• Time – Call 911 right away
Walk with a Doc takes place on the third Saturday of every month from May through October. The walks start promptly at 8:30 a.m. at the Peachtree City Farmers Market at Aberdeen Village and go to Battery Park and back (approximately 40 minutes).
Walk participants are encouraged to shop with Peachtree City Market vendors after the walk for an opportunity to win prizes, t-shirts and other goodies.
"We are so glad to be able to bring back this event and interact safely with our community," said Paige Muh, manager of Community Relations for Piedmont Fayette. "We want everyone to be comfortable during the warm-up and the walk, so masks are required when six feet of social distancing is not possible."
Walk with a Doc is free, but reservations are required. Email PFHRSVP@piedmont.org to save your spot.
Visit piedmont.org/walkwithadoc for more information.