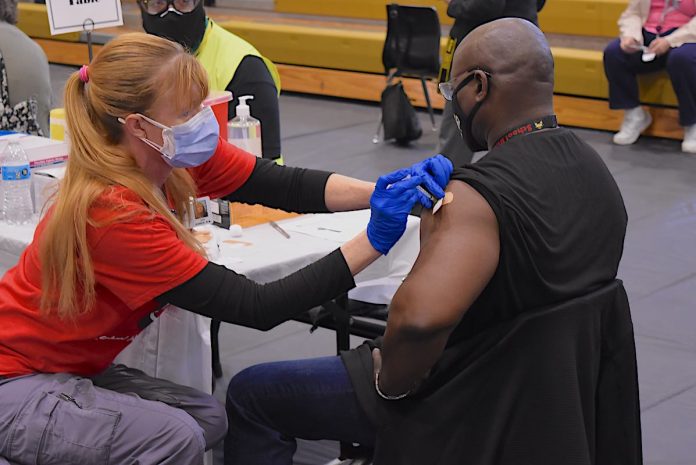 UPDATED MARCH 13 — Just three days after the state opened up vaccinations to school staff, over 1,800 Fayette County School System employees — approximately 63 percent of the system's workforce — received their first dose of the vaccine.
Since the first doses of the Covid-19 vaccine arrived in Georgia in mid-December, school system employees have been anxiously awaiting their turn to get vaccinated. Their time finally came on Thursday, March 11 when Fayette County Public Schools, in partnership with Piedmont Fayette Hospital, held the first of two vaccination clinics at Fayette County High School.
Thirty-two school nurses volunteered to give the vaccinations. They participated in training through the Fayette County Health Department to learn how to administer and handle the vaccine. Employees from the county office and school nutrition program also volunteered to assist at the vaccination stations, and to input information into the Georgia Registry of Immunizations and Transactions System (GRITS).
Weeks ago, the school system entered into a partnership with Piedmont Fayette to offer the Pfizer vaccine to all employees, as well as substitute teachers. By bringing the vaccine directly to employees, the school system is emphasizing its commitment to protect the health and wellness of its staff. Employees are not required to get vaccinated.
"The partnership between Piedmont Fayette and Fayette County Public Schools to provide our educators with Covid-19 vaccination demonstrates the strength of community that we enjoy in Fayette," said Fayette County Public Schools Superintendent Dr. Jonathan Patterson. "In times of need, we come together. And as always, our entire community will reap the benefits."
Piedmont Fayette not only secured the vaccine, but also helped with staffing the clinic by providing five nurses who drew up the vaccine, four monitors who observed employees for any reactions to the vaccine, and four registration staff who admitted employees into the clinic.
"Piedmont Fayette values our partnership with the Fayette County Board of Education, and we're glad to be able to support this effort to vaccinate their teachers and staff," said Piedmont Fayette CEO Steve Porter. "We believe that vaccination plays a key role in keeping our community safe and bringing the pandemic to an end."
School employees are scheduled to get their second dose of the vaccine on April 1. Since side effects usually occur with the second dose, which could result in a number of staff absences, students will participate in asynchronous learning from home on April 1 and 2. Teachers will prepare lessons and assignments for students to complete on those days. — Update provided by the Fayette County School System
Photos below — School leaders throughout the county were seen rolling up their sleeves to receive their first dose of the COVID-19 vaccine that was given through a vaccination clinic at Fayette County High School. Principals caught on camera were Yolanda Briggs-Johnson, Fayette County High; Jade Bolton, Flat Rock Middle; and Steve Cole, Whitewater High. Photos/Melinda Berry-Dreisbach, Fayette County School System.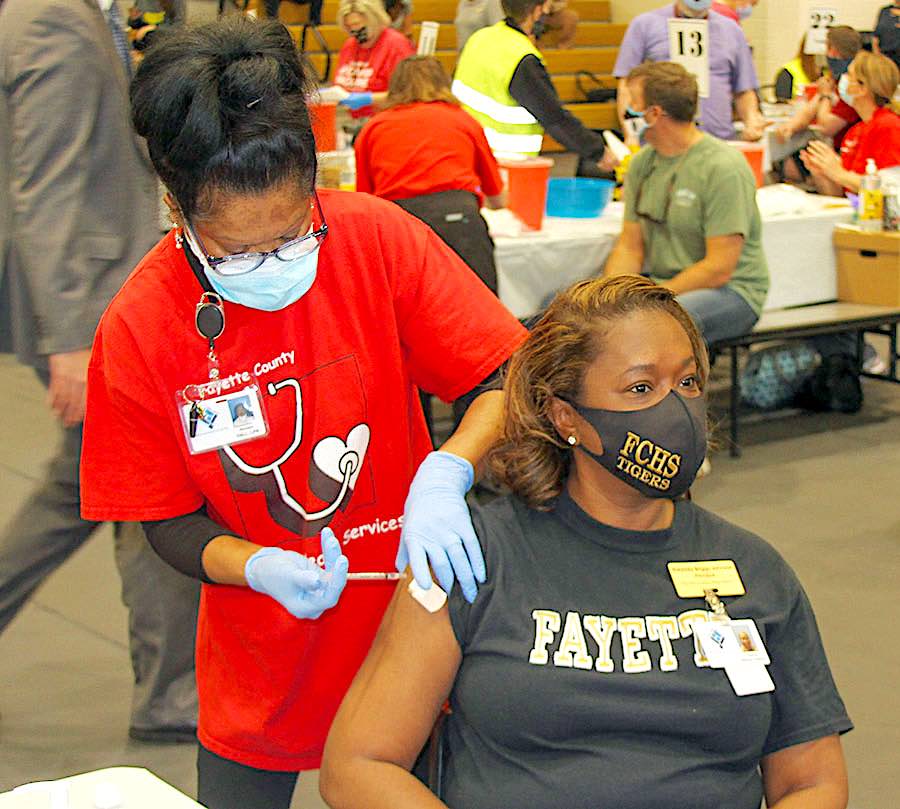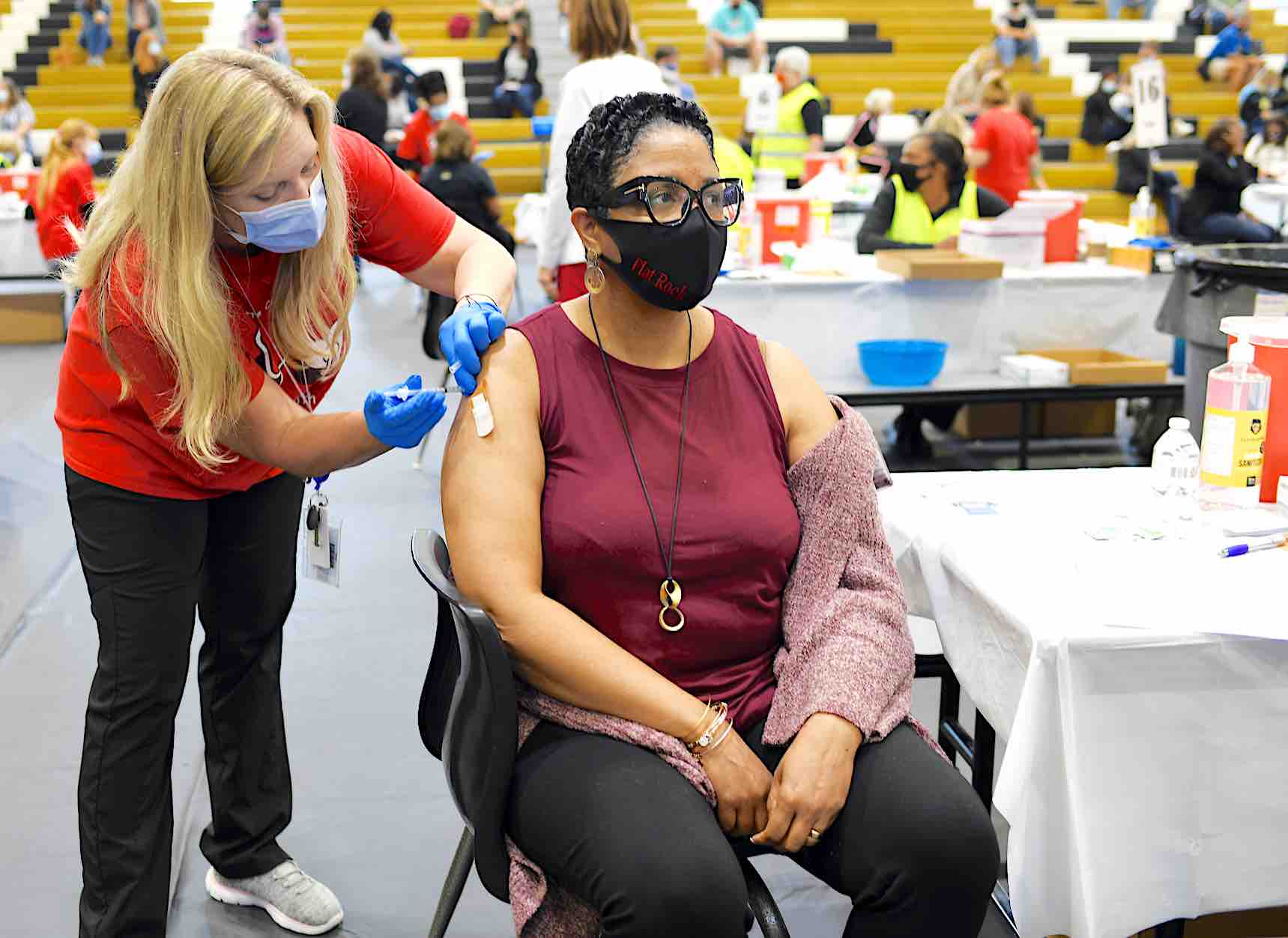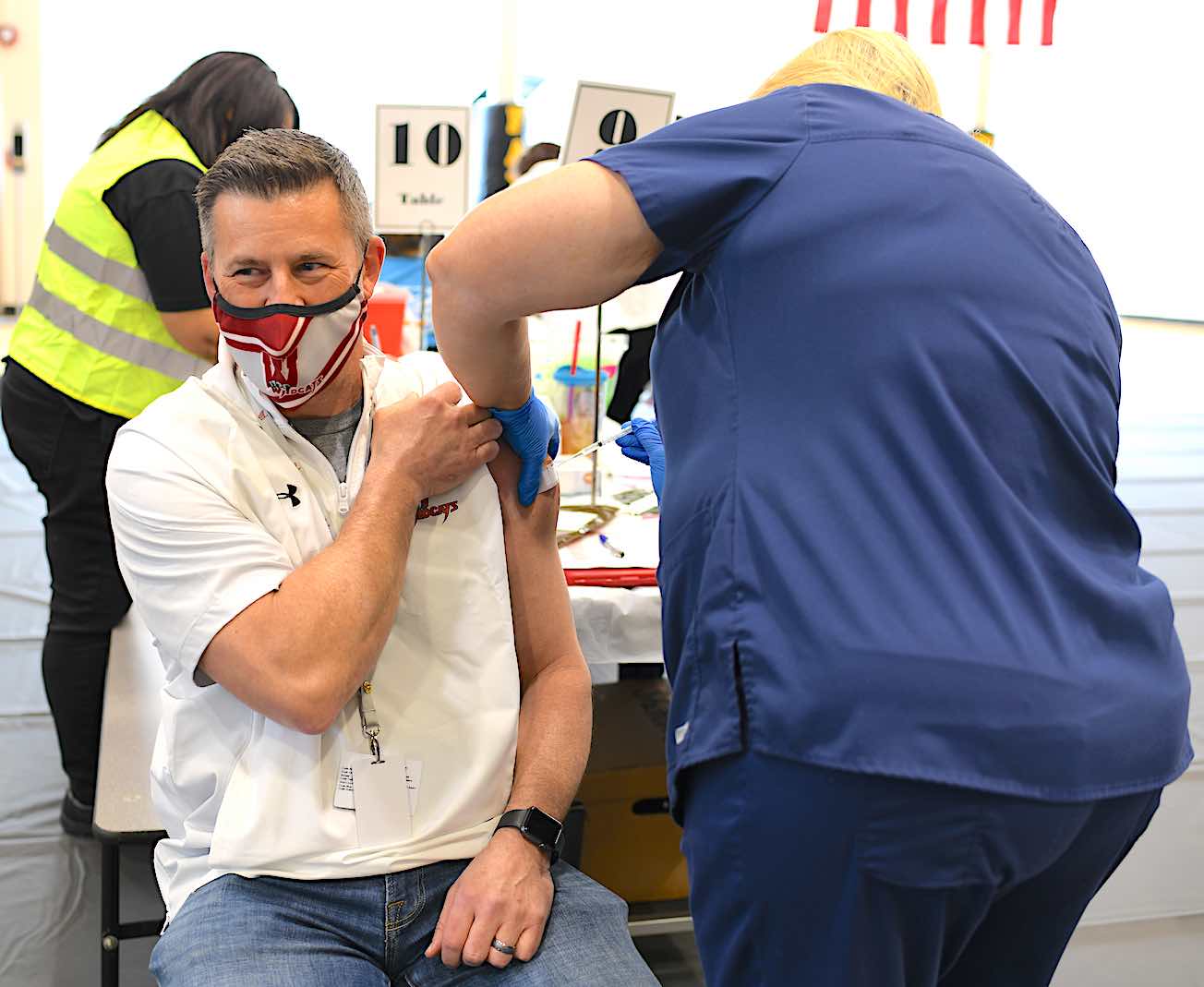 =======================================
EARLIER STORY —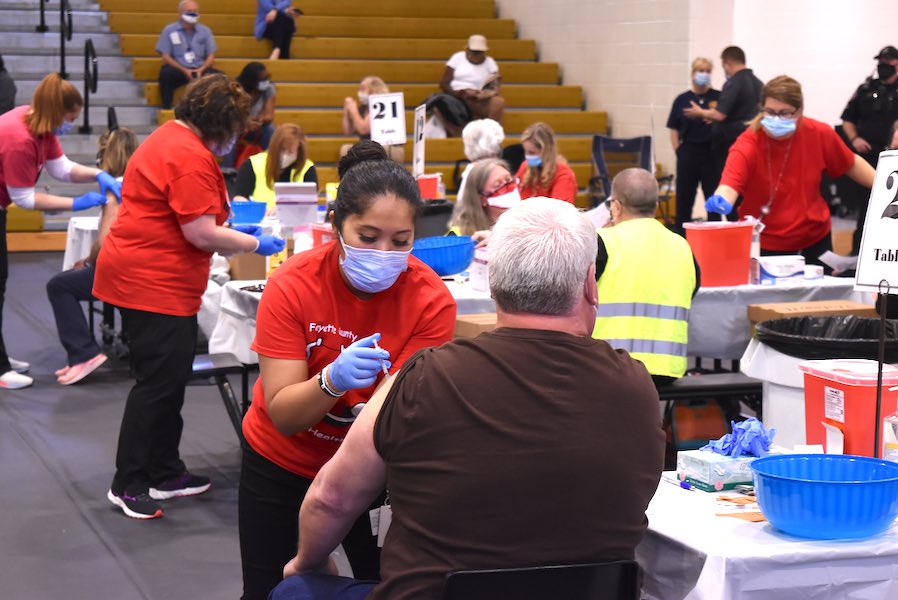 Upwards of 2,000 Fayette County School System employees — from full-time teachers to part-time school bus drivers and custodians — were scheduled to receive the first dose of the Covid-19 vaccine during a mass immunization event March 11 at the Fayette County High School Gymnasium.
Hundreds lined up to proceed through 30 vaccination stations set up on the gym floor. Below are photos of the line at 9 a.m. opening and a photo of the same area one hour later.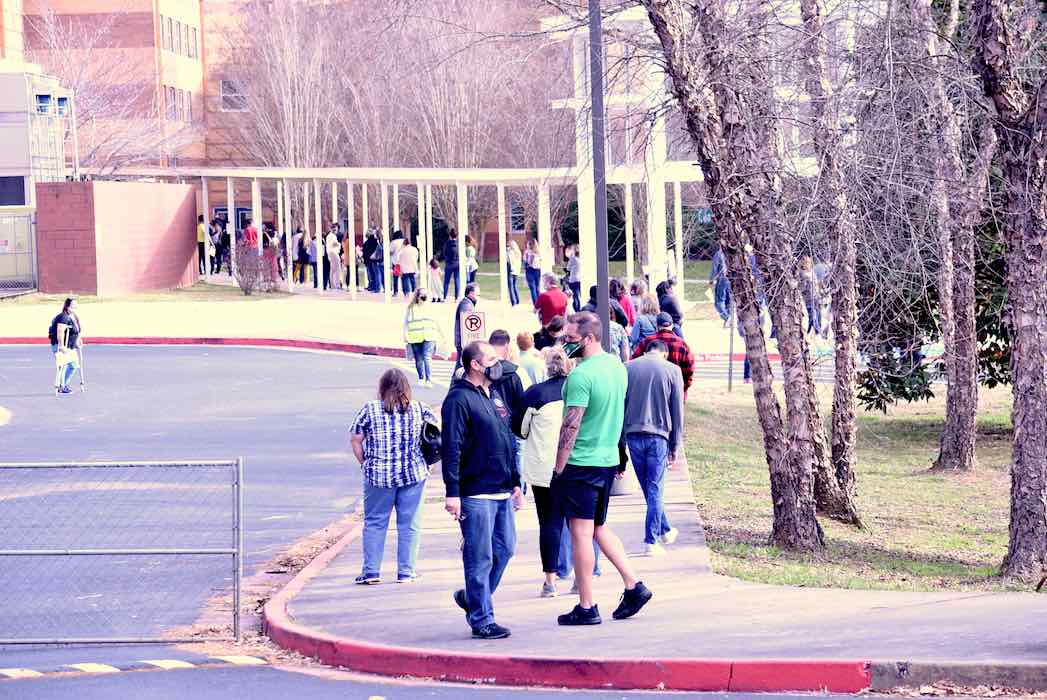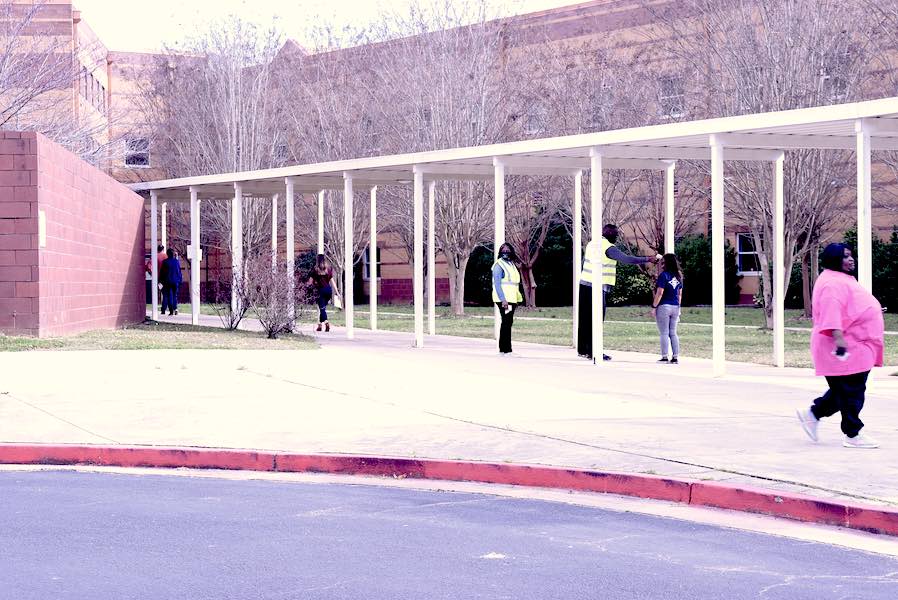 During just one hour dozens and dozens of employees moved smartly through the stations, then took seats in the gym bleachers for at least 15 minutes to await any possible adverse reactions. While this reporter was there, Fayette County Emergency Medical Technicians moved quickly to two middle-aged women who had some minor issues after the injections. No one needed medical transport during that hour as injected people after the short rest exited the gym to drive away.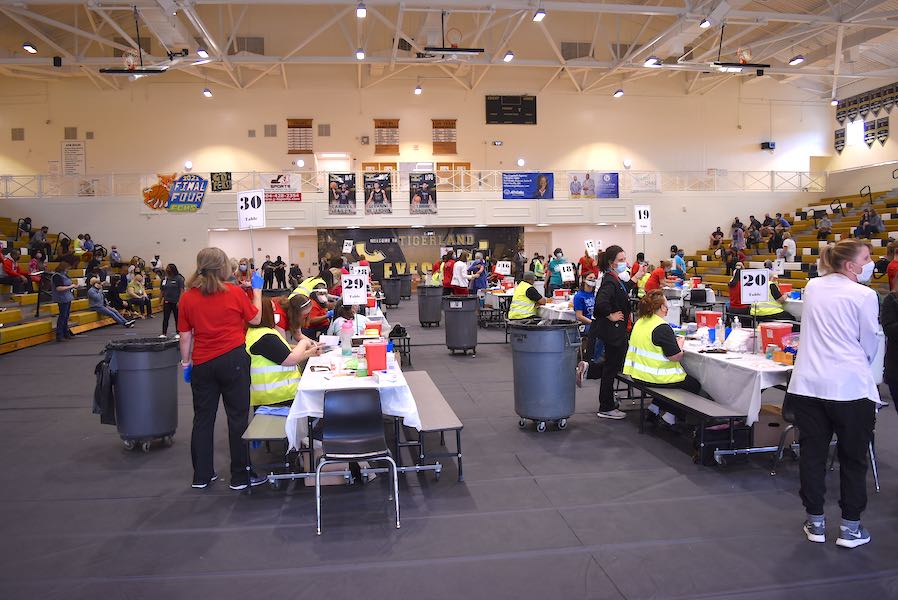 The extraordinary mass vaccination event was a joint effort by the school system and Piedmont Fayette Hospital officials and staff. Fayette school nurses staffed the 30 vaccination stations and did the actual injections. Piedmont Fayette volunteers handled the intake of pre-registered school workers at the entrance to the facility.