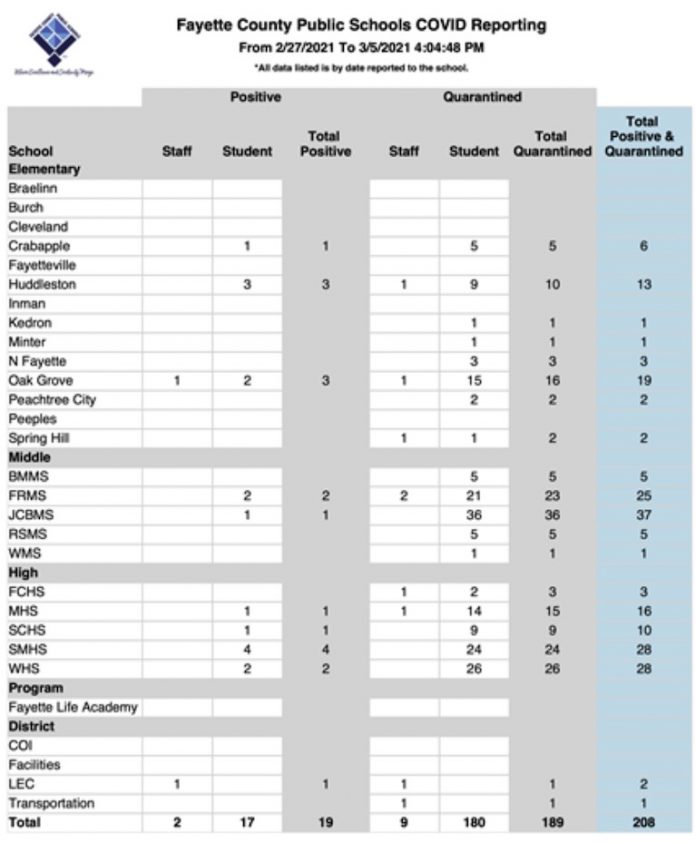 Total Covid positive test numbers and quarantined persons dropped 42% week over week, the Fayette County School System reported March 6.
Last week's schools Covid report showed 154 fewer persons either with Covid-19 or quarantined because of exposure to the coronavirus. That total went from 362 sidelined a week ago to 208 as of Friday afternoon, the report showed.
The schools had an even larger drop in number of actual infections: 63% drop from one week to the next, the report shows. The previous week, 52 people — 42 students and 10 staff members — tested positive for Covid. Last week, that number fell to 19 total — 17 students and 2 staff members infected.
The continuing good news is that 15 of the system's 24 schools were Covid-clear last week: No students, no teachers and no support staffers tested positive for the infection from Feb. 27 through March 5, the report said.
Here are the Covid-clear schools:
• Elementary — Spring Hill, Peeples, Peachtree City, North Fayette, Minter, Kedron, Inman, Fayetteville, Cleveland, Burch and Braelinn.
• Middle schools — Whitewater Middle, Rising Starr Middle and Bennett's Mill Middle.
• High school — Fayette County.
All the other schools were in the low single digits for infections.
The number of students and school personnel quarantined because of exposure to an active case dropped by 121 persons — from 310 down to 189, a decline of 39%, the report shows.